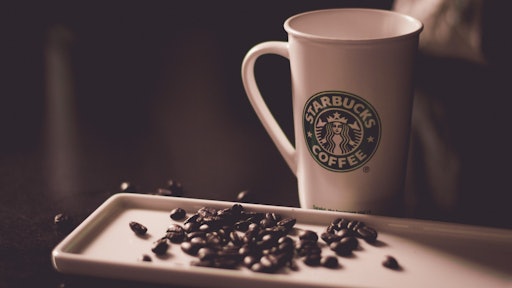 Unsplash
One of ITS Logistics' core values is Continuous Improvement—and nothing illustrates that better than our partnership with Starbucks. ITS and Starbucks have been partners for 18+ years and the relationship is ever‐expanding due to the level of service we provide and our intimate knowledge of the Starbucks Supply Chain. Initially, ITS began as a traditional truckload provider for Starbucks, but both companies quickly realized there were joint‐synergies and cultures that aligned very well. We now handle warehousing, inbound raw materials, green coffee transfers, vendor inbound, plant transfers, outbound retail and consumer product for AZ, NV and CA. Together we realized some inefficiencies in their supply chain and worked with both their regional and corporate teams to drive down expense, while improving services. Continuous Improvement is one of our core values and here are a few examples that we applied with Starbucks:
Pilot Program: We participated in a pilot program where

Starbucks

and ITS partnered with a specialized distribution company to test after‐hours and un‐manned delivery into the stores for the Northern California market. This initiative placed the inventory into the stores quicker and without the need for labor at the stores to receive deliveries. ITS provided feedback regarding the pilot program, including changing the type and size of delivery vehicles, which cut route and delivery expense by 30%. We also identified that

Starbucks

was shipping a large amount of smaller pallets and after modeling their average delivery nation‐wide, we recommended changes to their loading patterns. ITS invested in specialized trailers that accommodate logistics posts/loading bars so that

Starbucks

could safely double stack their product, increasing cube utilization by 40% and saving millions of dollars annually.
Holiday Promotions: Each year

Starbucks

has an official holiday launch date, where their stores convert from their normal décor to their holiday theme on the same date. This includes decorations, changes to their in-store inventory and even the design of the cups. During these promotions their supply chain backed up significantly and after further dialogue, we identified some efficiencies and cost improvements. With their assistance, we reviewed the entire holiday promotional process and provided substantial savings through recommendations to outsource much of the inbound, processing, storage, routing and delivery to the stores. In the first test for these recommended changes,

Starbucks

saved over $350,000 in a 6-week promotion for the Southwest market alone while improving on‐time service to the stores for their official holiday launch date to 99.8%! This process has evolved across the US and many of the same strategies exist today saving

Starbucks

millions of dollars.
Green Coffee: Since their inception,

Starbucks

has always considered an inbound container of green coffee as an individual LOT and therefore manage this LOT through the entire supply chain. They ship these LOT's in identical fashion at 42,000 lbs. and require storage to be segregated for each LOT/container. We worked with their team to review their storage and handling process for the green coffee and provided recommendations that reduced their green coffee storage foot print by 23%. These recommendations included moving to bulk storage of their top 3 SKU's which represent 60% of their volume, along with changes to their facility lay out and use of more efficient material handling equipment.
While we worked with Starbucks to find these efficiencies in their supply chain—all of these initiatives can be utilized globally and with other partners effectively saving tens of millions of dollars. These programs have also assisted Starbucks in achieving certain Green initiatives while reducing their carbon footprint and overall emissions.
"ITS has provided solutions that have reduced expenses, while enhancing service, and they are an integral part of the Starbucks' supply chain," says Todd McCullough, Director of Distribution, Starbucks
It is our goal to always be the lowest total cost provider for our customers. We do this by developing close partnerships with our customers and truly understanding their challenges and supply chain. We constantly strive for Continuous Improvement by identifying savings opportunities and increasing productivity and driving efficiencies into your business.