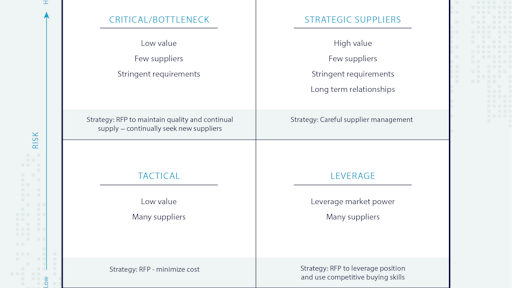 ArrowStream
We frequently hear chain restaurant operators tell us that they don't run sourcing events or requests for proposals (RFPs), when in fact they do. Oftentimes, what they really mean is that they don't have a formal process or strategy in place that they call "sourcing." And, that's okay. Whatever form your company's sourcing event or RFP takes, it's just important that you, as an operator, do it.
Whether you're part of a supply chain procurement, culinary or quality assurance team, the following is designed to help operators start small, so they can more easily reach their business objectives and build a structured process and strategy that works for their brand(s).
What is sourcing and why it matters
Sourcing is a strategic process that secures the right product at the best price and quality. This process includes running events and RFPs.
Depending on your role, the circumstance or goal, there are several reasons why operators would want to source.
For instance, an operator might want to:
· Look for a new product. Limited time offers (LTOs), new menu items or quality or operational issues with an existing product or supplier could mean you need to source for a new product and potentially a new vendor.
· Validate that a current supplier is the best fit. Relationships matter, and customers should trust their suppliers. However, businesses change, and it's important to verify that your partners are still the best for your organization. This could be from a price, quality or service-level standpoint.
· Test the market to ensure a fair price. Just like businesses change, so do the markets. Commodity markets can be volatile and drastically affect prices. If you've been using the same supplier for the last few years, sourcing can help to negotiate a new price with your existing supplier, or you might decide to change suppliers.
· Ensure a back-up supplier. Whether a product is affected by a quality issue, weather phenomenon or another market disruption, having a second supplier to call on will help to ensure you're prepared for uninterrupted service and quality for your customers.
How to start
Using a modified version of a Kraljic Matrix, here's a visual tool to guide customers through starting a sourcing process and to engage them on thinking holistically about foodservice supply chain. The matrix provides a way to categorize products in your supply chain by level of risk and criticality to your business and determine the right strategy.
Customers who are new to sourcing are encouraged to begin with products they believe would fall in the low risk, low criticality box. Every operator will be different, but typical examples of low risk, low criticality items might be non-center-of-the-plate or non-food items, such as straws, garbage can liners or lettuce for a burger. For items in this box, operators might choose to run a sourcing event with a strategy to minimize their costs.
Take sourcing to the next level
Once operators are comfortable and have run a sourcing event on a low risk, low criticality item, they may want to begin advancing their strategy. This could include running events on items that fall within other boxes on the matrix.
For example, items with low risk, but high criticality may require you to leverage commodity market intelligence to negotiate the right price. Or, items with high risk, but low criticality may require you to locate new suppliers.