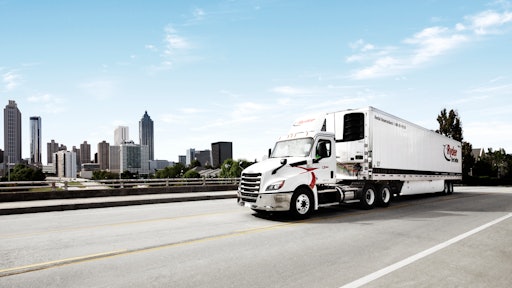 Ryder
Vehicle customization and advanced technology are becoming more prevalent for companies in order to meet the Food and Drug Administration's (FDA) Sanitary Transportation of Human and Animal Food mandate. Sanitary breaches in the food and beverage cold chain are dangerous to consumers and brands. And, as Food Safety Modernization Act (FSMA) regulations continue to grip the industry, companies are building new strategies to get products safely to store shelves and on to consumer's plates.
The transportation and logistics aspects of any food supply chain are among the most critical functions for supporting and enhancing food safety. Investments in modern, customized, temperature-controlled equipment and fleets, software and technology and highly trained personnel are mandatory yet sizeable.
Food safety in transportation begins with a vehicle and trailer that is customized to customer specifications to fit particular needs. To accomplish this, companies need to work with original equipment manufacturers (OEM) to ensure units are built in compliance of regulations and prevent food spoilage.
For example, Fortune Fish & Gourmet, a Bensenville, Ill.-based processor and distributor of meats, cheeses and seafood, relies heavily on its fleet to deliver products within exceptionally short delivery windows. Its custom spec'd fleet of 85 vehicles have dual temperature controls to transport frozen foods, fresh fish and live seafood such as lobster, oysters, clams and mussels.
Along with custom specifications, advanced engine and diagnostic technology improves the ability for companies to track, trace and keep records during food transport. This technology, which connects the driver, dispatch, fleet manager and customers, can warn of temperature changes in the refrigeration unit, fault codes on engines and real-time location of the products.
Furthermore, the connectivity allows fleet managers and their customers to monitor the temperature of the vehicle where the goods are being stored, and ensures they are within the approved range for the product. This gives proof of clear custody and control of the product if questions surround the product quality.
Technology that gives visibility into the movement of products and connects everyone on the supply chain is also a primary need for companies. One example is RyderShare, a digital platform that provides real-time visibility and collaboration on goods moving through the supply chain. It eliminates industry silos and creates a virtual ecosystem that connects all parties and enables the sharing of data between shippers, receivers, brokers, customers, operations and carriers. The data captured through RyderShare is turned into business intelligence by operators to make strategic changes and continuously improve operations. As a result of the visibility and collaboration, what took days and hours of numerous phone calls now takes minutes.
Just as important as customized vehicles and new technology are for food and beverage companies, preventing breakdowns through regular maintenance is critical to any operations. As any food shipper can attest, a vehicle breakdown when a temperature-controlled shipment is in transit can be disastrous and costly.
This is also where shippers benefit from advanced engine technology that keeps them connected to their vehicles. Just as fleet managers are connected to their vehicles, their maintenance technicians can be connected as well. Service centers and technicians gain better visibility into the performance of the vehicle, the engine and integrated systems. They can then plan for the maintenance activities because of the data provided by the engine technology. And, as a result, this connectivity can alert all stakeholders before a breakdown happens that prevents major downtime and product loss.
"We deliver six days a week, and most of our orders have to be turned around in less than 12 hours. Having a customized and reliable fleet that is able to keep up with these demands ensures our customers are satisfied," says Sean O'Scannlain, president and CEO of Fortune International.
Ultimately, the food and beverage supply chain is responsible for ensuring that products are safe for consumers. It's a responsibility that begins at the farm level and ends at the point of consumption. Maintaining food safety throughout the supply chain therefore involves compliance with numerous regulations, implementing the latest technology tools for tracking and tracing and applying advanced supply chain strategies in transportation to support a safe and secure food supply chain. To achieve this, food producers and shippers are increasingly partnering with logistics professionals that offer expertise in food safety to meet these new and evolving demands.