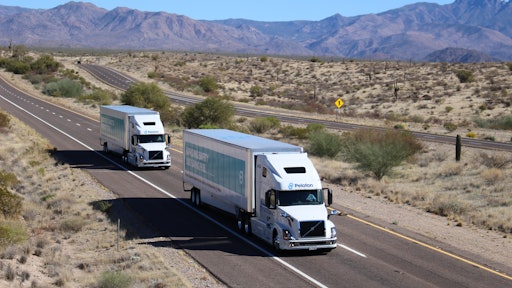 Peloton Technology
When it comes to automation, autonomous vehicle (AV) technology is rapidly progressing from concept to application. So much so that in early January, the U.S. Department of Transportation rolled out the Automated Vehicles 4.0 initiative. While several companies are testing autonomous food delivery vehicles in urban settings, innovation is also occurring in the heavy-duty, Class 8 vehicle segment. However, to reach the stage of mainstream autonomous truck delivery in food and beverage, platooning will play a significant role.
Allied Market Research, Portland, Ore., reports that the global truck platooning market size was valued at $500.9 million in 2017, and is forecast to reach $4.590 billion by 2025, a CAGR of 32.4% from 2018-2025. North America accounts for the largest segment of the truck platooning market.
In its report "Distraction or Disruption? Autonomous Trucks Gain Ground in US Logistics," McKinsey & Co., New York, finds companies will see autonomous trucks roll out in four waves—in a platooning formation. The first wave begins with two trucks, each with a single driver, and then gradually transition to wave four, which has two or more fully autonomous trucks.
When platooning technology is engaged, drivers primarily drive as usual while wireless technology links each vehicle, says Mark Petersen, vice president of temperature-controlled logistics for C.H. Robinson, Eden Praire, Minn. A forward-looking radar sensor senses obstacles ahead and automatically applies brakes in both trucks faster than humans can.
"When platooning, trucks can travel closer together than what's safe when drivers are manually driving. The shorter gap between trucks positively alters aerodynamics, reduces wind resistance and results in fuel savings for both trucks," he says. "As self-driving capabilities in trucks increases, so do the savings. In a two-truck platoon, removing one driver from a truck (partial autonomy) can lead to 15% savings per mile, and removing drivers from both trucks (complete autonomy) could lead to 40% cost savings per mile."
Peloton Technology, Mountain View, Calif., also continues to invest in the potential of platooning.
Food Logistics interviewed Joyce Tam, vice president of customer programs for Peloton, to gauge platooning insights and advantages for food and beverage companies.
Food Logistics

: How can platooning most benefit the food and beverage industry?

Tam: Connectivity is transforming the commercial trucking industry by enhancing highway safety, driver awareness and providing significant economic/efficiency benefits for fleets. Truck platooning allows commercial fleets to save fuel, improve safety and glean operational insights about routes or the health of fleet vehicles. This can be especially useful when transporting perishables, which require fleets to maintain tight delivery schedules along dedicated routes.

Deploying truck platooning systems can also provide a significant competitive advantage to food and beverage fleets that today commonly operate on razor-thin margins; this includes providing them with approximately 7% fuel efficiency gains across a pair of platooning trucks, reducing safety-related incidents and delays through the utilization of linked active truck safety systems and building in new operational efficiency enhancements.

Using platooning systems also present opportunities for food and beverage fleets to achieve fuel efficiency-related reductions in CO2 emissions and other harmful particulate matter expelled through the combustion of diesel fuel. This can help food and beverage fleets reduce their own carbon emissions or attract new, environmentally-conscious customers looking for fleets that can help them better achieve their logistics-related sustainability goals.
Food Logistics

: What has Peloton Technology learned through its customer pilots?

Tam: We have learned through customer pilot activities, many of which have included partnering with food and beverage fleets, that fleet drivers enjoy the driver teamwork and enhanced roadway awareness that comes with platooning drivers traveling routes together. The platooning system allows them to share real-time information about changing road conditions or prepare for lane changes through a push-to-talk radio link and look-ahead video screen that gives the follow driver a view of what's ahead of the lead truck.

In the future, platooning systems will lay the foundation for automated following truck technologies. Peloton's AutoFollow system, an evolution of the company's PlatoonPro, utilizes a human-driven lead truck to guide the acceleration, braking and steering of a sensor-equipped, automated following truck. The technology is expected to yield significant driver productivity gains for the trucking industry by doubling the amount of freight a professional driver can haul in a single trip all while addressing the growing professional driver shortage.

Professional drivers remain at the heart of piloting both our systems. In the food and beverage industry, this can give these fleets a competitive advantage, as one human in an automated following system and two humans in a platooning system, are physically present to handle on-site delivery and the time-sensitive unloading of perishable cargo.
Food Logistics

: How are today's food and beverage companies integrating truck platooning into their operations?

Tam: Platooning can fit seamlessly into the mid-haul logistics operations of many logistics segments, especially within the food and beverage industry. Through our customer pilot programs, we have platooned with alcoholic and non-alcoholic beverages, baked goods, frozen and prepared foods and products within the restaurant supply chain to transport them from various warehouses to distribution centers. So far, daily platoon miles averaged approximately 600 miles at more than 80% of the approved segments.

Of importance to the food and beverage industry, specifically, Level 1 (L1) platooning systems are suited for customers who transport goods using a wide variety of dry vans and refrigerated trailers. These trailer types provide the most improved aerodynamics to maximize fuel savings.

Since July 2018, we have worked with customer fleets from various sectors to better understand how platooning fits into fleets' existing operations and to introduce customer fleet drivers to our platooning system. Some operational fleet data from these trials has shown slightly improved performance for on-time departure due to team driving. Some fleets have implemented a platoon departure time window to ensure that platooning does not introduce operational delays. Through partnerships with fleets in these real-world freight environments, we have been able to apply lessons learned and recommend best practices to streamline operations for future deployment of platooning systems.

Trials have also given us new insights into fleet customers' trailer populations. While working with food and beverage customers, we were able to use different trailer configurations to perform additional track tests, which helped us improve overall platooning performance and bolster support for a broader range of trailer types.