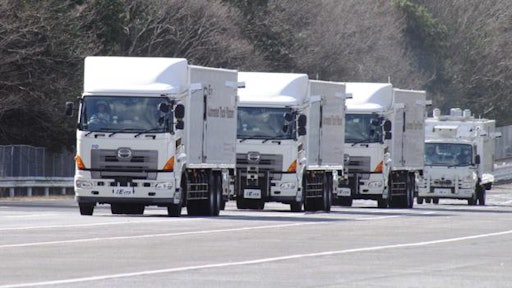 Purdue University has been awarded a $5-million grant from the U.S. Department of Energy to study fuel savings and vehicle-to-vehicle communications for truck platooning.
Industry partners in the three-year project, which is scheduled to start in March, include Cummins, Peterbilt Motors Co., ZF TMW and Peloton Technology. They will also be joined by the University of Arizona and the National Renewable Energy Laboratory (NREL) to study Peloton's current and next-generation truck platooning technologies, advanced powertrain concepts from Cummins, automated steering controls from ZF TMW and new truck designs from Peterbilt.
The project is part of DOE's Next-Generation Energy Technologies for Connected and Autonomous On-Road Vehicles (NEXTCAR) program. It's goal to boost the fuel economy of tractor-trailers by 20% through platooning and connected powertrain management, according to Peloton
Peloton's current two-truck platooning system has already shown a 7% fuel economy improvement in independent testing with two Peterbilt 579 Model tractors, according to the company. Adding V2V and vehicle-to-cloud (V2C) connectivity will enable other technologies such as automated steering control , over-the-air engine optimization, and look-ahead data as well as next-generation platooning technologies as the project pushes for its 20% efficiency improvement goal, according to Peloton.
"Our objective is to tap into fuel savings that can only be attained by managing the powertrain precisely for the road ahead, and for the specific configuration of the trucks." said Michael Palmer, Peloton's dir. of research. "Cloud connectivity provides information about the road ahead, and the trucks exchange data about their estimated mass and powertrain capabilities. This helps us maintain smooth, efficient platooning through grades and rolling hills."
Peloton says it plans to bring a commercial version of its two-truck platooning system for tractor-trailers to market next year.
To read more, click here.