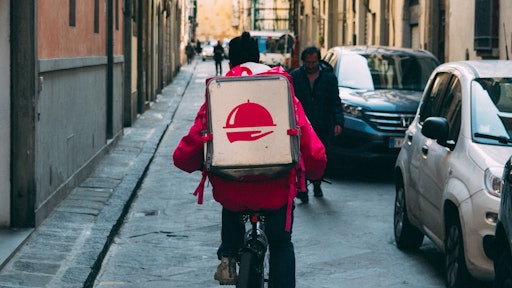 Photo by Kai Pilger on Unsplash
When it comes to the consumer experience, few companies set the bar like Amazon and Uber. When either company jumps, it signals the market to do the same. Their entrance into the food delivery sector with services such as Uber Eats has changed the game for restaurants in their quest to remain competitive and meet customer demands. Customers now want the convenience of transparency and control over how their food is prepared and delivered.
With today's full-service food delivery aggregators, order and delivery preference can be easily achieved. And it shows in the statistics. According to Morgan Stanley, 40 percent of total restaurant sales will be delivery, and 58 percent of total restaurant delivery will be online by 2020.
Guy Bloch, CEO of Bringg, provides his insights into the current environment and how restaurants can gain exposure in a crowded market while maintaining margins and brand control.
The major players are leveraging delivery service technology to connect and optimize the customer experience. Regardless of customer location—a home, business or street corner—technology can bridge restaurant and consumer, says Bloch. However, because such services are becoming commoditized, current business models provide few choices for restaurants to protect margins and sustain brand exposure. And each choice comes with tradeoffs.
"A small segment of restaurants is choosing the path of simply not reacting to industry changes. Often, owners are either older and don't plan to continue in the industry, or they feel making the technological jump is too complex," says Bloch. "That jump can include building an in-house system, but the associated time, costs and issues that are part and parcel of scaling are only realistic for the very largest chains."
"Thus, a popular option is to deploy a point solution, such as Postmates, DoorDash and the like," adds Bloch. "However, margins are low and surrendering a large percentage of revenue might allow you to compete, but it won't allow you to profit. A further dampening of profit occurs when the restaurant no longer owns the customer relationship and the point solution providers gain full control. "
What is the answer? Bloch says a sophisticated holistic approach with a solution like Bringg. Restaurants, for example, work with the Bringg platform to streamline, manage and automate the entire food delivery system, while keeping control of their customer data, he says.
"A variety of services are integrated based on each chain's specific needs via an open API platform with a translation layer. The platform allows for the system to be up and running within weeks and scaled to additional locations quickly and easily," explains Bloch. "Features can include management tools for headquarter and restaurant locations, driver tools (i.e., route optimization, automated drop-off reminders, driver app, and the like) and transparency and UX features for consumers (e.g., real-time tracking and notifications)."
Most recently, Bringg announced a strategic partnership with DoorDash, the on-demand delivery service. Now, restaurants can rely on their existing in-house delivery fleet while integrating DoorDash as part of their last-mile customer experience for peak times and specific geographies. The Bringg platform operates in the background collecting vital data that restaurants can later analyze for greater customer engagement.
"Restaurants need to build their brand. They may want to ensure they're visible on full-service aggregator platforms, but it's also essential to have their own app for customers to download and place orders," says Bloch. "While building direct customer relationships begins once customers engage with the app, it doesn't end once an order is placed. That last-mile delivery brings the customer experience full circle and is often the only touchpoint with the restaurant for customers who order online."