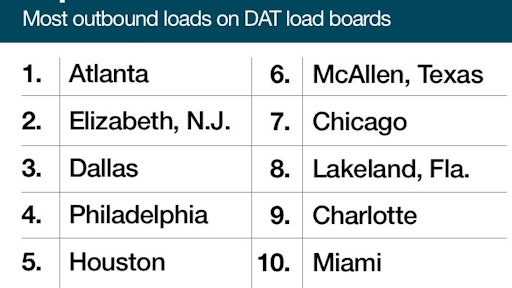 June capped an unprecedented 15-month run of spot market rate increases, likely to turn into the longest sustained period of pricing power for truckers since deregulation in 1980 before it's done.
The national average spot rate for refrigerated truckload freight climbed to $2.69 per mile in June, an all-time record.
That's 16 cents higher than May and 58 cents higher compared to June 2017. The average reefer load-to-truck ratio was 10.1 in June, meaning there were 10.1 available loads for every truck on the spot market.
Rates are high because there's been so much demand for capacity. While no U.S. market had more than 1 million outbound refrigerated load posts in 2017, three markets are on pace to cross that threshold in 2018.
Among the Top 10 markets for outbound reefer freight volume so far this year, the two Florida markets of Lakeland/Orlando (27th on last year's list) and Miami (40th) made huge jumps. Florida is generating more out-of-season and in-season produce, and Miami continues to be an active hub for produce imports.
Produce from Mexico has boosted load posts out of McAllen, Texas, which was No. 26 last year. Indianapolis; Twin Falls, Idaho; and Joliet, Illinois each fell out of the Top 10 from 2017.
For all the despairing shippers out there: June is the traditional peak for reefer rates, and by the middle of July prices were retreating. The questions going into September are what the pace of moderation may be, and what effect it will have on contract rates as shippers try to secure long-term capacity.