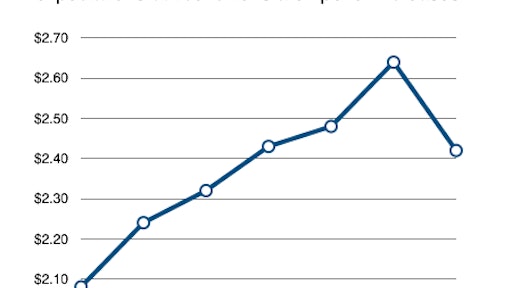 The load-to-truck ratio for refrigerated truckload freight on the spot market fell from 16 in January to 9.8 in February, in line with expectations since because this is typically the slowest month for freight. The national average spot reefer rate fell, too, down 22 cents month over month to $2.42 per mile.
But that rate was 6 cents higher than the average contract rate, an indication that there's still tremendous pressure on reefer capacity nationwide.
Shippers need trucks.
It's worth noting that in January, the first full month after the ELD mandate took effect, the number of reefer trucks on the spot market actually increased 3%, followed by a 1.7% increase in February. It was a similar story on the van market, where the number of trucks posted increased 5.7% in January and 4.4% in February.
No doubt many carriers took an extended holiday in December and were enticed into the market by strong rates.
Those trucks are back, and there's plenty of freight to move.
The end of March coincides with the end of the first quarter, Easter weekend, and the start of the full penalty phase of the Electronic Logging Device mandate on April 1. Shippers will want to move all types of goods ahead of these key dates, and the additional demand will intensify the strain on van and reefer capacity.
The trucks are out there. But shippers may have to pay more to get them.