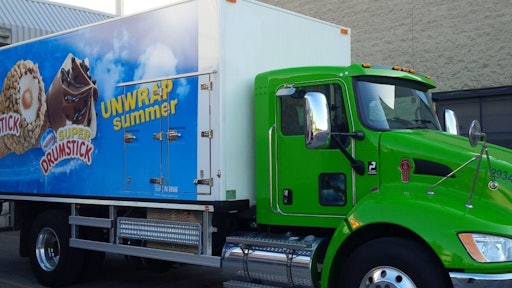 Vehicle selection has become more complex in the food industry for many reasons: new regulations, more fuel saving technologies, alternative fuels and a chronic driver shortage. Companies serving urban customers also have to consider vehicle size, turning radius, maneuverability and security.
Pallet volumes and the characteristics of the customers' receiving docks also weigh heavily in urban delivery vehicle selection decisions.
Basic cost of ownership considerations are the same for urban delivery vehicles as other equipment: depreciation, fuel, insurance, financing, repairs, fees and taxes, opportunity costs and maintenance.
Seafood Delivery Demands
Santa Monica Seafood, a seafood processor and distributor, has found improved fuel economy is possible even when hauling 16-foot bodies maneuvering in tight spots.
"We're getting more than a 30 percent boost in fuel economy with our Peterbilt 325 as compared to Class 5 cabovers we're running at our Rancho Dominguez, San Diego, and Phoenix locations," says Vince Cigliano, director of special projects. "That floored us, and it shows we're not overworking the truck like we are the cabover. The Peterbilt is matched to our application."
"Our drivers were a little concerned at first about the turning radius since we go into some tight spots. But the trucks handle well and turn sharply, plus the drivers love the ride," he says.
Santa Monica Seafood uses medium-duty Peterbilt Model 325s and Kenworth T270s with 16-foot bodies to handle loads with six pallets. "We also use Peterbilt 337s with 18-foot bodies which can handle up to eight pallets," Cigliano says. "Once loaded, the trucks cover their territory and make 17 to 25 stops, each day, six days a week."
With a processing and distribution facility in Rancho Dominguez, Calif., seafood arrives daily and is parceled out on pallets for local deliveries or transported in 53-foot trailers to cross-dock facilities in Las Vegas, Phoenix, San Diego, Sacramento, and Atascadero.
"From there (in all but one location), we use medium-duty Peterbilt Model 325s and Kenworth T270s with 16-foot bodies to handle loads with six pallets," says Cigliano. "We also use Peterbilt 337s with 18-foot bodies which can handle up to eight pallets. Once loaded, the trucks cover their territory and make 17 to 25 stops, each day, six days a week."
The 18 PacLease units feature the PACCAR PX engine with horsepower ratings between 240 and 260. They're matched to Allison automatic transmissions, and were spec'd with fuel efficiency in mind.
Amigos Foods, a Hispanic food distributor, recently deployed a Peterbilt Model 220 cabover to service some of the tighter areas. "Because of its cabover design, the turning radius is outstanding and it's just what we needed," says Manny Rangel, chief financial officer.
Food Hauler Concerns
Food haulers are looking to maximize fuel economy, image and driver retention in their selection of urban vehicles, says Jim Browning, a national account sales executive with Paccar Leasing (PacLease), the leasing arm of PACCAR Inc., the parent company of Kenworth, Peterbilt and DAF nameplates.
In trying to attract and maintain drivers, a premium piece of equipment appeals to a larger driver pool, Browning says. This includes a well-insulated cab, electronics, drivability, performance and brand reputation. He thinks the image a brand represents is actually more important in attracting and retaining drivers than anything else vehicle-related.
Delivery Network Design
The design of the delivery network impacts the type of vehicle that Ryder Inc. advises for its commercial customers, says Scott Perry, vice president of supply management and global product management for Ryder fleet management solutions. The choice is often between a pup truck delivery model and a straight truck delivery model.
"The types of customers they are servicing and the type of logistics network they are operating have a huge impact on the configuration of the vehicle that they have to utilize," Perry says.
"Once you're in that Class 8 tractor and pup trailer type of design, transitioning to a straight truck type (medium duty) of delivery model is a little more difficult to achieve because that requires a major overhaul and redesign of your entire delivery network," he says.
"Even if they have a mature distribution facility built in the local market, the type of equipment they are able to leverage, whether a straight truck or tractor, refrigerated or dry van, depends upon the type of product that they're transporting as well as the type of deliveries they're making," Perry notes. "If they're delivering to a customer that has a traditional service dock and they need a dock high vehicle, then a medium duty truck or tractor with pulp trailer will probably be what's most viable."
"Conversely, if they're servicing a customer via a ground delivery, then they may need something that's a little lower to the ground like an Isuzu straight truck. It has a much tighter turning radius. It doesn't have as large of a footprint on the roadway and is able to navigate through metro markets well. They can facilitate a ground delivery a little bit easier. That would really have a big impact on the configuration of the actual assets."
Many fleets are trying to take advantage of fuel saving technologies and alternative fuels. Some companies are attracted to alternative fuels delivering in highly congested areas. "Even there, the alternative fuel vehicles are generally being utilized in markets where state or local incentives are strong," Perry says.
Perry has recently noticed some distribution delivery vehicles doubling as grocery home delivery trucks. Some retailers are using vehicles with integrated rear storage compartments to serve as mobile stores that can either go direct to the consumer's home or be positioned centrally in a metro area where the consumer can come to the vehicle. "It's a pretty interesting concept of how to get goods to the end user and evidence of the role that virtual shopping is having on consumer habits," he says.
E-Commerce Brings Change
The expansion of e-commerce has introduced another set of considerations for those companies involved in e-commerce order delivery.
According to research from the ARC Advisory Group, e-commerce revenues have grown for survey participants by 51 percent over a recent 5-year period, and are expected to continue to grow through 2020.
For Isuzu Commercial Truck of America, the e-commerce delivery market is simply an expansion of the home delivery venue that has long been a company focus, says Brian Tabel, executive director of marketing. The company's models from NPR-HD to its NRR are being used in this service.
Tabel thinks medium duty trucks will play a big role in e-commerce fulfillment. "Once you throw a reefer unit in there to keep product cold and make multiple deliveries, if you use a cut-away van, you're not going to have the maneuverability or the visibility," he says. "The duty cycle of our truck is a lot longer than a cut-away type van."
"It's booming," Tabel says of e-commerce delivery. "It's going to be huge in the next two years."
Van manufacturers aren't ignoring e-commerce, however.
"With 64 configurations of Transit and 25 configurations of Transit Connect available from the factory, Ford vans offer customers unmatched flexibility and power of choice," says Yaro Hetman, Ford brand manager for Transit, Transit Connect and E-Series. "Our dealers can help customers choose and equip the appropriate Transit Connect compact van or full-size Transit cargo van for their specific application, considering how much cargo the customer needs to carry, parking requirements, delivery routes, refrigeration needs, etc. Our upfitters offer refrigeration for both Transit and Transit Connect vans."
A short wheelbase Transit Connect van is the most capable in its class to navigate high-traffic environments, Hetman says, thanks to its turning diameter of 36.1 feet.
"If a customer needs to maximize the amount of food the vehicle can carry while still being able to enter parking garages, then the long wheelbase, low-roof Transit van is a great solution," he says.
To maximize cargo capacity, total cost of ownership and fuel efficiency, the customer should consider the high-roof, extended length Transit van, which provides 487 cubic feet of cargo capacity, he adds.
"Many food delivery fleets will also want to consider the available 3.2L I5 diesel engine for the Transit van, since it will still deliver good fuel economy even if the driver has to spend a lot of time idling in high-traffic areas," Hetman says.
Ford Creates E-Bike To Fold Into Vans
Urban delivery fleets in the not-too-distant future could have an innovative option to help reduce gas burned and time wasted waiting at red lights and searching for parking spots.
Ford Motor Company recently created a prototype electric bike that folds into the back of a van for use by couriers, electricians, and delivery services. Instead of driving a van through crowded city streets, fleet drivers could park it and ride the e-bike to their destinations, helping save time and money.
Alternatively, a driver/rider team could work together, with the driver dropping off riders at a hub to make deliveries via bike, then meeting up with them at the next stop, eliminating the need to search for parking. Up to three Ford e-bikes can be stored in a Transit Connect van.
The MoDe:Pro e-bike is helping Ford study how electric bicycles work with cars and public transport to help commuters and fleets in urban areas.
The e-bike is among 25 experiments Ford launched as part of Ford Smart Mobility, the company's global plan to help change transportation through innovation in connectivity, mobility, autonomous vehicles, customer experience and Big Data.
"There are so many ways to get around a city, but what is really needed is a way to connect all of these transport options together," says Ken Washington, vice president, Ford Research and Advanced Engineering. "Being able to seamlessly move between cars, buses, trains and e-bikes and react to changing traffic situations can make a big difference both for commuters and for those delivering goods and services."
Ford challenged its employees around the world to submit designs for e-bikes, and the prototype MoDe:Pro e-bike was among the top designs from more than 100 submitted. The e-bike has a 200-watt motor with 9-amp-hour battery that provides electric pedal assist for speeds of up to 25 km/h (or approximately 15.5 mph). The e-bike charges when docked in the vehicle.
The prototype e-bike offers technology was inspired by the automotive industry. It includes a rear-facing ultrasonic sensor that enables a rider alert system that warns the cyclist when a vehicle is passing by vibrating both handlebars. It alerts motorists of the presence of the e-bike by illuminating handlebar lights.
The prototype MoDe:Pro e-bike works with a prototype app called MoDe:Link that is compatible with the iPhone 6
Real-time information from the app enables the e-bikes to deliver:
Navigation: Handle-bar grip vibrations let the rider know when to turn. Turn signals are triggered automatically for safety. The app can identify bike-friendly roads, hazards and alerts, and will be able to sense and communicate with other vehicles
Multimodal navigation and smart routing: Integrates journey planning with personal vehicle and public transportation networks, which can be filtered by cost, time, and amount of biking. A map includes weather, parking costs, and charging stations.
Speed and comfort: The electric pedal assist rate can be adjusted based on heart rate. The "no sweat" mode lessens the requirement to pedal, allowing riders to arrive fresh at their destination.
SYNC compatibility: While the e-bike is stowed and charging inside the vehicle, Ford's SYNC voice-activated connectivity system shows the app on the vehicle's display.
After users input a destination, the MoDe:Link app lists possible journeys, then provides step-by-step or turn-by-turn navigation. This can include driving to a train station, taking an e-bike onto the train, then riding the bike from the train stop to the final destination. The app also updates the route as circumstances change.