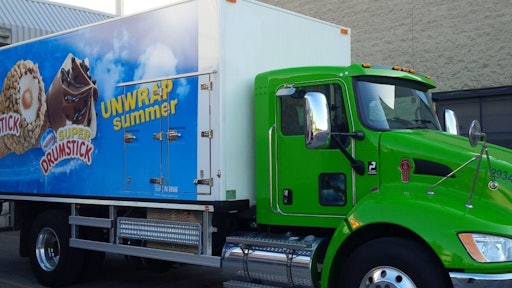 Shifting customer needs are placing new demands on urban fleets, making fleet vehicle selection more complex, according to an article in the September Food Logistics. Companies serving urban customers have to consider vehicle size, turning radius, maneuverability, security and market changes such as the rapid expansion of e-commerce.
Pallet volumes and the characteristics of the customers' receiving docks also weigh heavily in urban delivery vehicle selection decisions.
Basic cost of ownership considerations are the same for urban delivery vehicles as other equipment: depreciation, fuel, insurance, financing, repairs, fees and taxes, opportunity costs and maintenance.
Santa Monica Seafood, a seafood processor and distributor, has found improved fuel economy is possible even when hauling 16-foot bodies maneuvering in tight spots.
"We're getting more than a 30 percent boost in fuel economy with our Peterbilt 325 as compared to Class 5 cabovers we're running at our Rancho Dominguez, San Diego, and Phoenix locations," says Vince Cigliano, director of special projects. "That floored us, and it shows we're not overworking the truck like we are the cabover. The Peterbilt is matched to our application."
"Our drivers were a little concerned at first about the turning radius since we go into some tight spots. But the trucks handle well and turn sharply, plus the drivers love the ride," he says.
Santa Monica Seafood uses medium-duty Peterbilt Model 325s and Kenworth T270s with 16-foot bodies to handle loads with six pallets. "We also use Peterbilt 337s with 18-foot bodies which can handle up to eight pallets," Cigliano says. "Once loaded, the trucks cover their territory and make 17 to 25 stops, each day, six days a week."
To read the entire article, click here.