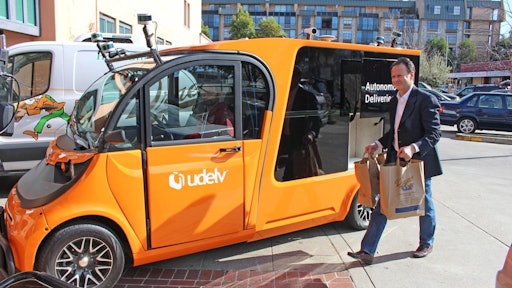 The glistening glass of skyscrapers are quintessential of cities and sprawling urban areas. Unchanged over time, it's the activity below these towering buildings where commerce, transportation and technology converge, forming intricate supply chains. As part of that intricacy, the last mile serves as the critical point where food orders and shipments reach their final destination. Over time, consumers have influenced last-mile decision-making and continue to do so. It's those consumer trends that drive innovation in urban food delivery vehicles that ensure last-mile delivery. 
What food consumer trends are influencing the last mile? And what are the insights from those involved in urban delivery vehicle manufacturing from insulation providers to chassis manufacturers to next-stage urban vehicle production?
Today's Last-Mile Supply Chain
According to Anne Goodchild, director of the Supply Chain Transportation and Logistics Center at the University of Washington, a major influencer to last-mile delivery is customer demand. More food purchases are now being made in a virtual environment for grocery, restaurant and prepared meals.
"The way people purchase goods is changing, and that has upstream impact on the supply chain," says Goodchild. "The traditional model of consolidating orders into a commercial truck for delivery requires pre-planning and knowledge of those items—something that's inefficient and excessive given the time element and volume size of online orders."
Daniel Laury, CEO of Udelv, a company specializing in the manufacture and operation of an autonomous vehicle specific for last-mile delivery, says in addition to online ordering, customers are also expecting deliveries that are shorter, cheaper and on time. However, another significant issue from a merchant perspective is managing teams of drivers at a time when driver turnover and shortages are high.
"Today's e-commerce only accounts for approximately 9 percent of total U.S. retail sales, with experts predicting it will quadruple in the next decade," says Laury. "There's a very real chance that a delivery bottleneck will occur.
"Thus, the industry needs to evolve toward more technological solutions. Using the Udelv autonomous vehicle, we're targeting consumer and merchant pain points," adds Laury. "Our goal is to reduce the cost of deliveries by more than half, while shifting the role of drivers to overcome the shortage that exists. It's about creating a model that is more efficient and less expensive."
New Models Emerge, Evolve 
The emergence of new models with home grocery delivery and meal kits, says Goodchild, is opening doors to more specialized services where smaller markets can be served. Because the quantity of goods is small and customers want their orders quickly, there's greater reliance on passenger vehicles and even cargo bikes for delivery.
"We're seeing a proliferation and a period of experimentation with these new services that are enabled by technology and mobility, such as Blue Apron and semi-prepared meals," says Goodchild. "I don't know how this will play out in the long term, but it's a model that is working thus far."
With delivery services, the last mile is extending beyond the store to include individuals' homes. That service is an extra cost to the supply chain that companies are bearing at the moment.
"There are experiments to reduce those costs, such as Amazon using Whole Foods as a pickup location or Amazon Fresh as a pickup point rather than delivering to 25 homes," says Goodchild. "This consolidation model is occurring in the food supply chain in different ways than in retail because food has many unique features, such as its perishability, frequency in which people make purchases and the volumes of perishable food moving through supply chains. However, the current landscape will not last forever, but continue transforming."
Protecting Food During Delivery 
Matt Nelson, vice president for FG Products Inc., says the company's vans are used extensively for last-mile delivery in the grocery warehouse delivery space as well as urban deliveries for groceries, ice cream and craft beers. He says consumers are most concerned about three areas when it comes to delivery services and vehicles:
Cost of the delivery
Delivery time window
Temperature and sanitary concerns
"As a manufacturer of insulation packages that allow cargo vans to haul everything from lettuce to ice cream, we have input into the temperature and sanitary concerns that our customers receive," says Nelson. "As online ordering and consumer expectations evolve, so too will delivery options. Delivery models are dynamic, and this impacts the sizes and styles of vehicles going forward."
Consumer pressure for a perishable delivery solution with assorted product selection has been consistently increasing, says Nelson. Such pressure is leading to diverse types of vehicles.
An insulated partition from FG Products enables vans and trucks to deliver food shipments of different temperatures.

"FG Products is experiencing distributors purchasing complete solutions as well as companies performing R&D testing on many forms of delivery vehicles," says Nelson. "With the exception of servicing the vehicle itself, FG is involved in vehicle specification discussions and decision-making with customers to provide them with the best solution for their needs."
Those specifications often include:
Vehicle weight and cargo capacity
Driver safety during entry and egress
Temperature management of refrigerated, frozen and specialty items
Emissions/miles per gallon, with ongoing testing of alternative fuel vehicles and electric standby refrigeration systems
Service convenience, particularly refrigerated vehicles
"Because perishables are used extensively with our vehicles, we're heavily involved in the insulation and temperature separation facets of production," says Nelson. "Essentially, FG has taken the semi-trailer application and condensed it to a cargo van where frozen, fresh and dry goods can all be transported together."
Built for Urban Delivery
With the move toward freshness and farm-to-table preferences, restaurants are now requesting multiple food deliveries per day. Brian Tabel, executive director of marketing for Isuzu Commercial Truck of America Inc., says there's no longer space to store food when customers want it fresh for lunch and dinner.
"Businesses are not only purchasing more trucks, but designating certain vehicles for longer and shorter routes," says Tabel. "As part of 'right-sizing' their operations, customers are looking to gas trucks for urban, last-mile-type deliveries and diesel trucks for longer runs."
Isuzu Commercial Truck of America provides the chassis to the truck body companies that transform them into delivery vehicles and other designs.
"One grocery store may be requesting 60 percent refrigeration and only 40 percent freezer space. Or another may want 20 percent dry goods, 30 percent freezer and the rest refrigeration," says Tabel. "Home food delivery services are ordering a number of our chassis for body customization. This is an evolving industry, and the needs of customers are constantly changing.
"Our vehicles are a great addition to this industry because of their maneuverability and low-cab visibility in urban settings. It's more difficult to navigate in a traditional truck with a conventional-style nose. Thus, that smaller footprint is the biggest advantage."
Next Generation Delivery
On the other end of the urban delivery spectrum is Udelv, the autonomous vehicle for last-mile delivery. In a snapshot, the company is two years old, transports multiple food items within different temperatures, operates within a 10- to 50-mile radius of a store and delivers up to 18 customers at one time—autonomously.
"What we're achieving is historical in the sense that Udelv is the first company in the world to launch a real-world application of autonomous driving where paid deliveries are occurring," says Laury. "We recently completed our 500th delivery in the San Francisco area on behalf of 10 merchants."
Laury says a McKinsey study in October 2016 predicted that 80 percent of deliveries will somehow be autonomous within the next decade. Autonomous could mean ground autonomy or drones servicing less populated or dense areas, but technology is going to play a significant role in deliveries over the next five to 10 years.
"Autonomous vehicles are going to drive the cost of deliveries down to a point where it's nearly zero at scale and volume, allowing virtually every grocery store in the country to deliver autonomously," says Laury. "These vehicles will deliver heavy items, liquids and packaged foods, while consumers continue purchasing fresh produce in-store."
Today, Udelv's mission is to improve people's lives by making deliveries easy and precise—setting their expectations high for what is possible in a delivery service. The Udelv vehicle is often seen at corporate campuses. Once orders are placed, merchants use a mobile app to load deliveries into locked compartments. For perishable food, a honeycomb structure maintains temperature levels for a two-hour cycle. Customers then use the mobile app to access a designated compartment and retrieve their orders.
"The vehicle was designed to transport multiple types of goods as long as they fit into a specified dimension," says Laury. "And 100 percent of what we deliver occurs within two hours with sustained temperature levels for all fresh and frozen food. We have plans to launch Udelv in nearby cities before branching out to states across the country."