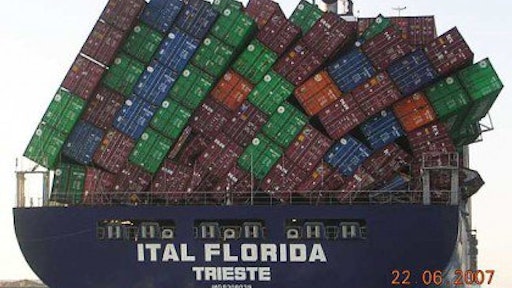 The new SOLAS Verified Gross Mass container weighing regulation will go into effect today – and in the United States, it appears the rollout could occur without the disruption and delay that many had feared, according to The Maritime Executive. The majority of the nation's largest container ports and terminal operators have agreed to provide truck scale weights for VGM use, allowing business at the busiest facilities to continue uninterrupted.
However, some shippers have said the procedures vary from port to port, meaning there could be delays.
John Cushing, a spokesman for Pierpass – an association for terminals at the ports of Los Angeles and Long Beach, the largest ports by TEU in the United States – said that no member terminal had any plans to turn away unweighted containers arriving by truck. Trailer chassis-borne containers "will be weighed as they historically have been," he said, and the weights will be transmitted to the carriers for use at each carrier's discretion. Containers arriving by rail will be handled on a terminal by terminal basis.
The Port of Oakland, Port of New York and New Jersey, the Northwest Seaport Alliance, South Carolina Ports Authority, the Georgia Ports Authority, the North Carolina State Ports Authority, the Port of Houston Authority, the Port of Virginia, Port Everglades and Baltimore's Seagirt terminal have all indicated they will provide similar weighing arrangements. The participating facilities include nine of the top 10 U.S. container ports by TEU.
Class 1 railroads in the U.S. and Canada do not as a rule provide weight information to the ocean terminal upon arrival at on dock facilities, according to The American Journal of Transportation. To date there's no formal plan to exchange this information and here to fore, it's never been an issue. Simply put ports and terminals in the U.S. will be adopting differing strategies for addressing the issue of "on dock" rail exports.
Port News confirmed "Container weights provided by the railroads are not accepted for VGM purposes. Maher terminals for example will require a separate VGM for containers received from E-Rail. At PNCT, APMT, GCT New York, GCT Bayonne and Red Hook, containers arriving by rail will be weighed for a $75.00 charge and that weight will be reported to the ocean carrier as verified to be used, as Port News indicates "at the carrier's discretion", truly not a hard and fast ruling on containers arriving by rail.
Outside of the U.S., "some sort of disruption is likely," said an industry source close to stakeholder talks, citing training and operations changes, conflicting information and wide variation in national governments' implementation; many terminals operated by international firms like DP World or APM Terminals will offer weighing, but compliance may be difficult in remote or less-developed regions of the world. The IMO has called for a soft roll-out, emphasizing stakeholder engagement and practical implementation as opposed to strict enforcement as industry gets used to the new arrangements.
To read more click here.