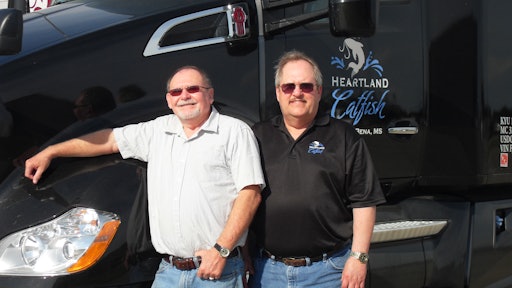 Aerodynamics, the study of the way air and other gases affect motion, has gained interest from the commercial trucking industry as a fuel-saving technology. Vehicle technology research has confirmed that aerodynamic solutions can improve fuel efficiency and the transportation industry has introduced numerous aerodynamic devices.
Trailers entering California are required to use EPA SmartWay-certified trailers or technologies, such as the use of side skirts, gap fairings, trailer tails or rear fairings, and must achieve a 4 or 5 percent improvement in fuel consumption. (See sidebars, page XX.)
This regulation is significant in its influence as fleets must now re-evaluate their daily operations and consideration in using trailer aerodynamics. The U.S. Department of Energy (DOE), meanwhile, continues to support research to further improve the aerodynamics of heavy vehicles. DOE is partnering with Frito-Lay, Navistar, Kentucky Trailer, Freight Wing, Michelin and Spirit Fleets to perform track and on-the-road tests.
Add-on devices such as trailer tails, side skirts gap fairings and extenders have been available to fleets for some time. There are plastic or composite devices that attach to the vehicle and direct the air flow in a way that reduces air pressure while the vehicle is in motion.
Fleets Text New Options
Ryder, for example, has been introducing the side skirts into its fleet for several years, says Scott Perry, vice president of supply management and global fuel products. The aerodynamic tools are one of several improvements the company has introduced, along with engine down speeding, axle ratios, low viscosity engine oils, low rolling resistance tires and automated transmissions.
Penske Logistics uses fairings on its tractors and side skirts for its 53-foot trailers, says Doug Macolley, vice president of fleet operations. "We work to manage the drag resistance and air flow around the vehicle," Macolley says. "Our company sees the value of aerodynamics in our fleet because with the proper specs, there is less energy needed and that improves our MPGs."
Vehicle manufacturers are incorporating these features in newer models. Some food and beverage fleets are already using aerodynamic devices built into their newer trucks.
Brian Tabel, director of marketing for Isuzi Commercial Truck of America Inc., says aerodynamics makes more sense for long haul use than urban use. His company offered an Economax low-cab-forward truck in 2011 with a top fairing and a lighter body weight.
The composite body material and the fairing added 25 percent more cost to the unit, Table noted. This resulted in a decision to discontinue the unit. But Isuzu recognizes that government regulations could mandate aerodynamic features, which is already the case in California. "Those (rules) will be moving across the country and become standard," he says. "You're going to see more and more medium duty industry move in that direction."
Catfish Processor Finds Savings
Heartland Catfish, based in Itta Bena, Miss., recently converted its fleet of 22 high-hood trucks into a fleet of Kenworth T680s that have factory-installed aerodynamics in addition to other fuel efficiency features. The current Kenworth T680 Advantage has longer 76-inch sleeper side extenders, lower cab fairing extenders, front air dam, aerodynamic mud flaps, rear fairing without steps coupled with an air deflector, exhaust cut out covers, and optional wheel covers for drive tires.
The model has gained Heartland Catfish 2.3 MPG over is previous long nose, which means a fuel saving of more than $2,000 per truck per month, a $44,0000 monthly fleet reduction.
But the existing aerodynamic devices have limitations. Penske Logistics, for instance, does not use side skirts on trailers to retail locations. "The reason why is the increased possibility of damage to the skirts due to the nature of the deliveries," Macolley says. "The only exception would be California where it is mandatory on all 53-foot trailers."
As sensor technology evolves, so have opportunities to improve the capabilities of aerodynamic devices for trucks and tractor trailers.
Startup Secures Research Funds
Actasys Inc., a Watervliet, N.Y.-based company, has been working to adapt an active aerodynamic technology developed in the aerospace industry to improve fuel efficiency of tractor trailers. The company has secured funding from New York State Energy Research and Development Authority in addition to private funds.
The Actasys kit consists of a set of actuators on existing tractor fairings or extenders, and of a control/electronic unit that connects to the tractor computer and battery, says Daniele Gallardo, Ph.D., company co-founder and vice president of business development. The actuators create a "virtual wall" of high-speed air connecting the tractor to the trailer, preventing the incoming air flow to infiltrate the gap between the two. By doing so, the system reduces turbulence, thereby improving fuel efficiency.
By connecting to the tractor's electronic control unit (ECU) and to a set of sensors that will come with the kit, Actasys' product will be able to adapt to changing environmental and driving conditions autonomously. Gallardo claims wind tunnel experiments demonstrated potential fuel savings of 6 percent to 18 percent obtained applying Actasys technology in several locations that are a source of drag.
The system in its present form polls information on the vehicle's acceleration, braking, velocity, load weight and geospatial location, Gallardo says. Actasys is also working on adding sensors that will gather environmental data such as side wind speed, temperature and humidity. Gallardo claims "the system will represent the first aerodynamic kit capable of adapting autonomously to changing environmental and driving conditions and to stream in real time the fuel savings that are achieved."
Passive Versus Active Solutions
The most commonly adopted add-on aerodynamic kits include side fairings, extenders, roof fairings, trailer skirts, and, to a lesser extent, trailer tails. The problem with these devices is they are passive in nature, Gallardo says. They cannot adapt to changing environmental and driving conditions, and they can enhance the aerodynamic performance only to a certain extent.
Roof fairings can sometimes adjust to match the height of the trailer, but the adjustment is manual and often relies on truck drivers to perform it. Several customers, especially in the Northeast, have said trailer skirts present problems with ice and dirt build up during the winter months and can add mass to the vehicles and cause breakage.
Gallardo is planning a beta test for fleets equipped with a retrofit device. He is also working with vehicle OEMs that will build the device into tractor trailers.
He says Actasys is planning to commercialize a retrofit kit to sell to fleets. In the near term, the company will work with truck OEMs to integrate the technology into the design of new vehicles. Gallardo says the next step is to start beta testing with local fleets. "We are looking for partner fleets to do trials together as early as fall 2015," he says.
Price Chopper Partners With Logistics One
Currently, Actasys is conducting road tests with Price Chopper, the Schenectady, N.Y.-based supermarket chain, on day cabs. It has also started to coordinate experiments on "sleepers" with Logistics One, the Saratoga Springs, N.Y.-based 3PL, testing longer routes. Gallardo says results to date are promising.
From an R&D perspective, Gallardo says Actasys' next step will be a unit that will be installed on the back of the trailer, generating a virtual boat tail. "Currently the sharp edge of the trailers generate a significant turbulence on the incoming air flow that generates a negative pressure on the back of the trailer, which literally holds the vehicles back while they are running. In order to improve the problem, some companies provide physical trailer tails that are added to the back of the trailers to be deployed. Our unit will be fully automated and won't require any physical change to the trailer's back, providing unprecedented fuel savings, even in regions where there are limits on the overall length, such as Europe."
"We'll no longer be tied to a physical form of aerodynamic improvement devices," says Dave Schmitz, Price Chopper's director of transportation. "It is intelligent aerodynamics that manages air flow without changing the form factor of our current fleet. This technology has the potential of being a game changer.
"This will result in improved fuel economy, reductions in greenhouse gases and lower maintenance costs as compared to traditional aerodynamic devices."
Benefits Beyond Fuel Savings
The benefits go well beyond fuel savings in Schmitz's view. "This could improve the drivability of the trucks by altering the effects of cross winds and other inclement weather situations."
Logistics One is testing the Actasys the system for its fleet of 300 tractor trailers and 61 trucks. "We were interested in working with a local company to see how we could improve the fuel efficiency of our trucks," says Graham Goffin, CFO at Logistics One.
Goffin estimates the company spends $150,000 to $250,000 on fuel. "A small efficiency savings could be a big savings for us," he says. "It's very high-tech technology and very minimalist in terms of the equipment involved," Goffin said for the Actasys system." This equipment can be easily adapted to a leased truck without any add-on equipment. It should be fairly flexible in terms of our fleet."
Goffin considered the EkoStinger aerodynamic system made by Palymra, N..-based EkoStinger. Goffin felt the Actasys system involves less equipment and is easier to install.
The EkoStinger system consists of an undercarriage unit which moves in conjunction with the rear wheel tandem and an undercarriage cross-member cover. The cross-member cover which enhances air flow while contributing to the protection and increased life expectancy of the trailer. The system is SmartWay verified and CARB approved.
As tests continue to indicate the important role aerodynamics plays in make vehicles more fuel efficient, researchers are finding ways to make aerodynamic devices more flexible. Aerodynamics could well become one of the vehicle manufacturing industry's more significant fuel economy measures.
Among Major Fleets, Aerodynamics Leads Fuel Efficiency Technology Adoption
A recent report from the North American Council for Freight Efficiency (NACFE) indicates aerodynamics to be one of the most promising areas for improved fuel efficiency.
The NACFE 2015 Annual Fleet Fuel Study investigated the adoption of various products and practices for improving freight efficiency among 14 major North American fleets, and identifies benchmark competencies of those companies in many different subject areas. Fuel-saving technologies were grouped into seven categories: tractor aerodynamics, trailer aerodynamics, powertrains, tires/wheels, idle reduction, chassis, and fleet practices. The results were presented at the Alternative Clean Transportation (ACT) Expo in Dallas, Texas this past May.
The study revealed that the select fleets adopting freight efficiency products experienced improved miles per gallon (MPG). The NACFE fleets reported an average 7.0 MPG compared to 6.1 MPG for other fleets. This amounts to a fuel savings of $9,000 per year per truck.
This report, the NACFE's fourth annual fleet fuel study accumulated data on the purchasing habits of 14 fleets, operating more than 53,000 tractors and nearly 160,000 trailers.
Frito-Lay Inc. Combines Aerodynamics And Natural Gas
Frito-Lay Inc. has combined aerodynamics with compressed natural gas to enhance fuel efficiency of its fleets. The collaboration between the tractor builders and the aerodynamics and fuel tank manufacturers, along with Frito Lay, the 2015 purchase of CNG-powered tractors will include aerodynamics.
In 2004 to 2006, Frito Lay spearheaded an effort with a number of tractor manufacturers to add more aerodynamic devices to its day cabs. By 2007, the company introduced cab extenders, with chassis skirts following in 2009.
In 2011, Frito decided to pursue CNG-powered trucks, beginning procurement in 2012 and ramping to about 80 percent of their purchases by 2013. But they found that, for a number of reasons, these CNG-trucks were not available with cab extenders and chassis skirts.
Tractor OEMs previously focused on improving the aerodynamics of sleeper tractors, and struggled to justify the product development of these aerodynamic devices on the smaller purchase volume of CNG day cabs.
This year, Frito-Lay will have aerodynamics on CNG-Powered tractors.
"We have been aggressively pursuing fuel savings and freight efficiency for many years", says Steve Hanson, Frito Lay director fleet engineering. "Through collaboration with tractor builders and aerodynamic device and fuel system suppliers, we are now able to get the aerodynamics we desire on our CNG-powered tractors. This will help us continue to increase our overall fleet-wide fuel efficiency."
CARB

Regulation Requires Aerodynamic Technologies

The California Air Resources Board (ARB) approved the Tractor-Trailer Greenhouse Gas regulation to significantly reduce greenhouse gas emissions produced by certain heavy-duty tractor-trailers. The regulation requires the use of U.S. Environmental Protection Agency SmartWay verified aerodynamic technologies and low rolling resistance tires on vehicles operating on California highways. The regulation also provides exemptions and delayed compliance deadlines for certain refrigerated trailers, along with phase-in options and credit for early compliance.
This regulation applies to all 53-foot or longer box-type trailers, including both dry-van and refrigerated-van trailers operating in California, and the heavy-duty tractors that pull them.
A large fleet is any fleet operating 21 or more trailers. Fleets with 20 or fewer trailers are small fleets.
EPA's SmartWay Technology Program Expands To allow Trailer Aerodynamic
Verification
EPA's SmartWay Technology Program verifies fuel savings from aerodynamic devices and low- rolling resistance tires that can be used on 53-foot box dry van and refrigerated in long-haul
operations.
EPA verifies individual devices or combinations of devices tested using SmartWay's protocols; these devices are known as "SmartWay-verified" devices. SmartWay aerodynamics-
test protocols create consistent, comparable fuel-savings estimates under high-speed cruise
conditions for long-haul tractor-trailers.
In 2015, EPA finalized the use of expanded testing-verification pathways to include an enhanced track test, wind tunnel testing, coastdown testing, and computational fluid dynamics. If trailer aerodynamic devices demonstrate fuel savings in SmartWay testing, they are identified as
SmartWay-verified and are listed, along with SmartWay-verified low-rolling resistance tires, on the SmartWay website's technology verification page (www.epa.gov/smartway/forpartners/technology.htm).
Trailer aerodynamic devices can be verified with any of these methods.
Previously, SmartWay – verified devices were tested using one method. Manufacturers may now choose from three SmartWay protocols to determine fuel savings for verification. Manufacturers have the option of testing their device using additional SmartWay protocols to receive additional recognition within the online verified device table.
For example, a manufacturer could initially test and verify a device using a wind tunnel test. If the manufacturer also conducts coastdown testing on the same device, the SmartWay technology webpage will indicate that the device has demonstrated fuel savings with both wind tunnel and coastdown testing. This provides fleet managers with added confidence that the device has demonstrated fuel savings.
EPA also replaced device-based verification categories with performance-based categories for all
aerodynamic device testing.
Aerodynamic devices that fall into these new performance thresholds are demonstrated to achieve fuel savings of 1 percent, 4 percent, 5 percent and 9 percent or more.
Fleet managers can select individually-verified aerodynamic devices from any of the performance thresholds and combine them to meet to the total fuel savings threshold required to qualify as EPA—designated SmartWay or SmartWay Elite trailer. For example, the SmartWay trailer threshold of at least 5 percent fuel savings could be achieved by using a 5 percent device or combining a 1 percent and a 4 percent device. A SmartWay Elite trailer designation could be earned using a 9 percent package or pairing individual 4 percent and 5 percent components.
A listing of SmartWay-verified devices can be found on www.epa.gov/smartway/forpartners/technology.htm.
For More Information:
Actasys Inc., actasysinc.com
Ekostinger, ekostinekostinger.com
EPA Smartway. Epa.gov/smartway
Isuzu Commercial Trucks, isuzucv.com
Logistics One, logisticsone.com
Kenworth, Kenworth.com
Penske Logistics, penskelogistics.com
Ryder Systems, ryder.com