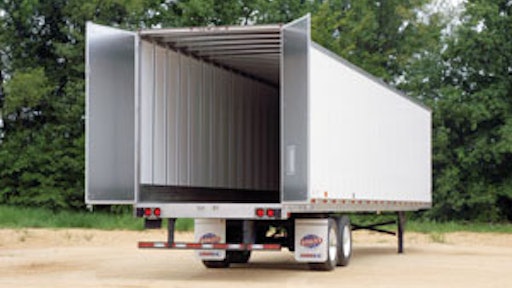 The trucking industry is in a state of crisis. Companies are reeling from the skyrocketing cost of diesel fuel, which is edging closer to $5 a gallon and shows no signs of relenting.
"There's been about four times the number of trucking company bankruptcies this year, as opposed to last year," says Craig Bennett, vice president of sales and marketing for trailer maker Utility Trailer Manufacturing Co., City of Industry, CA. "A large reason is the cost of fuel. As a result, the emphasis is on anything that would reduce fuel consumption."
Utility Trailer and other trailer manufacturers are finding new ways to make trailers lighter and more aerodynamic to help their customers decrease the amount of fuel their tractors have to expend.
In the past few years, manufacturers have been experimenting with constructing trailer bodies out of a wide range of materials including plastics, polyurethane and even recycled materials. However, the type of material that seems to have offered the most weight savings are new types of composite blends that weigh less than traditional materials.
"Composite materials-a lot of plastics mostly-are here to stay," says David Dorsey general manager for Dorsey Trailer in Elba, AL. "We're using them in the springs, in the axles, in the hubs on the drums, as well as in side walls and doors."
Utility Trailer has released its latest dry van trailer, which is SmartWay certified by the EPA and features a low tare weight. Its composite walls feature a patented sheet and post panel design and incorporate a high-density polyurethane foam construction.
"Part of the secret of making the trailer lighter is that we're able to bond the inner and outer skins of the walls together in such a way with the polyurethane foam core that gives us strength and actually saves a few pounds," explains Utility's Bennett. "We blend two elements together and the polyurethane expands to six times its original size. It fills the entire cavity. Then it's put together in a press and becomes a composite panel."
One of Utility Trailer's dealers recently had a 40 trailer group sale to Kellogg's in Omaha, NE. Outbound shipments weren't affected by using the lighter weight trailers due to the fact that the company is shipping cereal, but on inbound loads, where ingredients are being shipped back, the trailers-50 to 60 a day-could fit an extra 600-pounds on them thanks to their lower tare weight. This benefitted Kellogg's with a greater opportunity for additional profit on backhauls to the factory.
Trailer floors, however, remain a problem. Aluminum floors, which would be lighter than typical wood floors, present challenges.
"You can't nail wood down on them to prevent your goods from shifting," says Gene Federhofer, executive salesman for Trailmobile in Lake Forest, IL. "Plus there's no insulating factor. You end up getting frost on them."
Some companies, such as Dorsey Trailer, have experimented with new materials, using recycled plastic for floor stringers or cross members and nylon board that replace the wood. In general, flooring continues to be composed of oak and oak wood blends.
"People are afraid to embrace new floors because of the heavy fork lift traffic that truck floors see," notes Dorsey.
One way to reduce a trailer's weight, according to Trailmobile's Federhofer, is through the use of wide-base or Super Single tires, along with the use of aluminum wheels instead of steel. By moving from eight to four tires on the trailer, companies reduce the weight of the trailer, as well as the drag on the pavement, which will increase fuel mileage.
The time is right to reconsider these tires because more manufacturers are now offering the tire, including Michelin, making it easier and less expensive to use the Super Singles. In addition, manufacturers are working on pressure monitoring systems that will monitor tire pressures-very critical when using the Super Singles.
Cowan Systems LLC, a Baltimore-based truckload carrier, has worked hard to make its fleet of trucks lighter. The company operates 1,400 tractors and 2,600 trailers and recently finished converting 100 percent of its fleet over to lightweight equipment.
"One of the main things we did was to utilize the Super Single tires," says Joe Cowan, owner and CEO. "And if you do some other things you can reduce the weight of the trailer in the vicinity of 13,000-pounds."
The win for his customers is that they can load 4,000 to 5,000 more pounds per trailer load, which is an enormous savings. "You get one free load for every 10, a 10 percent rate reduction," says Cowan.
Durability Is Key
In the engineering world, creating lighter weight products often means that some durability must be sacrificed-a fact that the designers are well aware of.
"People don't have a lot of money to spend on capital equipment," says Adam Hill, director of customer technical services for Great Dane Trailer, the Savannah, GA-based trailer manufacturer. "That's why we're not prepared to give up durability."
"You have to know your designs will hold up, because most people equivocate lightweight with weakness" affirms Utility Trailer's Bennett. "So we have a major investment in R&D where we are able to test designs that are lighter weight and yet as strong as possible."
Bennett and other experts stress that durability is more important than ever, due to the deteriorating nature of the roads in the U.S. Trailers have to be more durable than ever.
This is why companies such as Wabash National, Lafayette, IN, are making their plate trailers with both durability and lighter weight in mind, composing their trailer walls out of grade 80 high strength steel, which is twice as strong as the mild steel some manufacturers use.
"When it's twice as strong it can be half as thick but still maintain that strength," explains Rod Ehrlich, chief technology officer for Wabash. "It saves you some weight also so it's a good bargain."
Lighter, But More Expensive
Creating lighter weight trailers is more expensive than building them out of traditional materials. According to the manufacturers it's easy to lighten a trailer. The hard part is to lighten it and not cause sticker shock for the trucking companies.
"We're working out a lot of the details in terms of dealing with composite materials," explains Great Dane's Hill. "Take the lamination process for example-natural materials are easy to glue, but with composite materials you have to pay more for the adhesives that are required to laminate them properly. It's a process that takes longer as well."
"Weight is a trade-off and there's a cost/add generally associated with eliminating it that you have to be aware of," adds Wabash's Ehrlich. "If the cost difference in weight is $1 a pound and I save 20 pounds, that's $20, which is very sellable. But if the 20 pound difference is costing me $5 a pound, it's not very sellable."
"The payback is not always there," agrees Trailmobile's Federhofer. "For example, you can save money by using lighter disc brakes, but no one wants to spend the money to do it."
Some companies continue to present the case for lighter trailers though. "We've gone the other way to trailers that may cost a little more initially but are better investments in the long run," explains Utility Trailer's Bennett.
He says lighter trailers end up generating more revenue for a company due to the fact that it's able to haul more payload each week. Trailers made of composite materials, which can weigh from 600 to 1,000 pounds less than a standard trailer, are able to hold more cargo before the 80,000 pound gross vehicle weight limit is reached. "The more cargo you can put in, the more the owner benefits and over the life of the product it becomes a better ROI."
The lighter trailer adherents maintain that the return on investment, which includes the initial price, the residual value, all the revenues of the product haul and the maintenance expense, more than make-up for the fact that their trailers cost more than heavier trailers.
Aerodynamics Take Off
In the past, aerodynamic devices for trailers have been greeted with a great deal of skepticism by trucking companies, due to the impracticality and fragility of the devices, as well as the expensive replacement costs. In addition, truckers historically do not like dealing with the devices.
"The devices have been around 20 years, but the trucking companies are not buying them because they're not convinced they'll see a decent payback," says Wabash's Ehrlich. However, he and others believe that as fuel continues to get more expensive, the devices will look more attractive to trucking companies because the replacement costs for damaged aerodynamic devices will be less than the potential savings they could generate.
"Aerodynamics work-it's a slam dunk," says Great Dane's Hill. "You put skirts and boat tails on your trailers and you'll save five percent or so. Nose cones will save somewhere along the line of three percent."
However, Hill points out that fleets all run tractor-to-trailer ratios that can affect the economics of aerodynamic devices.
"A typical fleet might have one tractor for every three or four trailers," he explains. "And a trailer spends the majority of its time sitting idle in a location, waiting to be picked up."
Companies have to divide the potential savings of putting an aerodynamic device on a trailer by whatever their truck-to-trailer ratio is, because they won't always be running that same aerodynamic trailer.
"That being said, aerodynamics will be adopted by the industry for trailers, but it will be a little slower than it has been with tractors," says Hill.
Companies in this article