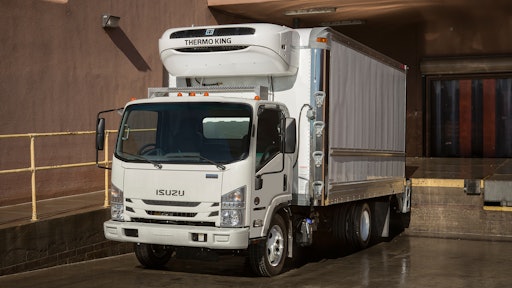 As the food and beverage industry moves further into 2015, a number of difficult transportation issues from prior years are keeping us company, including driver shortages, proliferating and costly regulations, and the never ending pressure to keep operating costs in check. On the flip side of the coin, fleet managers are discovering innovative technologies and better strategies to more effectively respond to new and existing challenges alike.
Recently, Food Logistics asked industry executives to share their insight on what's ahead for this year and what they're seeing from their vantage point.
The challenges
Todd Bernitt, director of global sourcing, foodservice, at C.H. Robinson notes that one of the main challenges facing fleet managers is the increasing shift from national to regional distribution strategies.
"Historically, successful truck fleet business models capitalized on long-haul moves with minimal stops in order to limit the effects of variable cost in the equation. Today, there is a heightened consumer demand for locally sourced product requiring fleet managers to take a different approach to their asset utilization strategies, including sourcing short-haul drivers in a tight capacity market and implementing more efficient modes, such as less-than-truckload (LTL) or other consolidated options. Many fleet managers are dealing with the realization that drivers have become a variable cost in a supply and demand market."
Not surprisingly, regulations rank high as a top concern, says Bernitt, particularly "impending changes in regulations around food safety from a supply chain standpoint." He says that, "Fleet managers will likely need to make large investments in equipment, service, and technology to meet the demands of these regulatory changes and avoid any indemnification or liability that could result from an oversight."
Consumer demands are another consideration. The demand for freshness is more important than ever, Bernitt adds. "Subsequently, supply chains become shorter to meet demand. In an industry where speed to market and product integrity are imperative, technology and traceability solutions will continue to be important for members of the food supply chain.
When it comes to drivers, not only are they in short supply, the turnover rate is exceedingly high, points out James Langley, vice president of business analytics, TMW Systems.
"Driver turnover remains a challenge with over one-third of fleets reporting greater than 50 percent turnover, while only 19 percent achieve better than 25 percent. The aging driver population accentuates the challenge with 89 percent claiming the average age of their driving force is over 40-years-old, and 11 percent are over 50-years-old on average."
Langley also observes that, "In 2014, dedicated/private fleet tractor costs per mile averaged $.11—a penny less than that of over the road trucking fleets. Overall, fleet ages appear to be trending downwards somewhat as organizations look to benefit more from warranties in a market of rising expenses. However, over 73 percent of organizations report visibility to fleet maintenance information is not comprehensive."
On a more positive note, "In the realm of fuel management, the majority of fleets are running between 6 and 7 miles per gallon, but almost 19 percent are now achieving over 7 miles per gallon in fuel economy. Contributors to the improvements are 81 percent of fleets leveraging idle reduction technologies and other fuel saving measures, while stories of leveraging analytics to alter new equipment specs and achieve 1 to 2 miles more per gallon are getting more attention," says Langley.
Raymond Zujus, business development for food and beverage at Telogis, also mentions the impact of marketplace trends on the industry.
"The explosion of new food and beverage products and innovative packaging is affecting the business in many areas. Most notably, more complex orders and heightened customer expectations around service quality and responsiveness are driving up delivery costs to record-high levels, while eroding productivity."
The result is that "companies are being challenged to find ways to meet—and exceed—these expectations and still maintain profitability," says Zujus.
"More often, they are turning to connected technology for answers. Connected solutions provide visibility to fleet performance and asset utilization, accountability to driver performance and driving habits, and real-time knowledge sharing between drivers, managers, sales, merchandisers and customers, enabling operators to see where the opportunities are and where to focus improvement efforts. Leveraging connected technology and intelligent location, there are unlimited opportunities to reduce miles, manage engine idling, route more efficiently, eliminate wasted time, reduce redundant tasks, and decrease accidents and related insurance costs."
Zujus says more companies are beginning to explore different vehicle designs and applications as a way to gain flexibility and versatility in their fleets and still meet government guidelines and environmental standards.
Admittedly, "These vehicles can be more expensive, as well as complex, and it is the wise fleet manager who understands that diligent monitoring and maintenance is the key to getting the most value from them," he says. "Many of the manufacturers that provide vehicles to this business—Isuzu, Hino, Freightliner and Volvo—have partnered with Telogis to provide connected intelligence from the factory than can be 'turned on' in an instant and provide detailed information and diagnostics. Real-time alerts empower fleet managers to assess a vehicle's problem, repair it and get it back on the road as soon as possible."
The responses
Isuzu's Brian Tabel, director of marketing, Isuzu Commercial Truck of America, Inc., would likely agree that the latest vehicle designs and capabilities offer multiple benefits to fleet managers.
"We continue to see customers right-sizing their trucks to have the correct truck for the route, and in some cases that means moving up in class or moving down in class." For example, "The Isuzu N-Series diesel trucks come standard with an on-board Health Report, which an Isuzu dealer can review for fuel economy, braking, acceleration and a number of other important items that can lower the total cost of ownership."
Fortunately, there are financing options that make it easier to acquire new equipment.
According to Brian Holland, president and CFO at Fleet Advantage, "We are seeing a growing trend in the transportation industry, as more fleet operators turn to leasing to lower their overall costs, free up capital for growth and expansion, and gain the flexibility to upgrade to newer, more fuel efficient technology when it becomes cheaper to do so."
Not surprisingly, the ability to free up cash makes leasing very attractive to fleet managers, emphasizes Holland.
"Leasing allows fleet operators to avoid tying up large amounts of capital in their rolling stock, and instead invest that money to grow other aspects of their business," he says.
From a more strategic perspective, deeper collaboration is one way to address current challenges, says Jorge Salas, vice president of operations at Ryder Dedicated.
"We continue to see more openness for collaboration, even between competitors, to drive supply chain efficiencies," he says. "For example, Ryder continues to leverage indirect and direct competitors within both wholesale and retail grocery distribution. We have utilized this model successfully in our region to reduce costs (both to the distributor and end customer), increase flexibility/adaptability, and when possible, combine freight to reduce the carbon footprint of the goods."
Salas says adhering to lean principles remains highly effective, too. "The general costs and complexity associated with operating fleets and supply chains continue to increase. While fuel prices dropped for months, the cost of drivers, equipment and maintenance continued to rise. Furthermore, as an outsourced provider, we have to deliver our service at a price that allows the customer to remain competitive. And, our customers are always looking to us to bring creative ways to continue to drive efficiencies."
This is where lean supply chain execution comes into play, says Salas. "As a lean company, our focus is on helping our customers and partners understand where their costs lie and then presenting them with cost saving initiatives. We have engineers and on-site managers constantly exploring profitable backhauls, both internally and externally, to the customer. Cube per load analysis is broken down to cost per delivery and even cost per case. We give constant feedback on how expanding delivery windows will allow better equipment utilization."
A New FMCSA Rule Misses The Mark
On Dec. 18, 2014 the Federal Motor Carrier Safety Administration (FMCSA) issued a final rule that is sure to greatly impact food and beverage fleet operations.
This rule eliminates the requirement for drivers to submit a non-defective Driver Vehicle Inspection Report (DVIR). It affects all motor carriers currently subject to 49 CFR 396.11, both private and for-hire, with the exception of operators of passenger-carrying commercial motor vehicles.
Before the new rule went into effect, safety regulations required drivers employed by motor carriers to prepare a written report at the completion of each day's work, on each vehicle operated. The report listed any defects or deficiencies that could impact the safety of the vehicle's operation or result in its breakdown. This report had to be submitted to the employing motor carrier so that repairs could be made. While drivers must still complete and file the DVIR at the end of each tour of duty, they're no longer required to file it if there are no vehicle defects to report.
The main issue to remember is pre- and post-trip inspections are still required. Drivers must still perform pre- and post-trip evaluations of equipment condition, and complete DVIRs if any defects or deficiencies are discovered or reported.
The rule change aims to eliminate unnecessary paperwork for the trucking industry. Unfortunately, the rule change didn't quite hit the mark. And here's why—imagine if one of your trucks has a defect that causes or results in an accident with significant property damage, injuries, or fatalities, or all of the above. In the likely ensuing litigation, attorneys would probably ask for all driver vehicle inspection reports. Let's say they find reports of defective equipment. But what they don't find are any pre- or post-trip DVIRs for the days, maybe even the weeks leading up to the crash.
Their likely conclusion and argument to the jury: You and your drivers got complacent and didn't conduct the required vehicle inspections in the days or weeks leading up to the accident. Otherwise, if they had, "The defects would have been found and this terrible tragedy could have been avoided." They may even have one of your drivers take the stand and ask him or her, "Did you ALWAYS conduct your vehicle pre- and post-trip inspections? Remember, you're under oath."
Now, instead of a lawsuit, let's say that accident triggered an on-site audit by the FMCSA. In that hypothetical situation, it's easy to see how inspection officers could also come to the same conclusion as the attorneys. Obviously, your company would have a difficult time convincing the jury or the inspection officers that your drivers DO conduct their inspections even though you have no evidence.
While Zonar eliminates unnecessary paperwork with its patented electronic vehicle inspection report (EVIR), it also provides fleets the evidence they need to prove to juries and to inspection officers that daily inspections were completed, as required, even when there were no defects to report.
I have had companies tell me they want our telematics system because of this rule change. They want the evidence Zonar's EVIR offers to prove their drivers conduct all routine inspections should they ever end up defending themselves in court or trying to convince inspection officers not to write them up.
Meanwhile, if your fleet also operates trucks in Canada, keep in mind this new rule does not change reciprocity. Canada will still require your company to prove that your drivers have conducted their proper pre- and post-trip inspections. This means many carriers with trucks that travel in Canada must still require drivers to keep some form of documentation in order to prove the inspections have been done.
Fred Fakkema is vice president of compliance at Zonar (www.zonarsystems.com).
For more information:
C.H. Robinson, 952-683-2800, www.chrobinson.com
Connect CMMS, 877-340-2077, www.connectcmms.com
Fleet Advantage, 954-615-4400, www.fleetadvantage.net
Isuzu Commercial Trucks, 866-441-9638, www.isuzucv.com
Telogis, 949-389-5500, www.telogis.com
TMW Systems, 216-831-6606, www.tmwsystems.com
Zonar, 206-878-2459, www.zonarsystems.com