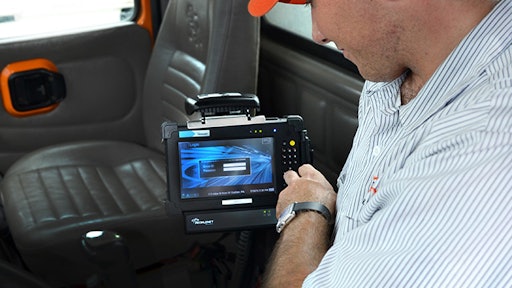 Two thousand sixteen promises to be an exciting year for food haulers. No matter what role a company plays on the fleet landscape – carrier, shipper or freight broker – there are opportunities and challenges on several fronts. One challenge in particular, the nation's driver shortage, will accelerate as more drivers retire.
But 2016 is also a year for some major regulatory changes that call on every player to be up-to-speed on what they have to do.
The electronic logging device (ELD) mandate marks one of the biggest regulatory changes in the fleet industry's history, requiring many drivers to electronically comply with hours of service (HOS) rules that instruct a driver to take a 30-minute break with every eight hours.
As more fleets begin adding the electronic devices in 2016, some observers think more drivers will exit the business, further exacerbating the driver shortage.
In addition to ELDs, some aspects of the government's carrier safety ratings program could change. (See sidebar on page 23.)
One set of regulations specific to the food industry that remain uncertain is the Food Safety Modernization Act (FSMA) sanitary transport rules for food (final rules are expected on Mar. 31, 2016). As currently written, they would require more recordkeeping and more extensive temperature monitoring, presenting new burdens for food haulers.
Other food industry specific challenges in 2016 include a continuing expansion of foodservice at the expense of food retail, as well as expanding e-commerce. Both of these trends bring a greater need for more LTL deliveries and local shipments.
ELD mandate challenges the industry
The ELD mandate, while controversial within the transportation industry, will drive adoption of vehicle technologies such as GPS and telematics. The rule requires the use of electronic logbooks for all interstate commerce for trucks that are model year 2000 and newer. With certain exceptions, drivers must use ELDs to track their compliance with HOS regulations.While adding a new cost to fleets, the technology also brings some benefits. It will give new tools to fleet managers for supervising drivers and it will enable shippers, carriers and brokers to better manage contract rates and access lane availability.
Greg Sikes, vice president of products at Beaverton, Ore.-based DAT Solutions, which operates the DAT network of load boards and RateView rate analysis tool, says the ELD mandate will bring mobile communication to a large number of trucks, enhancing performance for both drivers and fleets. Drivers will have access to engine diagnostics while fleet managers will be able to supervise trucks in real time and also be able to better schedule preventive maintenance.
"They (drivers and fleet managers) can be proactive instead of reactive," Sikes says about the ELD mandate.
The electronic logging will also serve to equalize the technology advantage that larger fleets have had over smaller competitors, adds Ken Harper, DAT marketing director.
The benefits of the ELD cited by Harper are among the reasons that some of the largest trucking associations – such as the American Trucking Associations and the Truckload Carriers Association – have supported it.
Mark Mullins, transportation manager at Ben E. Keith Foods Co. in Fort Worth, Texas, told a session during the International Foodservice Distribution Association (IFDA) Solutions Conference in Phoenix, Ariz., that ELDs have proven to be a useful driving education tool. Mullins believes there is a widespread misconception that drivers in general are familiar with government transportation laws.
Mike Hummel, a driver and trainer at Martin Brothers Co., a Cedar Falls, Iowa-based distributor, said ELDs are easier than paper logs for drivers to use. He said drivers realize that the electronic log creates a reliable record of how they are spending their time.
DAT's Harper, however, acknowledges why the Owner-Operator Independent Drivers Association (OOIDA) has sued to halt the mandate's enforcement. Drivers will run into trouble if they run out of hours before finishing a route. They will need to plan work schedules more carefully.
This can become especially problematic if a driver misses a delivery and has to wait for a warehouse dock to open up. "You may have to wait 24 hours for a dock appointment," says Mark Montague, a DAT industry rate analyst.
ELD has detractors
One carrier that implemented ELDs found an 8 percent decline in productivity in their first year, Sikes says. Some of this was due to the dispatchers not being used to the new procedures while some was due to poor planning by drivers.
"This rule has the potential to have the single largest, most negative impact on the industry than anything else done by FMCSA," says Jim Johnston, OOIDA president and CEO. "We intend to fight it with everything we have available."
East Coast Warehouse & Distribution, an asset-based 3PL in Elizabeth, N.J., that specializes in port deliveries, says the mandate will bring a cost to the supply chain and could impact productivity, which is the company's most important goal. "It is a concern to all of us with a reduction in productivity," says Jamie Overley, CEO.
Some observers say the mandate's problem is not the technology, which in itself can offer some benefits, but the HOS rules that it is intended to enforce.
"The tightening of the hours-of-service limits due to the creation of the 30-minute break requirement and the restrictions on the 34-hour restart, which may be returning, has reduced driver productivity," says Tom Bray, a subject marketing expert at Neenah, Wis.-based J.J. Keller & Associates, a source for safety and compliance solutions. "Any more changes in this area are also likely to impact productivity."
However, the electronic logging system will only affect productivity negatively if the carrier is allowing drivers to submit false logs to be able to exceed the hours-of-service limits, Bray says.
In addition to HOS, there are also state requirements that fleets need to observe. Marc Rogers, president and CEO at Interstate Distributor Co. in Tacoma, Wash., sent customers a letter late last year advising them that a recent court ruling held that federal law does not preempt state laws, which in California are more restrictive (See sidebar on page 24.) Rogers wrote that there will be a loss of productivity on account of drivers having to pull over at times prescribed by the law in order to comply. He estimated drivers will spend up to 15 percent or more of their productive time complying with these rules.
Fleets invest to meet the mandate
Fleets that have already deployed onboard computers will have less of a problem complying with ELD. In many cases, the fleets invested in onboard computers to improve their oversight of drivers in real time. Such was the case for Sherwood Foods, a Detroit, Mich.-based foodservice distributor that serves 15 states with 280 vehicles.
For Jim Gell, executive vice president of operations, the number one concern has always been customer service, and the mobile communication has been an important tool. The Geotab telematics-based solution makes it easier for drivers to immediately improve their driving behavior. The audible alerts notify drivers of unsafe or potentially risky driving events. "In addition, we are able to monitor our service locations and deliveries in real time," Gell says.
Dawn Foods, a Portage, Wis.-based foodservice distributor, welcomes any technology that enforces HOS, says John Kilpatrick, East Coast regional operations manager. The company is deploying the Greenmile cloud-based route management system to automatically update information regarding estimated arrival and departure times at customer locations for web-accessible track-and-trace capability. This has been a useful planning tool.
"We have a pretty reliable idea what time we're going to be at the customer," Kilpatrick says. "Cost is such a tremendous driver in our business. If we can eliminate overtime, that is a plus."
Driver safety is of equal concern to Kilpatrick. "We're able to track the speed of the vehicle on the road and we can go back to the driver and see what was the issue, why they were driving fast on the road."
A.Duie Pyle Inc., the West Chester, Pa.-based LTL carrier, views ELDs as part of the company's safety arsenal, which pays off in fewer accidents and injuries. Half of the fleet now has forward-looking, collison-control software, is testing in-cab cameras, and has a mandatory driver safety vest requirement, says Randy Swart, chief operating officer. This past year has been the safest year for the fleet ever in terms of accidents and injuries.
"It's just making them safety conscious," Swart says.
ELDs are an important tool for Reading, Pa.-based Penske Logistics to supervise drivers, says Tom Scollard, vice president of dedicated contract carriage. "We can manage our work force properly," he says. "The drivers appreciate the ease of electronic logs versus filling out the paper work. They don't have to worry about being up to date. The computer is taking care of that for them."
Penske Logistics has also equipped its vehicles with cameras that alert the driver if the truck moves out of its lane.
Ryder System Inc., based in Miami, Fla., already has a proprietary RydeSmart GPS system for its rental vehicles and a similar system for its logistics fleet. The system tracks fuel efficiency and allows the fleet manager to schedule preventive maintenance effectively.
Ben Cubitt, senior vice president, consulting and engineering for Transplace, a non-asset-based 3PL in Dallas, Texas, that manages 2,800 carriers, observes that regulatory concerns have surpassed fleet optimization as the leading carrier concern.
Technology to play a bigger role
Technology will also play a bigger role in future delivery contracts, observes DAT's Montague. Shippers, brokers and carriers, including smaller carriers, will have continuously updated lane-by-lane benchmarks available.
The increasing technology options and costs in and of itself has consumed many fleet managers' minds. Kevin West, vice president of transportation at Shippers Express Truck Lines, Inc., a Dallas, Texas-based 3PL, says his company recently underwent a lengthy analysis before deciding to switch to a new TMS because they wanted a better load optimization tool for consolidating shippers.
"Technology is top of mind," West says. "It's one of the biggest things I'm spending my time on."
Fleet capacity remains a concern
One question all parties pay close attention to is fleet capacity, as it impacts carrier rates. This is difficult to predict since there are various factors, such as weather, that change unexpectedly.
The biggest impact on costs, most agree, is the driver shortage, which is expected to get worse as baby oomers retire.
The driver shortage will continue to squeeze capacity, depending on the success of industry measures to counteract this trend. An improving economy in 2016, delivering more orders, could also hammer carrier capacity.
"It looks like the balance of pricing power could shift back again to the carrier side," says DAT Solutions' Sikes.
"Private fleets face tremendous uncertainty as it relates to regulation and the subsequent costs that arise from it," says Tom Nightingale, vice president of transportation logistics at GENCO, a FedEx company and a Pittsburgh, Pa.-based 3PL. As EOBRs and drug testing pile up on top of the already tenuous HOS rules, those operating fleets are faced with an extremely complex operating environment.
Secondly, most fleets will build their networks to "the valley" and not to "the peak," Nightingale says. When the surge season hits a fleet, they must go to the common carrier marketplace. "And, that marketplace is headed for tremendously tight capacity toward the end of 2016, continuing a trend we've seen in recent years. The capacity situation will likely become as dire as we experienced during the polar vortex in 2014, meaning costs will be impossible to predict and quite shocking compared to the costs of running your own fleet."
The potential capacity shortage has caused some shippers to consider private and/or dedicated fleets to guarantee capacity and help control cost increases, Transplace's Cubitt notes. But this is certainly not a new issue for shippers.
Sanitation requirements weigh in
Not every fleet struggles with the same issues.
Henry's Foods Inc., a broadline foodservice distributor based in Alexandria, Minn., serving the the Dakotas, Minnesota and parts of Iowa, has no problem with driver retention for its 42 tractor trailers, notes Jim Whipkey, transportation manager. The company has been in compliance with the ELD mandate for several years.
Whipkey's big concern is temperature monitoring requirements under FSMA. Based on solutions he is familiar with, the monitoring will cost between $400 and $800 per truck. But the biggest concern is not the cost; it's the hurdles the mandate will bring and how to correctly handle them. "That's the biggest hurdle we're going to have to get over," he says.
Based on the FSMA sanitary transport proposal, all members in the supply chain would be required to use vehicles that are designed and maintained to transport food safely and to take steps to ensure that food is not contaminated during transport, says Bray of J.J. Keller & Associates. These rules include adequate temperature control, (i.e., segregated from non-food items that could lead to contamination); sharing information (prior cargoes, clean outs, and temperature control data); training personnel on safe and sanitary transportation practices; and maintaining records of policies and procedures, equipment cleaning, prior cargoes, and temperature control.
"We believe in the long run, all these (food safety) regulations will be fully enacted," says John Deris, senior vice president of national sales Ryder System Inc. Ryder has been working with some of its customers on continuous temperature monitoring. The company is looking at different solutions.
While the rule has not been finalized, Swart of A.Duie Pyle says some of these requirements are already included in food transportation contracts.
Penske, for its part, is experimenting with telematics devices in its refrigerated trailers to record temperatures, Scollard says.
Equipment costs rise
Transplace's Cubitt also observes that a lot of fleets are investing in newer vehicles, some of which get better mileage thanks to fuel-saving technologies like aerodynamics. However, he also notes that the cost of investing in equipment keeps rising, as do maintenance costs. "Buying equipment used to be a simpler task than it is today," he says.
Brian Tabel, executive director of marketing at Isuzu Commercial Truck of America Inc., based in Anaheim, Calif., agrees there will be an increase in new vehicle purchases in the near term as fleets retire older models. He says many companies held off on purchases during the recent recession. In addition, vehicles have been built to last longer.
"Trucks are older today than they ever have been," he says.
Maintenance and repair costs are the top concern for John Friel, distribution director at Atlanta, Ga.-based Republic National Distributing Co. (RNDC). "Finding a good, consistent supplier to fulfill our needs is my biggest concern right now," he says. "They (the national repair shops) are only as good as the local shop."
SIDEBAR 1
Driver Qualification Rules Get Stricter
The U.S. Department of Transportation (DOT) mandated physical exams for drivers be done only by trained and registered medical examiners. To meet DOT compliance, employers need to have a certificate of violations, updated medical exam reports, drug and alcohol testing and a driver qualification file. The driver can only use registered medical examiners. There are also plans for a drug and alcohol clearinghouse.
"Taken individually, these new qualification requirements will not lead to a significant loss of drivers, but cumulatively they could lead to a fleet either losing several drivers or being unable to hire and qualify some driver applicants," says Tom Bray, a subject matter expert at J.J. Keller.
As driver qualification requirements have increased, services have been developed to assist fleets with qualifying drivers.
First Advantage, an Indianapolis, Ind.-based fleet management consultancy, has developed a driver screening process designed to make hiring a driver easier for both the applicant and the employer.
First Advantage uses electronic processing to make the experience faster and easier, notes Mark Carlson, senior director of fleet sales. It is possible to get drivers' records delivered via the Internet through web-based screening platforms, saving the company time.
Fleets are utilizing background screening partnerships and systems to streamline screening required for DOT regulated drivers. By utilizing a web-enabled DOT employment application, First Advantage clients can systematically start the screening process and maintain visibility to the status of candidate test results.
The faster a company can expedite the screening process, the more likely they will have a high quality employee.
All drivers operating trucks over 10,000 pounds are regulated by the DOT, and drivers operating vehicles over 26,000 pounds are subject to additional DOT drug and alcohol testing requirements.
SIDEBAR 2
Fleets Find Ways To Alleviate Driver Shortage
Fleet managers agree the driver shortage is now going into its third year, with no end in sight. While everyone hopes for a better economy, fleet drivers realize that more business activity will add to the demand for drivers.
Penske Logistics is training drivers to be customer service oriented, says Tom Scollard, vice president of dedicated contract carriage. This involves training in face-to-face communications, which includes patience. Drivers are also expected to load and unload at customer locations if needed.
"Predictable work is important to a driver because it determines what his income is," says Jeff Stoicheff, senior vice president of human resources.
Penske pays bonuses to employees for referrals, which account for 12 percent of its drivers. They get $500 for the first referral and can earn as much as $1,500. There are also non-cash bonuses like helmets signed by Penske race car drivers.
Penske seeks the following driver traits: 1) skilled driver, 2) physically able to use roll-off carts and pallet jacks; 3) able to have customer facing skills. The company tries to find out how a potential driver will deal with different situations, such as someone parking in a loading area or someone asking them to return freight.
The company regularly evaluates its training and its pay. They are currently exploring an enhanced employee recognition program.
For the driver shortage to abate, Stoicheff says pay must improve and the position must be seen as a better job opportunity. "The driver occupation has to be seen as a desirable occupation for blue collar employees," he says.
A.Duie Pyle Inc., makes a practice of moving dock operators to the driver role through their truck driving academy, says Randy Swart, chief operating officer. The company is also exploring using smaller trucks (under 2,600 pounds) for local deliveries that don't require commercial driver licenses. The smaller trucks would be used as training ground for holding a commercial driver license.
East Coast Warehouse, the Elizabeth, N.J.-based 3PL that specializes in port deliveries, focuses on setting schedules to allow drivers to be home by the end of the days, says Ed Cole, vice president of the company's Safeway Logistics division.
SIDEBAR 3
Fleets Face Stricter State Requirements
Transportation companies cannot assume that the federal motor carrier safety regulation preempts state laws for driver rest periods and meal time requirements.
The U.S. District Court of Appeals for the Ninth Circuit ruled in 2014 that California's meal and rest break laws are not preempted by federal law.
The federal motor carrier safety regulations generally require states to adopt regulations pertaining to commercial motor vehicle safety in interstate commerce that are compatible with federal requirements, says Megan Bush, manager of safety policy at the American Trucking Associations (ATA).
Bush also says states can impose more stringent requirements if the regulations do not create an undue burden on interstate commerce, provide safety benefits, and are otherwise compatible with federal safety requirements. She says this can create concerns for carriers since a commercial vehicle can be subject to different requirements when it crosses a state line.
California rest break rules fall under the state's employment law, not motor carrier highway safety law, adds Rich Pianka, ATA acting general counsel. California workers get a half hour break at the end of the fifth hour of work and a 10-minute break for every four hours worked.
Tom Bray, a subject matter expert at Neenah, Wis.-based J.J. Keller & Associates, a source for safety and compliance solutions, says state break requirements are constantly evolving and there have been conflicting court decisions. "It's kind of a mess at the moment," Bray says in regard to driver break rules.
SIDEBAR 4
FMSCA To Overhaul Carrier Safety Compliance Ratings
The Federal Motor Carrier Safety Administration (FMSCA) proposed a new system to update carrier safety compliance by integrating data from on-road inspections in addition to crash reports. The ratings will be updated monthly.
The proposed rule will replace the three-tier "satisfactory-conditional-unsatisfactory" rating system for commercial carriers that has existed since 1982 with one "unfit" determination. This would reqire the carrier to improve or discontinue operations.
The FMCSA would determine the safety fitness of 750,000 companies monthly. By comparison, the agency can only investigate 15,000 carriers annually, whereby only half the companies receive a safety rating.
The rule incorporates data sufficient standards and would require that pattern on non-compliance be documented for a carrier to fail one of the agency's five behavior analysis and safety improvement categories.
The current process does not permit the agency to use all of the on-road safety data in the Motor Carriers Management Information System (MCMIS) in making each determination. Integrating this information would improve the assessment of motor carriers, and has long been a recommendation of the National Transportation Safety Board (NTSB).
Under this proposal, unfit determination could be based on a carrier's on-road safety data alone, according to a summary prepared by the Transportation Intermediaries Association.
The agency has invited comments on the proposed rule. For information, visit www.regulations.gov.
For More Information:
A.Duie Pyle Inc., aduiepyle.com
American Trucking Associations, trucking.org
DAT Solutions, dat.com
East Coast Warehouse & Distribution, eastcoastwarehouse.com
GENCO, genco.com
Geotab, geotab.com
Greenmile, greenmile.com
International Foodservice Distribution Association, ifdaonline.org
Interstate Distributor Co., intd.com
Isuzu Commercial Truck of America Inc., isuzu.com
J.J. Keller & Associates, jjkeller.com
Owner-Operator Independent Drivers Association, ooida.com
Penske Logistics, penskelogistics.com
Ryder System Inc., ryder.com*
Shippers Express Truck Lines Inc.
Transplace, transplace.com*
Truckload Carriers Association, truckload.org
Companies in this article