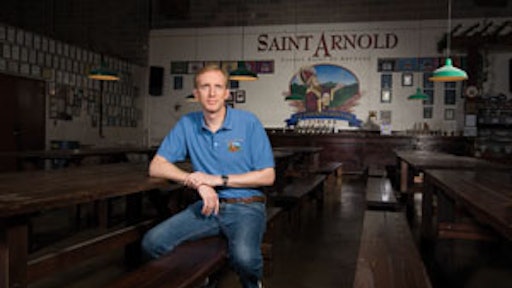 Operating Texas' oldest and largest craft brewery is no small feat, as investment banker turned brewmaster Brock Wagner found out first hand.
As the owner of St. Arnold's Brewery in Houston, Wagner and his team of 18 employees are responsible for a continuously increasing annual production of more than 14,000 barrels of beer, making it the largest brewery of its kind in the entire state.
Early on in his second career, Wagner recognized the importance of materials handling in the brewing process. "Everyone tends to think of the more attractive parts of the process like brewing, making beer and most importantly, tasting beer," Wagner explains. "Often overlooked are the daily parts of the job that are critical for enabling us to put that beer on the shelf, such as materials handling; however, without them we'd be stuck."
Brewing beer is such an integrated process and if one step breaks down, it can result in total disaster for the end-product. "Reliability is extremely important to us, and Mitsubishi forklift trucks have proven to be very dependable," says Wagner. "We need to know that every morning our forklifts will be ready to operate all day without any malfunctions."
To help ensure optimal performance, Wagner selected the FB20NT Mitsubishi forklift trucks three-wheel electric model, which provides service intervals twice that of the industry standard. "With a small fleet such as ours, maintenance downtime on even one forklift can translate to a serious decline in production," Wagner says. "A planned maintenance schedule allows us to prepare accordingly, and avoid a gap in production."
"When I visited St. Arnold's Brewery and saw how important its equipment was for day-to-day operations, I realized downtime was not an option," says Chad Pilbeam, sales and marketing manager for Lone Star Lift. "The FB20NT not only has longer service intervals, but the all-AC design of the hydraulics and drive motor have fewer wear components to be concerned with which was key for St. Arnold's. By doubling its service intervals, we have saved them on yearly maintenance costs."
Technology Advantage
Beverage handling is an extremely delicate business, and the operation of antiquated, unreliable forklifts can translate to decreased productivity and possible product damage. Recognizing this problem, Wagner and his team began researching reliable replacements for the forklifts they were using.
"Smooth operations are critical to our businessith our previous forklifts we experienced many problems surrounding supply chain management, particularly when moving bulk bottles," Wagner explains.
After extensive research, Wagner and his team decided on Mitsubishi forklift trucks to fulfill their materials handling needs. "With Mitsubishi Forklifts, we know we get consistent, smooth operation on a daily basis, which has resulted in fewer mishaps and increased savings."
Manufacturing a perishable product also means a constant need for refrigeration. St. Arnold's maintains a relatively small, 25 by 30-foot cold box where the forklifts spend a considerable amount of time. The Mitsubishi forklift trucks three-wheel electric series allows operators maximum maneuverability and increased efficiency in confined spaces such as refrigerated areas.
"Our cold box operations require that our forklifts be able to rotate in an aisle that is basically as wide as the forklift is long and the three-wheel model is the only forklift we found that is capable of doing this," Wagner says.
Of the many operating requirements for companies involved in the food industry, emissions are extremely important. "Not only do we work in a food environment where our product is sensitive to outside influences, but we also have great concern for the health of our employees and the environment. Because of this, it is very important for us to avoid internal combustion engines if at all possible," Wagner explains.
For this reason, Wagner and his team decided to select the 100 percent AC-powered Mitsubishi forklift truck model, thereby eliminating carbon monoxide emissions outright.
In addition to quality assurance, operator safety was also a key contributing factor in St. Arnold's decision to go electric. "By switching to Mitsubishi's electric model," says Wagner, "we've made our workplace much more eco-friendly and especially our cold box 100 percent emissions free."
Another operator safety feature on the electric series that Wagner purchased is the advanced Mitsubishi forklift trucks integrated presence system (IPS). When the operator leaves the normal seated operating position, the following occurs:
• Transmission is disengaged;
• Power disconnects from hydraulic lift and tilt functions;
• Parking brake alarm sounds if the operator has not applied the parking brake;
• Lights flash on the instrument panel;
• When the operator returns to the normal seated operating position, a buzzer will sound and a seat belt indicator will light up reminding him to fasten his seat belt.
Bottom Line
Though considered a large craft brewery by industry standards, St. Arnold's is still categorized as a small to medium-sized business and low operating costs are essential to ensure profitability. After analyzing the financial requirements associated with modernizing his fleet, Wagner opted to lease over purchasing the equipment.
"As a small company, value is extremely critical to us and up-front cost is something we are very sensitive to," Wagner explains. "When our Mitsubishi forklift trucks dealer offered interest-free financing, we knew that would free-up capital to invest in other areas of the business."
By opting for the lease program, Brock was able to re-invest his capital and gain a return on equity, saving the company $1,796 in the first year.
Operating Texas' oldest and largest craft brewery leaves Wagner and his team with quite a reputation to uphold and the majority of their time is dedicated to ensuring a quality product reaches the shelf. "We are a brewery, first and foremost," Wagner says. "An alert, reliable and helpful sales and tech-support staff is essential to the success of our operation and we have found that with our Mitsubishi forklift truck dealer."