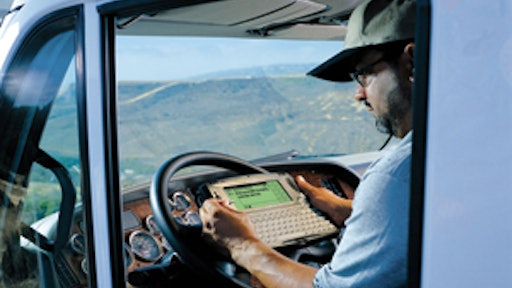 Sometimes things come together perfectly. For years, onboard computers have provided a wealth of information about engine and driver performance, helping fleet operators improve fuel economy, driver productivity, safety, vehicle performance and customer service, while reducing paperwork.
In recent years, several technologies have converged to make onboard computers more powerful. The advent of affordable, reliable, two-way data communications, married to GPS capabilities, has given managers real-time access to a host of information about the position and condition of drivers and vehicles on the road.
More recently, the addition of RFID tag technology is offering further opportunities to automate data transmission between vehicles and the office, enabling the development of new applications that can help companies improve efficiency and safety.
"The price of two-way communications has changed dramatically, within the last two years," observes Joel Beal, senior vice president, Tripmaster Corp., Grand Prairie, TX. "While five years ago, many fleets may have wanted real-time information, it was tough to cost-justify." Now the technology is within reach of even small companies.
Providers of onboard computing systems are beefing up their software applications to take advantage of the opportunities afforded by real-time data exchange capabilities. Many of these offerings can help companies improve performance in areas that have traditionally been prime targets of OBC applications: fuel economy, driver productivity, and vehicle performance.
Two other areas where enhancements to onboard computing systems offer significant leaps forward as well are in helping fleet operators to improve safety and regulatory compliance.
Safety First
"Quite of few of the newer features we've designed in our system are beneficial from a fleet safety perspective," says Brian McLaughlin, vice president of marketing and product development for PeopleNet, Minneapolis. "The ability to have real-time data combined with traditional OBC functionality provides the opportunity for real-time identification of potential situations that involve safety and security issues."
One of the newer applications within PeopleNet's PerformX vehicle management system, McLaughlin notes, is a "speed gauge" which compares the driver's speed against actual speed limits wherever the truck is traveling.
"Instead of monitoring speed against a fixed limit, like 65 MPH, companies can set a variety of alarm thresholds relating to speed limits on different kinds of roads, such as a certain percentage over the limit on city streets and a different percentage for highways. This allows companies to identify the worst offenders, to see which drivers are putting them most at risk."
Some companies are using the speed gauge to provide real-time alarms, McLaughlin adds, "so that if a driver goes a certain percentage over the speed limit for more than X number of minutes, a message is sent to the safety manager's email or cellphone. Then he can respond on the spot with a message to the driver to slow down."
In addition, many users take speed data collected after the fact and feed it directly into safety bonus programs.
Another new tool from PeopleNet which can be used to enhance safety—and compliance––is its "geofencing" capability. This feature, used in conjunction with a company's routing/dispatch software, allows users to define "off-route" areas and create a system of alerts whenever a driver has crossed or is about to cross such "fences."
"Typically companies use this feature to automate arrival and departure conditions. It can also be used for safety applications," McLaughlin points out. "You could put geofences around prohibited landmarks, such as military bases, or areas that are off-limits if you're a Hazmat hauler."
Within the next few months, PeopleNet will introduce a new wireless vehicle area network application that utilizes RFID tags to automate sensing and reporting tasks.
"Companies will be able to determine automatically which trailer is attached to each tractor, what the reefer temperature is, tire pressure on each wheel and tire temperature, as well as whether doors are open or closed, all based on RFID tag technology," McLaughlin explains.
Another safety-related recent enhancement to PeopleNet's system, McLaughlin notes, is real-time fault code reporting.
"Our system has the ability to pull those off the engine and deliver them in real time to the safety/maintenance manager. These can be helpful in breakdown situations, or even to warn of imminent component failures that might lead to breakdowns before they occur. Since there are hundreds of fault codes available, we're allowing users to pick the top five that are most urgent to them, and set the system to notify the manager via email or cellphone whenever one of these faults is detected," he explains.
Enhancing Security
One of the key tools Londonderry, NH-based Cadec provides that can help with safety management is its patented Split Screen GPS and Electronic Tachograph (ETOG) feature, notes Tom Lemke, executive vice president.
It provides transportation supervisors in the office with a unique combination of second-by-second speed, RPM and location data displayed via a graphical interface. The ability to visually link speed and RPM data with vehicle location in an intuitive manner is particularly useful in the investigation of accidents and other incidents on the road, such as public reports of speeding or other poor driving habits, he points out.
"You can look at every second of speed and RPM by selecting a point on the map showing the 'breadcrumb trail' of the driver's actual trip, or you can select any speed or RPM figure and look at every place en route that matches that value. So from a safety standpoint, you can actually see what is going on with the driver all the time he is on the road," Lemke explains.
Another feature of Cadec's system that lends itself to enhancing safety and security is its ability to link with a variety of sensors mounted in the truck and trailer.
"We can monitor door openings wirelessly from the trailer, for example, so that in real time, or after the fact, users can see where, when, and how long a trailer door was opened," he notes.
Cadec also offers an emergency key fob capability, which enables drivers to send a signal to the office indicating an emergency condition that occurs when they are away from the vehicle.
Beal of Tripmaster points out that the convergence of affordable wireless communications with sophisticated onboard computing power has made it "easy to create intelligent real-time alerts and notifications of exceptional circumstances of all kinds.
"So we can now tell in real time if a trailer door has been opened at a non-customer location, or even something as seemingly trivial as whether the windshield wipers or headlights have been left on."
To help supervisors better manage the plethora of information OBCs provide today, he adds, Tripmaster now offers a dashboard interface for its back-office system.
"It provides graphical representations such as pie charts and graphs to show how the entire fleet is performing against a company's metrics. Managers can see at a glance how the vehicles are doing. If there's a lot of green on the screen, there's nothing to worry about. If there are red indicators, supervisors simply click on each item to find out exactly what's going on," he points out. For extreme circumstances, he adds, notifications can be sent via email to a manager's Blackberry for immediate action.
John Lewis, CEO of GeoLogic Solutions, Herndon, VA, says onboard devices are playing a more significant role in safety management than ever before.
GeoLogic, he adds, recently launched a new color display unit for the cab which in addition to enhancing the driver interface, is designed specifically to play a bigger role in insuring safety on the road.
"For instance, the text-to-speech functionality we offer with this new device enables drivers to hear the most recent communication from the dispatch center or fleet office, so he does not have to take his eyes off road to find out what the fleet manager is trying to tell him. And he can hit a single button to replay the same message as many times as needed."
GeoLogic is also currently working on a truck-specific onboard vehicle navigation system which it expects to introduce this summer. It is similar to the systems available in many cars, but will be customized to include road restrictions and other considerations that specifically affect trucks.
"While some view it from an efficiency standpoint, as a way of keeping drivers from getting lost, many of our customers tell us it is also important as a safety consideration," Lewis notes, "because it will help keep drivers from going down roads where they shouldn't be going, as well as minimizing left-hand turns, which are a prime cause of accidents."
In another customer-specific application, GeoLogic is currently working with a provider of safety and training videos to create a system that will allow it to deliver those videos to the driver via its onboard computer. The videos will be loaded onto the device in batch mode using a USB stick.
"We'll be able to load up to three months' worth of videos onto the computer. It will then track the driver's viewing of each video, and communicate that information back to the office wirelessly," Lewis notes.
The use of onboard computers to create electronic logbooks, automate fuel tax reporting, and manage drivers' hours of service is already well established. McLaughlin of PeopleNet notes that managing hours of service is a safety factor and a compliance tool.
Another area where OBCs will probably play a bigger role in the future in the food industry is in assuring compliance with HACCP rules.
"We currently offer wireless temperature monitoring for trailers, to help insure and document HACCP compliance," Lemke of Cadec notes. "Temperatures in multiple compartments are monitored and recorded minute-by-minute, providing a record of conditions inside the truck that can be kept for future use." The temperature monitoring system can also alert the driver via the OBC if there is a problem, as well as notify the office in real time.
Companies in this article