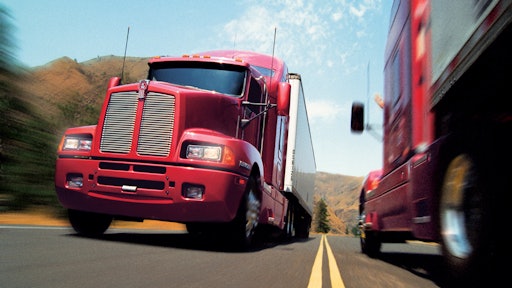 STATUS REPORT: TRANSPORTATION
2011 Truck Report
Facing stricter environmental regulations than ever, truck manufacturers are developing innovative solutions to comply with these rules while helping industries keep the wheels of commerce rolling throughout our nation. "The EPA emissions regulations have a dramatic effect on the operation of trucks because of the emissions compliance that is now required," notes Todd Bloom, president and CEO of Mitsubishi Fuso in Swedesboro, NJ. "Readers should be aware of these new laws and how the laws will affect the way they move their goods to market."
Major environmental requirements just in the past few years include the 2008 ruling mandating that diesel engines equip a DPF (diesel particulate filter) to remove particulates from the truck's emissions. "The positive side of this is the particles are gone—but the negative side is it costs companies more to install this equipment," Bloom reports.
In 2010, any diesel engine sold in the US had to comply with eliminating NOx levels by using an SCR (selective catalytic reduction), continues Bloom. "This is another very expensive piece of equipment that is loaded onto the truck chassis. It also requires monitoring the level of a fluid that is injected into the exhaust that causes a chemical reaction so the NOx breaks down into nitrogen and oxygen, which is what we breathe in the natural air. It's a wonderful chemical reaction, but there is that cost factor once again."
Consider Total Cost Of Ownership
So today, as companies anticipate purchasing a new truck to replace the same one they bought in 2005 or 2006, they are faced with higher purchase prices. "If you want to buy that same truck today, you are looking at a cost increase of anywhere between $15,000 and $25,000," Bloom says. "So we are cleaning up the environment, but there are definitely costs involved. In addition to the higher initial cost of the vehicle, there are also higher maintenance costs associated with the more sophisticated technologies required on the trucks."
Companies need to understand that selecting the right vehicle to do the job is not about just going out and purchasing a new vehicle, continues Bloom. "You have to select a vehicle that will best suit your operation, which means you need to consider the characteristics of the routes you are driving, the length of your routes, and whether you are moving goods in city driving or in the suburbs. These factors have to be considered in your decision as you examine the most efficient way for you to move your goods to market."
The driver for buyers today focus on finding a way to deliver goods for less money, Bloom says. "This means you need to calculate how to achieve the lowest total cost of ownership. Transportation costs, coupled with the cost of materials and labor, are very expensive in operating your business. So the world of trucks is changing and we at Mitsubishi Fuso are addressing the concern over the increased cost of trucks. More importantly, we are offering ways to contain the total cost of ownership."
Small Displacement Engines
In helping companies find the right truck at the lowest total cost of ownership, Mitsubishi Fuso decided to deploy—in its new FUSO Canter series of trucks introduced this month—smaller displacement engines, which equates to less fuel consumption and better fuel economy. "These engines are matched to transmissions with new advanced technologies that drive the power directly to the wheels," Bloom says. "This new series of products is focused on moving goods from point A to point B as inexpensively as possible, at the lowest possible acquisition cost, with the lowest maintenance cost possible, and at the highest residual value possible."
In addition to these new features, the new series of Mitsubishi Fuso trucks offers a low-cab-forward design for better visibility and maneuverability. This means the ground is visible at about eight feet from the driver's view inside the cab—opposed to about 24 feet for a conventional truck with an extended hood. This design will help drivers avoid any accidents or vehicle damage. Bloom notes that most vehicle damage occurs maneuvering around parking lots and streets—and does not occur as much on the highway.
Why would people want a truck with a 150 horsepower or 200 horsepower engine—rather than the 400 horsepower found in conventional truck engines, Bloom posits. "The answer is you need to look at how efficiently you are delivering from point to point," he says. "Of course these truck can go up to 75 mph—that is a given. You will get about 20 percent better fuel economy than our previous vehicle, which generally got better fuel economy than the domestics. We are also going to extend the standard service intervals of the vehicle to 18,000 miles so you don't have to change your oil for 18,000 miles." The theoretical savings in scheduled maintenance and increased fuel economy could be as high as $2,500 a year—or up to $10,000 over a four- or five-year term. The five-year/175,000-mile warranty is transferable, so the residual value of the trucks will be higher, adds Bloom.
Better Fuel Economy
Isuzu Commercial Truck of America, Inc. just unveiled its newest commercial van—the Reach earlier this month. The new vehicle has a body, designed and built by Utilimaster Corp., that sits on an Isuzu 12,000-pound GVWR NPR ECO-MAX chassis and is powered by a biodiesel fuel compatible 4JJ1-TC 3.0-liter turbocharged diesel engine generating 150 horsepower.
The engine employs SCR technology, reducing NOx emissions by over 85 percent, making the vehicle EPA-2010 compliant and California Air Resources Board (CARB) OBDII compliant. The company claims the Reach will get 35 percent better fuel economy than a traditional commercial van. It offers the functionality of a custom-built work truck with the styling and ergonomics of a cargo van. Production is scheduled to begin this summer.
According to the company, the Reach's frame, suspension, steering and braking systems are true commercial-grade. The Utilimaster design provides more interior height and width than other commercial vans and Isuzu will offer a variety of design options to maximize utility and driver productivity. The Isuzu chassis has the engine relocated to minimize engine protrusion into the cab, making it easier for drivers to move in and out of the front seat.
Isuzu's popular N-series low-cab-forward design has a new truck that will offer drivers greater maneuverability, says Brian Tabel, retail marketing manager for Isuzu in Anaheim, CA. "This is our best feature, especially for the food industry, because delivery trucks have to pull into and out of very tight areas when they are delivering food products."
The new N-Series truck, equipped with a 3.0 liter turbocharged diesel engine providing the 12,000-pound GVWR ECO-MAX for better fuel economy over its predecessor, has a B10 durability rating of 310,000 miles, meaning that 90 percent of these engines will reach that mileage before requiring an overhaul. Its SCR technology assures better fuel economy over the previous Isuzu model.
The trucks can range from 12-feet long to 18-feet long and offer more cargo space than previous models. The increased load capacity on the front axle offers operators the ability to carry more weight inside the truck. The company also increased the turning radius on all of its trucks. Easy access to the engine through the full 45-degree tilt-cab function facilitates quicker service.
A new feature for Isuzu truck owners is the ability to get a 'health report' that offers a view into how trucks are being operated, reports Tabel. "Truck owners can bring their truck into any Isuzu dealer throughout the country. Say you have a driver on one route who is getting 14 mpg, while another driver using the same truck is getting only 10 mpg. We can diagnose the truck to find out why as we determine the severity of brake stops, for instance. We can also report on whether the truck is being idled for too long, if there is excessive braking or acceleration, or if there is excessive throttling. Fleet managers can have a better understanding of how their trucks are being operated out on the road."
New Engine For Better Fuel Economy
Workhorse reports that its W62 model chassis has been updated. "This new model is equipped with a GM 6.0 liter engine, which means our customers will get about a 20-percent fuel economy improvement over the prior gas engine," says Dan Cutter, director of sales and distribution for the Warrenville, IL-based company. The reason behind this enhanced efficiency, explains Cutter, is due to the lower displacement engine coupled with horsepower that is more appropriate. "It is right-sized for the industry."
This stripped chassis works perfectly for the snack and bakery industry, says Cutter. "Owners can choose to put a step-van on the chassis. It ranges from 17,000 GVW to 23,500 GVW and can accommodate a step-van body anywhere from 16-feet long and 24-feet long. We also offer the option for customers to have a ramp installed, which aids in the delivery process." Cutter adds that Workhorse is seeing a migration to this heavier GVW step-van, with a larger cube space able to carry more products and hold more weight.
The MaxForce 7 diesel engine is equipped with an SCR solution, enabling the vehicle to operate within the parameters of the emissions requirements. "Owners and drivers of our trucks have a hassle-free solution, as there is no additional maintenance or cost associated with operating our diesel engines," Cutter says.
Workhorse still offers the W42, the smaller model at 12,000 GVW to 14,500 GVW for step-vans 12-feet long to 18-feet long. These trucks are also applicable for snack and bakery solutions.
Also new to the Workhorse lineup is the new GM 6-speed transmission, replacing the GM 4-speed. "We also offer the GM 4.8 liter engine, which is the right size for the applications we offer and it is extremely fuel-efficient," Cutter reports.
Workhorse has always offered both gas and diesel engines. "Depending on the customer's application and the daily range required of the truck, we can provide the right powertrain to fit the situation," Cutter says. "We have seen a huge migration from diesel to gas recently due to the cost of the new emissions regulations. This is another reason for our confidences in our two new models, which offer fuel-efficient engines to the market." Cutter notes that both products were redesigned a few years ago, and that Workhorse continues to add enhancements over the years.
A new parts program—UpTime Parts Accelerated—was recently released. "UpTime Parts is our parts supplier and this new program gives our customers guaranteed and consistent pricing nationwide through UpTime Parts dealers," explains Cutter. "So regardless of where a customer is located, they can buy the same parts at the same price once they sign up for this program."