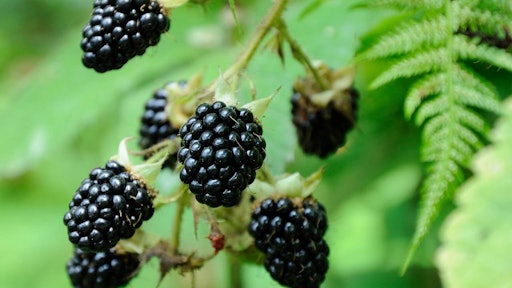 Fast food restaurants' move toward fresh ingredients, spurred by consumer demand and an onslaught of so-called fast-casual competitors like Chipotle, Panera and Freshii, has come quickly, but it presents some big supply chain challenges, according to a story in The Chicago Tribune. Ingredients described as "fresh" have grown 13 percent at fast-food restaurants in the last five years, according to Technomic's MenuMonitor. The catch-all fresh category includes additions like fresh mushrooms or mozzarella, but it's a sign quick chains are opening up into new territory.
Two-and-a-half years ago, Wendy's tested a blackberry-laden Summer Berry Chicken Salad. The salad proved popular enough that plans were made to roll it out nationwide, but the berries' slow growth made them a challenging ingredient. Unlike lettuce, which grows in just a few months, blackberries grow on bushes and aren't fully sweet until their second year. And Wendy's needed 106 million of them.
The new Summer Berry Chicken Salad required some additional instruction for restaurant staff, who prepare salads in-store every morning. Blackberries vary in size more than blueberries, so Wendy's has put signs up for staff that helps them judge berries' size. The standard salad receives four to six berries, or double that if the fruit is small.
Wendy's also "built in some flexibility" to the blackberry crops it buys, allowing it to adjust its order if it doesn't sell as many salads as expected, or if it needs more, Estrada said. That flexibility is important because blackberries are more delicate and perishable than other ingredients Wendy's uses. Wendy's notes on its advertisements that the salad is only available "while supplies last" to account for any problems with the haul, brought in on refrigerated trucks along with fresh beef deliveries two to three times a week.
Marion Gross, McDonald's senior vice president of U.S. supply chain management, said the effort to find and farm mangoes for a McCafe smoothie was the most challenging sourcing of a fresh ingredient in the last several years for the world's largest burger chain.
Fast-food chains are slow boats to turn because of their massive size, so every significant change in the menu is a bigger risk than for other restaurants, said Robert B. LaPata, founder of consultancy Forefront Hospitality.
"Fast-food companies getting into fresh food represents specific challenges because of the large agricultural system they are a part of," he said. "As much as larger agricultural companies try, you can't rush food like this."
Nomura analyst Mark Kalinowski suggested that the future of fresh food in fast-food restaurants will likely be more spins of traditional foods, rather than completely new fresh items that could drive some core customers away. He pointed to the examples of Wendy's test of a fresh mozzarella chicken salad, and McDonald's introduction of Gilroy garlic fries, which are prepared to order, as ways fast-food giants can offer fresh food without straying too far.
To read more, click here.