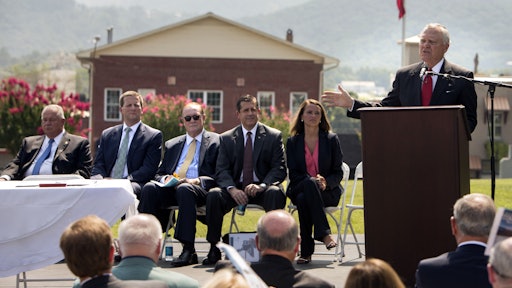 Georgia Gov. Nathan Deal, the Georgia Ports Authority, Murray County and CSX Transportation signed a memorandum of agreement today, establishing the Appalachian Regional Port in Chatsworth, Ga. Its service area will include North Georgia, Alabama, Tennessee and parts of Kentucky.
"This new inland terminal will open the door for economic opportunity and job creation for Northwest Georgia and the region," said Gov. Deal. "By providing a direct link to the Port of Savannah, the Appalachian Regional Port will create and expand international markets for businesses, and further the economic success of the Southeastern U.S."
Murray County Commissioner Brittany Pittman said the inland terminal is also a big win for economic development in her area.
"I am excited to see this project come to fruition," Pittman said. "The inland port will provide important competitive advantages to our existing industries. This development will also bring new jobs to Murray County, not only in logistics, but in support industries and the broader community."
Operated by the Georgia Ports Authority, the Appalachian Regional Port will deliver goods more efficiently to the GPA's Garden City Terminal, the second busiest container port on the East Coast behind New York-New Jersey.
"The public-private partnership established today, which includes direct rail access to the new inland port, will expand access for domestic and international shippers, providing increased options for cost-effective, environmentally friendly transportation services," said Clarence Gooden, executive vice president and chief commercial officer of CSX.
Port officials estimate the CSX rail route will reduce Atlanta truck traffic by 40,000 moves annually, creating a new intermodal option to and from the deepwater Port of Savannah. Each container moved by rail to the Appalachian Regional Port will offset 355 truck miles on Georgia highways.
"This new inland port is located in an industrial belt, which includes the production and export of carpet and flooring, automobiles and tires," said GPA Executive Director Curtis Foltz. "The Appalachian Regional Port will make those commodities more competitive in the global market by saving port customers money on inland transit costs. Moving more containers to rail will also reduce carbon emissions."
The Appalachian Regional Port will be Georgia's second facility of this kind. In 2013, Gov. Deal, Cordele Intermodal Services and the GPA signed a memorandum of understanding for the Cordele Inland Port. The Cordele facility handles cotton, clay, lumber and other agribusiness exports for customers in Georgia, Alabama and Florida.
"As part of our Network Georgia initiative, we intend to collaborate with communities and transportation partners for the development of future sites," said GPA Board Chairman James Walters. "Our goal is to create the largest inland intermodal complex in the eastern third of the U.S., expanding our reach with more economical shipping alternatives for new and existing customers."
The new inland port will sit on 42 acres in Northwest Georgia's Murray County and feature on-terminal rail. The site is adjacent to U.S. 411 and features easy access to Interstate 75. The facility will handle import, export and domestic cargo.
The Appalachian Regional Port will open by 2018 with an annual capacity of 50,000 containers. A 10-year development plan will then double that capacity.