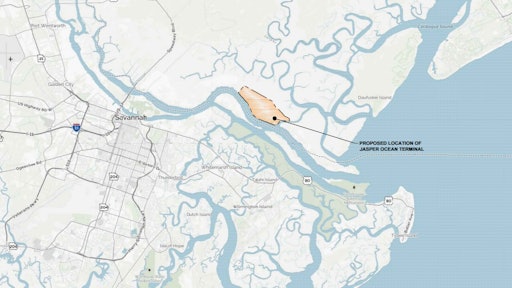 Almost a decade after the governors of both states, Mark Sanford of South Carolina and Sonny Perdue of Georgia, came together on the windy riverfront to announce the shared project, federal regulators are beginning the process of reviewing permits for a $4.5 billion containership terminal to be built by Georgia and South Carolina on the Savannah River.
The U.S. Army Corps of Engineers has issued a public notice that it plans to prepare a draft environmental impact statement on the proposed terminal in Jasper County on the South Carolina side of the river.
The new terminal would have a wharf stretching for more than 2 miles. As for the new generation of container ships, this huge space could handle eight at a time. The project also will include a four-lane divided highway between the terminal and U.S. 17, rail links to both CSX Transportation and Norfolk Southern rail lines, and a new rail bridge across the Savannah River.
The project would require dredging almost 450 acres of navigable waters and could potentially impact a little more than 50 acres of wetlands. During the next three years, the Jasper Ocean Terminal board envisions spending about $15 million on studies required for terminal permits.
A website has been set up — www.JasperOceanTerminalEIS.com — and a public meeting will be held early next year to discuss other issues that regulators should consider in reviewing the project.
To read more, click here.