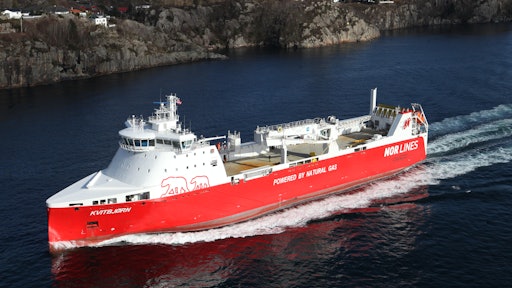 A new competitive and eco-friendly maritime transport concept, the Cargo Ferry project, was presented in Oslo recently, according to The Maritime Executive. The result of more than two years of work, the concept has been developed as an alternative transport solution for containers that are carried for more than 200 km on land.
The project was presented on board Nor Line's brand-new LNG fuelled ship, the M/S Kvitbjørn.
The report presents a logistics solution, concept ship and market analysis, while also documenting the Cargo Ferry's potential profitability. A group of 27 companies with interests and expertise in short sea shipping, led by DNV GL, Shortsea Services and Marintek, have cooperated to develop the report.
The main market for the Cargo Ferry concept is goods that are currently transported on trucks for long distances to and from coastal Norwegian towns. After conducting extensive customer analyses and interviews, the project has identified this market as covering some 17-20 million tons of goods each year.
"The analyses show there is a significant potential market for a maritime-based logistics solution," says Remi Eriksen, DNV GL group executive vice president and COO.
The Cargo Ferry concept offers transport to and from destinations that are linked together by efficient maritime transport on four main routes, including distribution to and from ports. The logistics solution covers the transport of goods from one goods terminal to another, or from one warehouse to another, but can also include transport from a sender to a recipient, or be limited to only port-to-port. The primary customers are those that, individually or collectively, fill up a container, either as a full container load or a large less-than-container load.
To read more, click HERE.