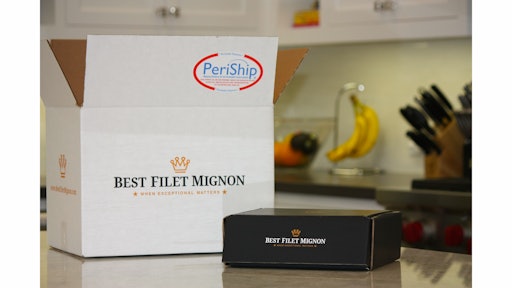 Every day, more people see themselves as citizens of a "global village," thanks to the Internet. And when it comes to food and beverage choices, consumers on every continent exercise their personal preference for their choicest foods and beverages, be it fresh seafood, gourmet chocolate, fresh meat, special cheese, fine wine, craft beer, etc.
Credit the f&b supply chain for creating the most spoiled generation of consumers in history. But as these consumers acquire a taste for their favorite foods and beverages, the supply chain finds itself called upon to ensure that high value cargo can be delivered reliably, safely and timely in a cost efficient manner. Not a small order.
Real-time tracking has become an important tool for f&b shippers delivering products that require strict temperature control. Products that are easily damaged in transit or susceptible to theft can also require special handling, delivery updates and weather monitoring.
Special handling and delivery options include packaging assistance, proactive status checks while in transit and weather checks.
Globalization Brings High Value Imports
The growing globalization of food tastes has boosted imports of many high value products, observes John Gaudet, vice president of business development at Newfield, N.J.-based RLS Logistics, which provides temperature-controlled warehousing, LTL and TL services. Such imports include seafoods, specialty meats from Europe, and veal lamb from New Zealand and Australia. "We have seen an increase product value per pound," Gaudet says. "Many have a value range from $6.00 to over $25.00 per pound."
The Crab Broker, based in Las Vegas, Nev. with a warehouse in Tacoma, Wash., supplies restaurants, retailers, resorts and consumers with Alaska King Crab and Snow Crab via FedEx, full truck loads and LTLs. Proactive monitoring of FedEx shipments from PeriShip, a logistics provider, has been important to The Crab Broker's ability to ensure the reliability of its FedEx deliveries, according to Lois Barrie, The Crab Broker's office manager. PeriShip, an exclusive FedEx partner, monitors flights and weather information and provides real-time status updates. FedEx contracts PeriShip and includes the services in its customer invoices.
PeriShip sends a map highlighting key transportation hubs with real-time weather information, including hourly forecasts for individual zip codes. When weather conditions change, PeriShip's customer service representatives call customers whose shipments will be impacted.
Barrie was grateful for a call she recently received about a cargo plane's maintenance problems. Not only was she able to alert her customer, but PeriShip arranged to get the cargo sent to a refrigerated facility to preserve the product. "They hand held my package," Barrie says. "FedEx is acknowledging that perishable shipment is important."
BestFiletMignon.com, a Los Angeles-based e-tailer, ships individually-packed, insulated packages of fresh filets overnight via FedEx. Each 4-pack starts at $85.50, shipping included. Delays are rare, says CEO Ed Diaz, and PeriShip calls his customer if they occur. Having a third party make this call for him gives added credibility and insures his customer relationship. "It adds a layer of supervision which we, as a small company, can't do on our own," he says.
BestFiletMignon.com's customers do not have to sign up and pay for such notification, Diaz says. "We want to make it easy (for customers) and provide the best service possible," he says.
Diaz remembers an instance in which he noticed an incorrect label zip code on his computer after the package was already sent. PeriShip alerted FedEx and made the correction in time for the scheduled next-day delivery. "Those are the things we alone do not have access to and cannot do," he says. "The joint efforts and services of these two logistics providers are invaluable to a small company like ours shipping high value perishable products. They are integral to our success."
PeriShip conducts test shipments with customers in order to test a number of packaging and shipping factors, including package durability, temperature control, and product presentation, says Jack Wang, the company's chief information officer. This is important for the e-commerce shippers who are coming on fast in f&b. Wang says many of the small and medium-size f&b shippers are using different product configurations, where the best type of packaging can require trial and error. Effective packing systems are critical to the presentation of the shipper's product to the customer. "Our PeriShip team uses our knowledge and resources to help identify more efficient packaging and point the customer in the right direction," Wang says. "These efforts can save our customers both time and money when it comes to streamlining their supply chain."
Packaging Assistance Makes A Difference
Packaging assistance was critical for New York City-based Farmbox Direct, which delivers weekly orders of organic produce to subscribers in 14,000 zip codes on the East Coast. Ashley Tyrner, founder and owner, was a newcomer when she launched her business two years ago. Her employees assemble boxes of organic coffee, breads, olive oils, teas and produce. The first carrier she hired to do the deliveries offered no guidance on packaging, and she ended up having to halt her service after two months.
Fortunately for Tyrner, FedEx reached out to her and offered her guidance about packaging her boxes, advising her about the particular liner, wax paper and dry ice needed for the boxes ranging between $39.95 and $59.95 in retail value, including the shipping. She was able to resume her shipments and grow the business.
Ryder Supply Chain Solutions, the Miami, Fla.-based 3PL, offers customers the ability to track shipments in real time through an Internet portal under its premium "white glove service" for time sensitive deliveries, says Steve Sensing, vice president and general manager of healthcare, technology and retail. Carriers' vehicles are equipped with GPS devices.
Tamper Proof Seals Secure Cargo
Johanson Transportation Service requires carriers of higher value cargo such as wine and seafood to be properly trained, insured, and to seal the vehicle's doors, says Randy Gabardi, vice president of operations for the Fresno, Calif.-based 3PL. The seals are uniquely numbered, tamper-proof devices that prevent the cargo trailer's doors from being opened without breaking the seal, which only the recipient is allowed to do.
In all situations, the carrier will seek an insurance waiver or an additional value rider policy for unusual merchandise or shipments that are valued above that of its own insurance coverage. Keith Warren, president of transportation for Los Angeles-based Flagship Logistics LLC, says this would be the case for many high value products such as ice cream, collectors' wine or specialty food items. It would not be unusual for 20 pallets to require $10 million worth of coverage, he says. Acting as the transportation broker, Flagship Logistics carriers would be responsible for $100,000 worth of coverage and the client would be responsible for losses above that limit.
The risk can also be mitigated by splitting up the shipments, making sure the vehicles can be monitored electronically, and having an escort vehicle for additional security if the situation warrants that level of protection, Warren says.
Ice cream is a high value product due to the unusual temperature requirements. Warren says he makes sure that the trailer has the necessary equipment to keep the temperature at minus 20 degrees Fahrenheit. He also makes sure the carrier and dock minimize the time that the doors are open for deliveries that involve multiple stops during which doors open and close.
Specialty ice cream can require even more measures, Warren says. One reason is that specialty ice cream typically is shipped LTL due to the lower volume of these shipments. Additional measures can include specially-insulated trailers, specific defrost cycles and a specific engine management system that minimize temperature fluctuations inside the trailer.
Sometimes market conditions can change a cargo's value. Depending on the market, the retail value of fresh produce (raspberries, asparagus, cherries, etc.) can exceed the standard $100,000 insurance coverage provided by most carriers, notes Doug Stoiber, vice president of transportation operations at L&M Transportation Services, a Raleigh, N.C.-based 3PL. In such cases, his company requires carriers to provide additional coverage. Fresh fruit can be rejected for excess condensation, bruising (more likely a condition than a handling issue unless there is clear evidence the load was tumbled, not secured properly or shifted during transit), or if the onboard temperature recorders indicate the temperature was out of the acceptable temperature range for too long.
Temperature Monitoring Grows
L&M Transportation Services and other 3PLs are also requiring carriers to have electronic temperature sensors for certain perishable cargo.
In the past two years, Dan Simon, vice president at Chicago-based Load Delivered Logistics, LLC, has witnessed 3PLs requiring temperature sensors for high value cargo like fresh shrimp.
But the tool has not come without its own issues. As shippers place temperature sensors on packages, the recorded temperatures don't always match the carrier's temperature readings, says Simon, "This is going to be a growing trend," he says.
The likelihood of theft also impacts cargo value. Simon says locations close to ports and airports are tempting for thieves since cargo is harder to trace once it has left the country.
To address cargo theft, NFI Industries takes special precautions, says Greg Banks, vice president of intermodal operations. The company makes sure the truck begins the delivery with a full tank of fuel to minimize the number of stops. With telematics and satellite technology, NFI also has the capability to monitor every leg of the delivery in real time.
Craft Beer Calls For Special Care
Craft beer is one of the faster growing segments in the beer industry requiring special handling, observes Kevin Brady, CEO of Satellite Logistics Group (SLG), based in Houston, Texas, which specializes in beer and beverage supply chain solutions. Where larger brewers' product traditionally has been distributed nationally, craft brands cater to smaller markets and more local distribution.
A shift in consumer preference towards craft brands is leading to greater market share and expansion in geographic regions. "The market response to different craft beer flavors and styles has gotten the attention of larger brewers, who have responded with additional brands and flavors to regain that market share," Brady says. "That changes the dynamics of the entire supply chain. There is a proliferation of SKUs flooding the supply chain nodes and retail outlets adding complexity to supply chain management."
The distribution of beer and wine has long required special handling. Supply chain management of any alcoholic product distributed in the U.S. is layered in federal regulations, additional taxation and tighter controls.
Getting the product to market is only one facet of the beverage supply chain. In addition to getting the product to market, brewers sometimes have unsaleable product (caused by recalls, product expiration, or packaging errors) that must be pulled from the market and legally disposed of. They also need a process and network in place to manage their reusable kegs and assets. A stainless steel keg costs between $120 and $140, so there is value in managing those assets efficiently to avoid the assets getting trapped or sitting idle somewhere in the supply chain.
This past year, Crown Imports LLC, a Chicago, Ill.-based beer distributor, improved its supply chain. SLG was able to collect Crown Imports' kegs more frequently and cost effectively, doubling previous keg turns, according to an SLG case study. By monitoring kegs constantly, SLG helped to drive Crown Imports' keg loss down to approximately 3 percent, well below the industry average of 6 to 8 percent.
By changing processes for keg returns during the peak summer season, they were able to turn kegs faster while maintaining service levels. Crown Imports recently worked with SLG to develop proprietary keg scanning software to increase the efficiency of keg management in the company's new brewery in Nava, Mexico.
Logistics and transportation providers have more technology that allows them to proactively monitor deliveries and temperatures which are proving helpful for handling cargo that is prone to damage and theft. With e-commerce creating a need for more smaller orders and with f&b producers increasing the number of SKUs in general, logistics specialists must consider the economics of providing additional services.
High value cargo remains a challenge for the f&b supply chain.
For more information:
Federal Express, 800-463-3339, fedex.com
Flagship Logistics, 800-497-2029, flagshiplogistics.com
Johanson Transportation Service, 800-742-2053, johansontrans.com
L&M Transportation Services Inc., 800-632-3030, lmts.com
Load Delivered Logistics, LLC, 877-930-5623, loaddelivered.com
NFI Industries, 877-634-3777, nfiindustries.com
PeriShip, 866-928-6428, periship.com
RLS Logistics, 856-694-2828, rlslogistics.com
Ryder Supply Chain Solutions, 888-793-3702, Ryder.com
Satellite Logistics Group, 877-795-7540, slg.com
Companies in this article