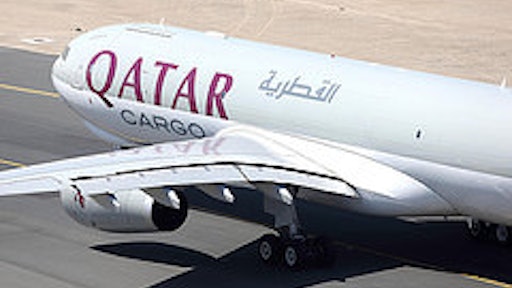 Qatar Airways plans to expand its cargo arm to become one of the top five global operators by 2018 as it purchases freighter planes and adds space in the holds of passenger jets while expanding its Doha base, according to Today, a Singapore newspaper.

Qatar Air, ranked outside the top 10 last year by tons flown, has a freighter fleet of six Boeing 777Fs and three Airbus A330s with six wide-bodies on order and the potential to add more, cargo unit CEO Ulrich Ogiermann said. Expansion of its freight terminal at Doha's new Hamad International Airport should double annual capacity to 2.8 million metric tons by 2017, he said.

"We have a very clear plan to substantially grow our footprint," Ogiermann said, adding that the hub expansion will allow Qatar Air to pursue more ambitious targets by minimizing the operational risk of transporting more cargo.

CEO Akbar Al Baker has targeted the establishment of Qatar Air as a major air-freight player by next year, with deliveries of wide-body passenger jets set to propel it to the upper tier based on belly-space alone.

FedEx and United Parcel Service are the world's leading cargo carriers, transporting 6.9 million and 4.8 million tons of freight respectively last year. Qatar Air's Gulf rival Emirates ranks third and leads the way among non-specialist carriers on 2 million tons after building the world's biggest fleet of wide-body passenger jets.

Belly space remains the most efficient mode of cargo transport and reduces the validity of dedicated freighter operations, Ogiermann said, so Qatar Air will add more cargo jets only if market growth clearly justifies doing so. Attractive new markets include Africa, with top-performing existing locations including the traditional cargo hubs of Hong Kong, Frankfurt, London, Amsterdam and Paris, he said. Local demand is particularly strong for perishable goods such as fish, meat, vegetables and fruit, with the Gulf relying mainly on imports to meet requirements.
To read more, click HERE.