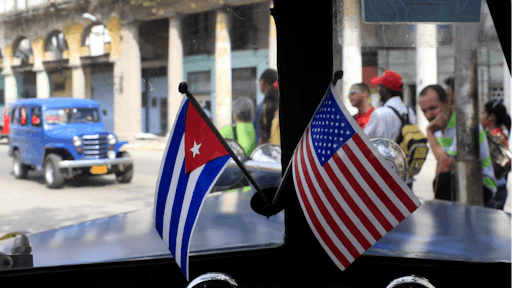 Now that more details of President Obama's modest easing of the Cuban trade embargo have been announced, the U.S. can begin, finally, to rebuild its economic relationship with its close neighbor, according to Kent Jones, who specializes in trade policy and institutional issues at Babson College in Massachusetts, writing in the Deseret News in Salt Lake City, Utah. Ending this economically destructive policy completely, however, will require a formal vote by Congress to end the trade restrictions, Jones claims.
The modest measures taken so far will only remove transaction costs on the small amount of trade that already exists, Jones writes. Red tape, such as burdensome financial and payment terms, perversely reduced U.S. competitiveness in selling food and humanitarian goods to Cuba, harming mainly U.S. exporters.
What's at stake ultimately is the re-establishment of a thriving trade and investment relationship between the two countries that was interrupted by Castro's revolution and central planning folly, and then aided and abetted by the embargo, according to Jones. The U.S. is now in a position to help Cuba back to its rightful place in western hemispheric trade.
History tells an interesting story. For most of the 20th century before Castro, nearly all of Cuba's trade was with the U.S., and in 1959 the U.S. had more investment in Cuba than in all the rest of Latin America combined. During those years, many U.S. companies invested in oil production, electrical generation, communications and sugar processing.
To read more, click HERE.