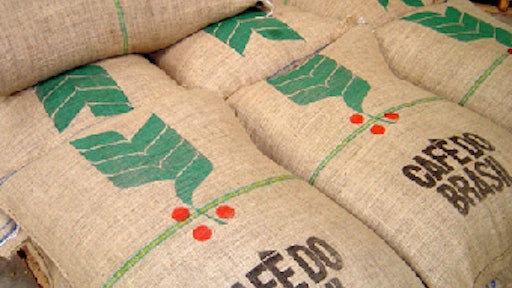 Pacorini, a provider of logistics services for the global coffee market, has selected a 150,000 square foot warehouse facility in Suffolk's Northgate Industrial Park in Suffolk, Va. for its newest location, the Hampton Roads Economic Development Alliance said Wednesday. Pacorini will invest over half a million dollars in the newly leased facility while creating 10 jobs.
Pacorini is an Italian multinational group that provides logistics services for a broad range of commodities and general cargo. The group's American counterpart, known as Pacorini Global Services (USA), offers integrated logistics services out of New Orleans and Baltimore, including transportation, warehousing, transloading, freight forwarding and customized door-to-door solutions. Locally, Pacorini will support the operations of Green Mountain Coffee Roasters, maker of Keurig's K-cups, in Isle of Wight County, Va.
"The Port of Virginia, along with the growing coffee processing industry of Hampton Roads, made the decision easy to establish a new facility," said Vice President and COO Charles G. Smith, Jr.," and the fact that The Port of Virginia was recently designated as an International Coffee Exchange port is very encouraging and factored into our decision."
"Suffolk has developed a special niche with our expansive food and beverage industry sector, so much so that we think of ourselves as the "Caffeine Capital of Virginia," commented Suffolk Mayor Linda T. Johnson. "Pacorini's location decision continues to emphasize Suffolk's impressive role in the coffee and tea world."
"We are pleased to have Pacorini join The Port of Virginia's logistics community," said John F. Reinhart, CEO and executive director of The Port of Virginia. "Pacorini's history and expertise in coffee handling adds to the rapidly expanding network of coffee storage and production facilities supported by The Port of Virginia. This is a gain for Virginia and the local region because these types of announcements translate into jobs, revenue and growth in the economy."
"It is with great pride that we welcome Pacorini to the Hampton Roads region. Growing the food and beverage processing sector is an important step in diversifying this region," notes Alliance chairman Bob Boyd. "We continue to benefit in terms of real estate investment and job creation."
Charles L. Dickinson of Harvey Lindsay Commercial Real Estate represented the tenant in the transaction. The Hampton Roads Economic Development Alliance, along with the City of Suffolk Economic Development and The Port of Virginia Economic Development, also provided assistance during the decision making process.