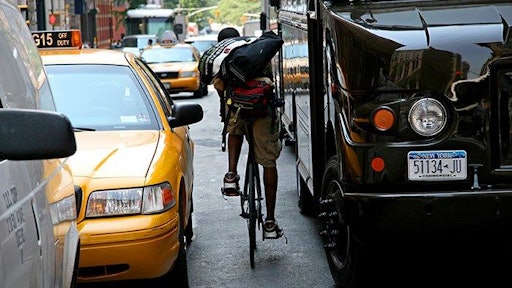 In its latest attempt to take on brick-and-mortar retailers, Amazon.com Inc. is testing plans to offer deliveries within an hour in New York City by using bike messengers, according to MarketWatch.
The new service is being referred to as Amazon Prime Now and mimics the immediacy of in-store shopping by bringing some merchandise to customers in Manhattan within one hour or two, according to a person familiar with the test.
On a recent afternoon, bike messengers working for Amazon could be seen filing out of the back of a building on West 34th Street just steps from the Empire State Building, where the e-commerce giant recently signed a 17-year lease.
Amazon has been holding time trials with messengers from at least three courier services to pick the speediest and most careful for its delivery fleet, the person said. During the trials, messengers are given an address and told to bike there within the allotted time. Once they arrive, they are required to take a photograph of the building's address and return to the ground floor of the Amazon building, which is referred to by bike messengers as "the base," the person said.
At the base, Amazon has built a lounge replete with foosball, pool and air hockey tables; an arcade; and other amenities for messengers hanging out between deliveries, the person said. Messengers are paid around $15 an hour and work eight-hour shifts.
To read more, click HERE.