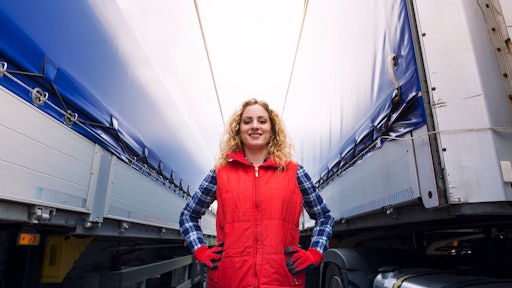 littlewolf1989/stock.adobe.com
While it's important to build each other up for our professional accolades daily, today specifically, sparks interest into celebrating women in their various roles — many here in the supply chain. March 8th is International Women's Day, an annually labeled day for celebrating women's achievements, educating and raising awareness for women's equality and supporting female-focused charities for growth.
In the supply chain, women have gradually started filling more and more spots traditionally dominated by men. A Gartner survey in 2018 showed this progression from 2016 to 2021, where women in supply chain roles increased from 35% to 41%. In 2022, the Women In Trucking index found that 36.7% of leaders in the transportation field are female and about 13% of the driving workforce itself is female, but with initiatives like Women In Trucking Association promoting women to join the industry and working to improve their experience in those positions, the numbers are only expected to climb.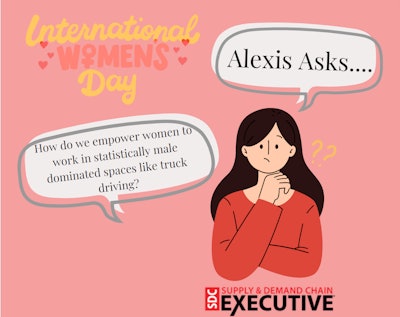 Empowering women to take on professions outside of the "norm" comes in many ways. One of the first and most important, is open dialogue and communication that seeks to collaborate and teach the community the importance of diversity in the workforce. Specifically in trucking, it's imperative that we teach girls and young women that this career option is available, and viable, early on. Candace Davis, owner-operator of Davis & Davis Transportation LLC, says "recognizing the value of women in trucking rests on the ability of women doing the job as effectively and efficiently as anyone else. It's imperative that a female presence is known, assisting the global shift of transportation. We must work together to meet common goals, create positive outcomes for everyone and understand all are valuable."
From the leadership and c-suite level to the seats behind the wheel, women, and men alike, leading and encouraging other women remains the driving factor (pun intended) to moving the dial towards more diversity and equality in transportation. "If I could tell young girls who may be intimidated by this industry anything it would be that you are enough, and your voice is valued. Although being a woman in the workplace can be difficult, keep moving forward because other girls are watching," says Erika Iznaola, head of treasury at Super Transport International (STI) — whose truck driving force is about 13.7%, a growth of about 3.7% since 2019. In an interview last year, STI truck driver Dora Santillan explained how women can change the statistics of drivers by being proud of their work and "going for it without letting anything stop you".
Moreover, creating spaces where the female perspective in the supply chain can be heard is a great way to share testimony that improve experiences. Last year, Supply & Demand Chain Executive and Food Logistics launched the Women in Supply Chain Forum to do exactly that. The conversations had there reflected on self-advocacy and collaboration, especially with male counterparts that can offer mentorship and sponsorship for women. This year, the Women in Supply Chain Forum hopes to compound upon those themes, celebrate gender diversity and work to improve the future of women in the industry.
Although International Women's Day only happens once a year, these ideals are universal and meant to be implemented in the day-to-day work of women. If we remain dedicated to education and communication about the uniqueness women can bring to a workplace, we can inspire more women to keep on trucking, through all facets of work, throughout the supply chain.