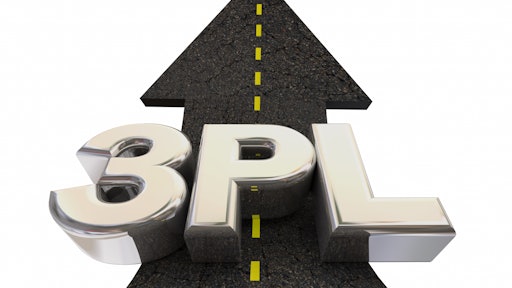 iQoncept AdobeStock_261895566
If you had to choose a theme for 2022, its likely you would point toward supply chain disruption. Fall-out from the pandemic continued to usher in a wave of uncertainty and instability over the course of this year, and in its wake, left a completely changed supply chain and logistics industry. For third-party logistics (3PL) providers who saw soaring rates and strong demand over the past two years, the market remains favorable long-term, but 2023 will look very different with a double-digit decline in revenues as the market normalizes, says Evan Armstrong, president of Armstrong & Associates.
"The year-over-year comparable operating performance figures will look bad, given the extraordinary growth in 3PL over the past two years, but take a deep breath. In 2023, we think 3PL in the U.S. will finally be at the new normal," explains Armstrong, pointing to domestic and international transportation rates stabilizing at new, albeit higher levels; demand normalizing; and warehouses, which are currently at overcapacity and will remain full throughout 2023, seeing some inventory drawdown.
And while all signs point to a more stable market following the last few years of uncertainty, 3PLs are still likely to feel the impacts of that "new normal." Several industry leaders discussed what those impacts will be and what they anticipate lies ahead for 3PLs as we enter a new phase. Here are the Top 10 trends.
1. Shippers are demanding a higher service level
Industry growth and increased service levels are the two biggest trends to look for in 2023, according to Chris Wilson, VP of business development at TA Services.
"Because 2021-22 was kind of a recovery period of getting out of the supply chain and COVID nightmares, now we are seeing more companies move from being reactive to be more proactive," says Wilson.
To accomplish this, he says more shippers are partnering with 3PLs.
"We are seeing a lot of companies working a lot more with third parties, doing an integration of their supply chain with a third-party company as far as its transportation, its warehousing, its final mile, everything. Companies are relying on 3PLs a lot more than they used to," Wilson says.
In addition to warehouse or transportation management, shippers are looking for proactive ideas from 3PLs to improve operations and reduce costs, says Armstrong, and that "3PL customers have evolved from wanting basic transportation and warehouse management skills to more strategic relationships."
"They are also looking at 3PLs for business continuity management and are seeking well-positioned 3PLs which can even operate in cases of disasters. Some customers are asking 3PLs to present their internal plans for labor shortages, disaster preparedness, work stoppage, weather-related transportation disruptions, technology outages and other risks to operations," adds Armstrong.
To that point, Wilson notes that it's no longer just about price, but what you can bring to the table. "It's about positioning yourself to have the most options and the best options," he explains.
Drew Herpich, chief commercial officer at Nolan Transportation Group and Transportation Insight, attributes the continued growth in the 3PL market to a level playing field.
"People are now starting to accept brokers on the same level as assets. Brokers for so long got a bad name out in the industry, and shippers have realized, especially after COVID, that brokers have similar capabilities as these assets do," Herpich adds.
2. 3PLs must be flexible
In addition to higher demands, shippers are looking for 3PLs that have the flexibility to bend and sway as the market changes.
"You can no longer take the approach of, 'this is who we are, and this is how we do it.' You have to be able to pivot and adjust to each individual customer," Wilson explains.
He adds that shippers are looking for an "elastic logistics plan," with a partner "that can look at the overall picture and offer options."
This type of flexibility requires IT integration that offers transparency and visibility into both yours and your customers systems, "so that they're able to know in real-time everything that is going on with their supply chain and that the 3PL is handling it," says Wilson.
The right technology allows 3PLs to predict earlier and see any disruptions ahead of time, so that they can shift and adjust depending on what the market is doing at the time or even in the next 6 months.
Herpich adds that interest in asset light solutions is also growing as a way of achieving flexibility.
"With market cycles and the economy and the way things are shifting, your broker or your 3PL can be much more flexible," he explains.
3. A continued crunch on warehouse capacity
Cold chain and dry warehousing capacity is tight and will continue to be a challenge throughout 2023 as shippers look to 3PLs to find space and manage operations.
"Finding and managing warehouse and transportation labor is another challenge and risk that is being passed on to 3PLs," explains Armstrong.
Wilson says that 3PLs are being asked to take more product in and have more stock available, so if and when there are supply chain disruptions, the stock is readily available. This has created a major crunch on warehousing space.
In response, Herpich predicts the industry will see an increase in mergers and acquisitions (M&A) this year among the biggest players in an effort to gain more warehouse space.
"Being able to build or get the equipment or space to be able to build these refrigerated solutions is going to be tougher. To get the on-demand warehousing, you're going to see a lot more M&A deals going down," he says.
4. Labor shortage is growing across the board
A shortage of drivers has plagued the transportation and logistics industry for decades. And while that will continue to be of concern, Wilson says a labor shortage across the supply chain is likely to be an even bigger problem for 3PLs this year.
According to the annual Third-Party Logistics Study, published by NTT Data and Penske Logistics, 56% of 3PLs and 78% of shippers reported that labor shortages impacted their supply chain operations.
Wilson predicts the solution for this shortage, in part, will be the integration of robotics in the warehouse. This also tracks with the findings in the study, which found 84% of 3PLs and 70% of shippers are either actively implementing or researching and reviewing augmenting their supply chain operations with new technology and/or automation to offset talent shortage.
And while the ROI on automation has not been a strong enough case for many supply chain professionals in previous years, rising wages coupled with a lingering labor shortage is beginning to shift the conversation. Plus, in addition to reducing labor needs, automation is helping 3PLs become more efficient and cut costs by increasing storage capacity and accuracy.
Armstrong adds that to cover the costs of investments in automation and technology, more 3PLs are pushing for longer contracts, also claiming that "3PLs with contractual business will fare better given a potential recession and economic uncertainty."
5. Rates will trend downward
As disruptions in the supply chain continue to resolve, Wilson predicts rates trending downward. While general freight volume is currently muted and rates for most modes are down significantly from the first half of 2022, Armstrong says more historically normal transportation rates and demand levels should progress into 2023.
This means that price will no longer be the biggest differentiator in a competitive 3PL landscape.
"When you're looking to work with a new customer, everyone's rates are going down into the ground right now. Its more about providing a service level and finding other services that provide a value-add for the customer," Wilson says.
To that point, Armstrong says that value-added warehousing and distribution will continue to do well given the general lack of warehousing space, which is nearing a critical level in the cold chain and strong growth in e-commerce fulfillment and last-mile delivery.
"A lot of shippers we work with are examining their supply chain networks and providers to improve inventory management and on-time delivery performance. We anticipate continued focus on supply chain network flexibility and warehouse optimization," says Armstrong.
6. Digital freight matching takes focus
Digital freight matching will continue to pick up speed in 2023, with an increased focus on the automation of freight brokerage. With digital freight matching, technology automatically matches an available spot truckload with an available carrier. It also offers upfront pricing where a shipper's transportation management system (TMS) can get an almost instant price from a 3PL on a spot market truckload shipment and book the shipment at that quoted price in seconds.
This process automates traditional spot-market freight brokerage sales functions, and according to Armstrong, is increasing shippers' use of more spot vs. contract pricing.
"The ongoing digitalization of transactional truckload freight brokerage continues at a rapid pace as more 3PLs have built API integrations to large shippers' transportation management systems for truckload spot-market rate quoting and automated load tendering and booking," says Armstrong, adding that it has become a competitive differentiator as 3PLs look to increase the number of loads and shipments they manage per person per day and revenue per person per year.
Sales automation of spot market truckloads is also happening in conjunction with the automation of carrier sales or procurement functions. Freight brokers are using intelligent capacity management systems to digitally match shippers' loads to carriers based upon historical and real-time carrier capacity data. Armstrong notes that the automation of these core functions helps to build carrier loyalty as shippers return to carriers at rates below the spot market rates offered on load boards.
7. Sustainability will demand a bigger role
Sustainability will also be top of mind for many 3PLs this year.
"The solutions that we see today have not been exactly environmentally friendly or sustainable long term. You're going to see much more sustainable solutions come to the forefront," Herpich says.
Wilson points to green initiatives in the warehouse, specifically mentioning major grocery chains who in recent years have announced plans to reduce emissions, cut their carbon footprints and create greater efficiencies in the warehouse.
Lighting and temperature control are the two biggest areas companies are focusing on in the warehouse, with energy efficiency found through LED lights, skylights, sensors that monitor usage and turn off lights when not in use and high-efficiency HVAC systems.
In addition to sustainability initiatives in the warehouse, electric vehicles are a hot topic when it comes to transportation. While we are still on the forefront of this innovation, a report from the North American Council for Freight Efficiency found that 100% of the medium-duty market segment will embrace electrification.
8. Innovative cold storage solutions are needed
As warehouse capacity continues to tighten, Herpich says 3PLs will need to get more creative in keeping products cold. He sees growth in the use of trailers as floating warehouses, as well as innovation in packaging.
"You are going to see people get more and more creative if they don't actually have a cold storage warehouse," he says, adding that you're also going to see more "from a packaging standpoint in being able to keep things cool because at the end of the day, the insurance and the claims can be costly if you don't do it the right way."
9. Last-mile logistics remain a challenge
Over the last two years, one of the biggest shifts companies were forced to make in their supply chains was how goods were delivered to the customer in the final mile. While interest in grocery delivery was already growing pre-pandemic, it is now the preferred method of grocery shopping for many consumers.
"There was a small niche of people who did home delivery of grocery, but that market has blossomed," says Wilson. "Every major chain is now partnering with some sort of home delivery service. In the beginning, they would send a shopper to the store to fulfill the delivery, and now it's working out of warehouses. Now, they've pivoted that there are warehouses just for that at-home delivery."
However, today, most cold storage currently is still done in large distribution centers often located far from city centers. Herpich suggests the industry may start to see smaller, mini-distribution centers (DCs) popping up around major cities to meet the increased demand for fast and safe grocery delivery and to help control costs.
"The farther they are away from the consumers, the more points they have in the supply chain, the more the costs go up, so that's going to be a big issue," he adds.
10. Demand for reverse logistics will grow
One of the key takeaways from this year's Third-Party Logistics Study was the opportunity for 3PLs in reverse logistics. According to Allied Market Research's Reverse Logistics Market Report, the global reverse logistics market was valued at nearly $635 billion in 2020 and is projected to reach just under $1 trillion by 2028. The Third-Party Logistics Study cites the expansion of e-commerce and changing consumer preferences brought on by the COVID-19 pandemic as the major contributors for this growth.
And while this growth is significant, the majority of shippers surveyed said they currently have their reverse logistics fully in-house and only one-third expect to outsource a greater portion of their reverse logistics over the next three years.
The study found 3PLs place a lack of importance on reverse logistics within their future offerings, but considering the growing size of the market, it is suggested 3PLs may be missing out on "the untapped potential of reverse logistics to their overall growth and customer loyalty."