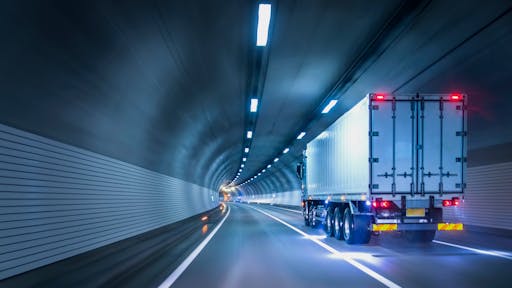 Getty Images
When coordinating the distribution of perishable products, it takes not only advanced technology, but also expertise to navigate today's logistics challenges. In a world full of supply chain disruptions, it's more important than ever to maintain a predictable, repeatable and efficient less-than-truckload (LTL) cold chain.
Moving cold chain products from Point A to B requires a tailored approach, one that includes a network of carriers, real-time track and trace capabilities, last mile and a sophisticated understanding of fleet optimization. To achieve this, temperature-controlled LTL providers must build strong relationships with partners, a diverse network of carriers and advanced technological solutions that allow customers to view shipments from start to finish.
Technology and Experience
For nearly 40 years, Trademark Transportation has done just that. The family-owned company specializes in transporting temperature-sensitive foods and ingredients. Many of Trademark Transportation's employees have worked at the third-party logistics (3PL) provider for 30-plus years, allowing the business to create in-depth logistics expertise and strong relationships with its customers and network of carriers.
"We have 40 years of know-how in the complexities of managing diverse temperature-controlled transportation programs of foods and ingredients, including less-than-truckload (LTL), pool consolidation and distribution and multi-stop truckload," says Charlie Singleton, lead engineer at Trademark Transportation. "Over half of our staff has worked for the company for at least 10 years, with many serving in their roles for 15-, 20- and even 30-plus years."
Over the years, Trademark Transportation has taken its industry experience and understanding of customer needs to create its own transportation management system (TMS). The company's engineering department will soon launch version 2.0 of its custom-built TMS, which will include the latest capabilities in visibility, track and trace and analytics so customers can better track shipments, access records and reports and analyze what works best. With a state-of-the-art TMS, customers can leverage route planning and route optimization solutions, a game changer in modern logistics.
"With that breadth of industry knowledge comes a unique understanding of the challenges our customers face on a regular basis, including; difficulty in managing the wide array of requirements and fees from receiving locations, lack of communication and transparency from their carrier base leading to surprises in transit, and inability to forecast costs and make prudent planning decisions, to name a few," says Singleton, who is leading the development and implementation of Trademark Transportation's new TMS.
Built on Values
All the bells, whistles and new technology in the world mean very little without a strong values system. The most successful companies in every industry operate with organizational values and Trademark Transportation is no different.
"We are a family-owned business made up of great people who exemplify our four core values: character, professionalism, resourcefulness and tenacity," Singleton says. "We are interested first and foremost in making you look good to your customers. We will partner with you to design, build, and manage a customized cold-chain logistics program, and we promise to be easy to do business with."
Those values have been an important part of the company since its inception. Trademark Transportation owners Justin Bratnober opened the company's doors on Oct. 17, 1983. Justin Bratnober had managed fleets for years for his family's business. He and trusted friend Larry Dandrea, who had worked in trailer rental and leasing, began working out of a small warehouse in St. Paul, Minn., and throughout the next several years, the business continued to grow.
Dandrea, who has remained with the company since it opened and now focuses on sales, says one of Trademark Transportation's strengths is relationship building. For example, he works with customers to understand their needs and challenges, then collaborates with them and carriers to optimize fleets and shipments.
"It's not that we're reinventing the wheel. We're taking what we see and what a customer and carrier in our network are willing to share with us, and we're trying to bring about a better solution," Dandrea says. "And we're easy to work with. We're friendly people and responsive."
Custom-Tailored Services
Trademark Transportation is a 3PL that specializes in the transportation of temperature-sensitive food and ingredients. The company coordinates multiple carriers to deliver shipments across the country, managing LTL, freight fluctuations, cross docking and other factors along the journey.
The team at Trademark Transportation works with customers to create custom cold chain distribution programs that create long-term value and on-time delivery while keeping products protected, at the ideal temperature. The company matches customers and products to the correct carriers and routes for shipment.
"Rather than customers having potentially 10 different LTL carriers coming in from 10 different suppliers, they have one consolidated load," Dandrea says. "So you can imagine the efficiencies they gain, not only in receiving, but also in visibility of tracking and tracing."
Managing smaller, more frequent shipments is a highly complex task for most businesses, but Trademark Transportation can tap into its nationwide carrier network to combine multiple shipments for a single delivery. Freight is combined on trucks traveling to the same regions to speed delivery time and reduce costs. Consolidating LTL freight with Trademark Transportation optimizes truck capacity, so customers are not paying for empty space on delivery vehicles. Consolidation can help improve transit times and reduce handling times, minimizing the risk of damage.
These capabilities are vital as e-commerce orders are on the rise, coupled with unrelenting shipping disruptions.
"There's no doubt that the freight landscape has had serious fluctuations recently," Singleton says. "One of the many benefits of having been in the marketplace for four decades is that we've seen just about everything, and tumultuous market conditions are no exception."
Advanced Technology in Action
At the start of 2021, Trademark Transportation began development of its new TMS, which will allow the company to offer enhanced products and services to customers. Some of those new features include expansion of data exchanges including electronic data interchange (EDI) integrations, process automation, web access to shipment documentation, integration with additional third-party service providers and freight optimization tools.
"We have invested in new freight optimization tools that provide us the opportunity to plan various scenarios to accommodate a number of different capacity restraints," Singleton says. "This investment gives us the ability to provide multiple service options where other companies would have to turn back tenders."
The TMS improvements will help bring the cold chain industry's capabilities more in line with dry market technology, he says.
"The temperature-controlled LTL industry has lagged significantly behind the dry market as far as technology offerings, and that is true of most of our competitors," Singleton says. "Unlike off-the-shelf solutions, we have developed our own, highly-configurable, flexible, proprietary, web-based TMS, providing a variety of value-added services built from 40 years of know-how, including: customized analytics and item-level reporting, cost analysis, quoting, shipment track and trace, real-time order status, order tendering, and much more. In addition to the convenience of web-based internet accessibility, all of our tools are built to be intuitive, simple and easy to use in order to facilitate faster adoption."
Trademark Transportation also offers a rating tool capable of pricing from a variety of tariffs, custom rate schedules and location-specific accessorial charges to customers and carriers.
"Technology is one of our greatest strengths," Dandrea says. "The new TMS will allow our customers and carriers to do more, faster."
The new TMS will soon be available to customers and carriers, adding to Trademark Transportation's portfolio of products and services. The company's skilled team, proprietary technology, nationwide carrier network and deep knowledge of temperature-controlled LTL can add value to any shipping operation. 
*This article was supplied by Trademark Transportation.