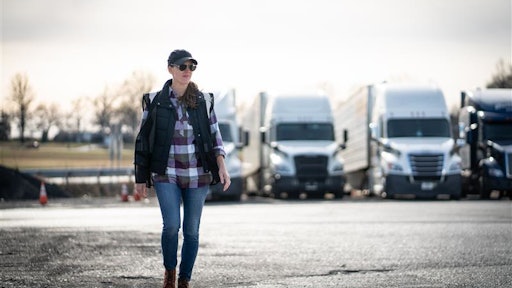 5m3photos
By disrupting nearly every aspect of the supply chain, the pandemic left a lasting impact on the future of the logistics industry. Starting in March 2020, carriers, shippers and brokers dealt with a multitude of rapidly unfolding changes in both the workforce and in the marketplace. For carriers especially, networks were impacted.
Throughout the pandemic, carriers' networks and needs have faced constant change. Demand is high and carriers have been, and still are, busier than ever before. With so many employees working from home, carriers learned they need to be as efficient as possible. They don't have the time to be annoyed with tracking calls throughout the day or non-stop phone calls, especially regarding freight they don't need or want. Carriers need partners they can build trusting relationships with, and partners who understand them. Having to explain their needs and wants to someone "new" every time is nearly impossible.
Additionally, drivers and equipment have been tough to find. Demand is high, supply is low and the driver shortage isn't going away anytime soon. Carriers want to work with partners who go above and beyond and fix problems that arise. With ever-changing conditions and a tight driver supply, the pandemic has shown that having strong and reliable relationships is everything.
These whirlwind changes meant that brokerages had to be consistently and diligently evaluating how to best support carriers and make their jobs as easy as possible. Knowing and understanding each carrier's preferences is key. From the beginning of the pandemic, when uncertainty was at an all-time high, and through now, as the industry continues recovering from the effects of the crisis, one thing is clear -- brokers need to prioritize listening to carriers about their specific needs. Understanding and catering to how each carrier wants to do business are crucial to maintaining our carrier network.
The pandemic solidified our belief that enhancing the ease of business is how we can best serve our carrier partners. By continuously thinking about what is happening within their workforce and marketplace, as well as the challenges of their other partners by extension, we have been able to ensure our carrier partners experience a seamless interaction. The last thing brokerages want is for their carriers to worry about changing their operating procedures. Instead, it is the brokerages who should be driving the conversations and creating tailored solutions to meet carriers where they are. This is where product development and offerings come in.
Across the board, carriers adopted new technology and tools to help them navigate the consistent, yet unpredictable disruptions caused by the pandemic. For brokers, this means looking at the convenience, user-friendliness and efficiency of the technology at the individual carrier level, ensuring tools perform well and continue to provide value for each partner, regardless of their needs. Truck utilization is everything. Brokers have to understand efficient runs and provide tech and transparency that cuts down on empty miles and dwell time.
Booking portals are an excellent example of a customizable tool that offers solutions that are in line with individual, unique carrier preferences. Carriers want technology that is easy to use and operationalize quickly and seamlessly, without needing to reshape their existing business model or adjust how they operate. Carriers deserve to do business their way – the best types of booking portals brokerages can offer are those that easily integrate with the technology the carrier is already using.
Smart technology offerings that allow carrier partners to move freight booking and management online can impact a fleet's performance by saving time and moving more freight. Auto-tendering platforms help efficiency, while portals help carriers look for new opportunities to complete their changing network or drivers in new areas. That's why it is more important than ever for brokers to prioritize digital-first offerings while still giving them the option to work directly with representatives for a seamless and efficient experience.
At the end of the day, carriers want to work with a partner who truly cares. It sounds so simple, but far too many relationships begin and end at the point the rate confirmation is sent. A broker's role in this industry is to partner with safe, reliable carriers that will service our shipper, while at the same time obsessing over the life of the load to ensure the carrier and driver have a painless experience. Accurate information matters. The right amount of communication matters. Empathy and trust when problems arise matters.
In this market, why would carriers work with a broker they don't have a sound relationship with?  Network needs are changing, but how each carrier prefers to do business can be unique and consistent for that specific carrier. If a trucking company has to explain their needs, their communication channels and their equipment to a different person on every phone call, it is impossible to remain efficient. By listening and caring, the value of the relationship will become obvious for all parties. Everyone can become more efficient as that repeatable business takes off. Part of the unknown gets eliminated.
When the relationship is established, simple technology layered on top that both parties have aligned with can take the partnership to a new level. Regular lanes become auto-tendered, new needs are offered through portal preferences and communication becomes streamlined. Now you have a satisfied customer with a more productive and efficient carrier and broker. That's a win.