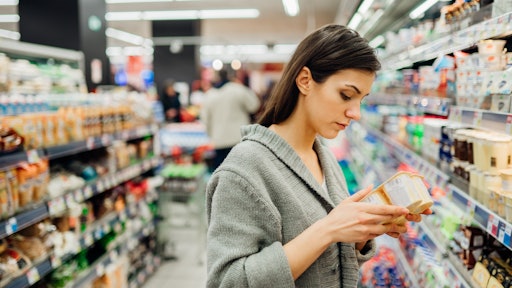 eldarnurkovic
Today, wellness trends are an important part of not just the food industry, but the entire global economy, as consumers search for healthier solutions to create a better mind, body and soul. Shoppers push manufacturers and companies to provide healthy products that they can feel good about, especially now that an endless array of options puts the power in the consumers' hands. This drives even the largest companies to have to cater to these growing wellness demands.
In the food industry, customers now look for greater visibility into where their food comes from, less synthetic, manufactured and potentially harmful ingredients, greater sustainability, more plant-based options and more convenience. Clean labels are now an important part of these wellness trends in the food industry. The idea behind the term "clean label" is to create food products made with as little ingredients as possible, eliminating the use of additives, artificial ingredients and synthetics, to create a food label that consumers can easily understand exactly what is in their products.
According to research from ReportLinker, the demand for less artificial foods will drive the clean label market to an estimated $75.2 billion by 2026, a compound annual growth rate of 6.7%. The beverage, dairy and frozen desserts, bakery and prepared foods industries, among others, will see the most application of clean label products. North America is one of the many regions likely to see the most value in the industry, leading into 2026. This growth means that food transportation companies and third-party logistics (3PLs) providers are responsible for transporting these clean label foods more and more over the next few years.
But, what do clean label shipments mean for 3PLs? The most important factor that changes here is that clean labels increase time sensitivity. The fresher and more natural the ingredients, the faster the shipment needs to arrive at its destination to prevent spoilage.
"Clean label products and corresponding certifications are meant to keep the item as natural as possible," says Andre Luecht, global vertical practice lead for transport and logistics, Zebra Technologies. "From production, transportation and storage to the point of consumption, products cannot contain artificial ingredients or synthetical chemicals and are supposed to be kept free of any contamination (source). Without artificial preservatives, the shelf life is being reduced. A reduced shelf life requires faster processing from origin to the consumer and increases the pressure on the carrier.
"For 3PLs, this translates to providing an optimized temperature environment as well as accelerated processing as any supply chain dwell time will negatively impact the product's shelf life. Clean label products have a much narrower sales window," adds Luecht.
The narrow shipping unit and need for refrigeration in relation to the clean label trend increases the need for reefer transportation compared to dry vans, a trend already on the rise.
"Consumer demand for clean label products will force manufactures to develop alternatives with more natural ingredients," says Rose VanWey, director of van services at Atlantic Logistics. "My assumption is that these more natural, clean products will require refrigeration, hence the trend from using dry vans to reefers in transportation."
Many clean label manufacturers also look to more local markets to preserve the freshness of their products, reducing transportation exposure while marketing a locally produced item to customers.
The temperature factor
Because of the delicate nature of the fresher products, in addition to speed of delivery, temperature is a significantly important part of the transportation process. 3PLs need to provide accurate and reliable temperature monitoring from its point of origin all the way to the shelf, which is more costly when it comes to shipping spend, says Luecht. Typically, this extra cost will go into the cost of the product, where the consumer is willing to pay a higher price for a better-quality product.
Additionally, Luecht explains that when it comes to demand fluctuations for clean label products, the margin of error is extremely narrow due to the short shelf life of clean label goods.
The wellness and reefer trends were two concepts increased over the last few years, but since the Coronavirus disease (COVID-19) pandemic, these notions skyrocketed.
For one, consumers now spend more time at home and are more focused on their health than ever before. This means they read labels carefully and care about what goes into their body, in turn driving demand for cleaner labels.
Additionally, the growth in reefer demand with new factors such as the vaccine distribution coupled with the growing labor shortage only makes the shipping factor in clean label manufacturing that much steeper.
"The pandemic and the need to distribute the COVID-19 vaccine has put a strain on cold chain capacity," Luecht says. "In general, clean label products can absorb higher transportation costs as the customer is willing to accept a premium price. The pandemic has changed the market dynamic as almost all vaccines need to be transported using cold (or ultra-cold) chain capabilities. This impacts availability and transport pricing and could result in higher costs for consumers of clean label products.
"Shelf life has been impacted negatively as processing times have been increased. Compared to vaccine distribution, clean label products will always be relegated to a lower priority," says Luecht. "Lastly, access to warehouse labor has become a significant factor. A higher degree of automation helps mitigate lack of human resources, but the entire industry has felt the impact of the labor shortage. The results are longer processing times and increased costs while competing for a short supply of trained warehouse associates."
Click here to hear more about technology in food:
Transportation demand
Whether or not the pandemic continues, these trends will only continue to grow. However, VanWey explains that these clean label products will not replace current products, but instead push manufacturers to develop more items. This means demand for transportation will only continue to increase.
This demand increase may lead 3PLs to invest in new technologies such as temperature monitoring as specific as tracking individual items from end to end and automation in warehousing and logistics to be able to keep up with demand despite the labor shortage. It will push the cold chain to accelerate shipment times while increasing visibility.
"Clean label product transportation sets the standard," Luecht adds. "Over time, additional manufacturers and shippers will want to enjoy an accelerated, monitored supply chain. It will come down to transport cost absorption at the point of sale. Can a product be priced attractively to include a higher portion of the transport cost?
"Trends in increased omnichannel fulfillment and last-mile delivery expectations have shown that, over time, the consumer will want clean label freshness for more if not all products. Verified item authenticity and serialized proof of origin will become standard. The clean label product transportation model sets the trends for the supply chain industry. Customers' willingness to pay a premium might slow down the implementation, but the expectations are unlikely to reverse."
This is a crucial time in the cold chain today. As the pandemic shifts more than just business strategies, 3PLs will need to adjust. The constant shifting interest of the consumer will play an important role in the cold chain and clean label transportation in the coming years.