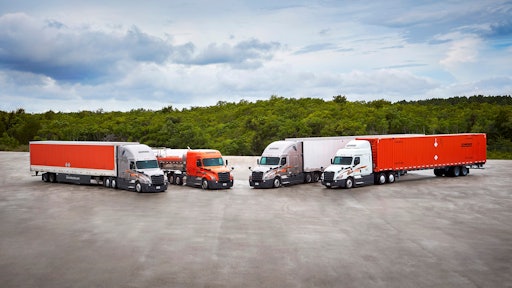 Schneider
Managing a fleet in the cold chain can be a daunting task. Managing a fleet in the cold chain during a global pandemic and additional civil unrest is even more difficult.
There are many best practices for fleet management to follow, but as with every aspect of a job, they evolve over time. This past year saw rapid and extreme changes to these factors. Putting the human experience and people first in an organization is always a rule of thumb for most organizations, according to experts on the subject, especially for third-party logistics (3PLs) companies whose operations depend on drivers.
"Best practices for fleet management are centered around driver training and retention, leadership development and optimization," says Chris Valante, director of supply chain solutions at A. Duie Pyle. "This is particularly critical in the Northeast, arguably the toughest market in the country to attract and retain qualified drivers. People are the most critical component of a successful fleet.
"Companies have been increasing their investments and focus on training and career pathing through leadership development programs and CDL A driving academies. It's important to note that investing in people is only a part of the equation. Maintaining a strong values-based culture is a best practice that may be considered as a prerequisite for operating a successful fleet."
According to a report from the American Trucking Associations, the driver shortage remains a problem even throughout the pandemic and subsequent recession. This makes employee onboarding and retention even more important.
"Investments in driver hiring and retention continue to increase in an effort to combat the nationwide driver shortage," says Mike Medeiros, VP of DCC South operations, Penske Logistics. "We have placed a large emphasis here. Our recently launched Driver Hiring Center is a great example of this."
Technology investment
Along with consumer retention comes investment in technology to make the job safer and more convenient for employees.
"Investments in emerging fleet technology continue to gain traction," Medeiros says. "For example, safety specs-collision avoidance/adaptive cruise, fuel economy enhancements, along with cold chain compliance/ temperature monitoring technology continue to become more prominent in the industry.
"Sustainability became popular with compressed natural gas several years ago, and today we see electrification evolving in an effort to further reduce emissions. There are certain applications that lend themselves to more immediate adoption of electric, like shorter return to base routes. These fleets are taking a serious look at deploying electric vehicles into their fleets, however concerns with charging infrastructure and battery performance remain in the forefront."
John Bozec, senior VP and general manager of van truckload and dedicated at Schneider Logistics seconds the notion that fleets are interested in investment in emerging technologies to improve the driver experience. In fact, Schneider has invested in numerous areas on the truck to improve a driver's work life as well as make the truck itself more efficient. And, this will only continue throughout the next few years, Bozec says.
Investment in technology like this and driver retention is always extremely important, but during a modern pandemic, focusing on employees becomes a steadfast rule.
The COVID-19 effect
Fleet managers must focus on keeping their drivers safe throughout the continued spread of the Coronavirus disease (COVID-19) or risk losing part of their workforce and falling behind. No company ever wants to see their employees experience a health crisis, but during a time when online ordering is at its height, there is no room for missing drivers. Best practices in fleet management today are focused on health and safety precautions.
"From our perspective, enhanced operational safety measures because of the global COVID-19 pandemic is probably the top trend related to fleet management best practices," says Janet Deverso, operations manager, TradeTrans. "We've had to consider these safety measures, such as temperature checks, social distancing and heightened sanitization, and provided critical personal protective equipment throughout our facility to continue to safely export during the pandemic.
"This also impacts our inventory, purchasing and shipping planning significantly. Because we export food products around the globe, my team must be compliance experts," she adds. "Continuous compliance such as monitoring and logging temperature for every cold shipment as it moves through its export journey and be providing documentation as required is protocol. This is why a long-standing and trustworthy relationship with our fleet management companies is crucial to what we do."
There are many ways cold chain fleets keep compliant in safety measures throughout the pandemic.
"For us, it all came down to figuring out how to continue to operate for our customers, while keeping our associates, customers and communities safe," says Medeiros. "We have done this by instituting policy changes and procedures based on CDC guidelines [such as] leveraged technology to reduce in person interactions (EPOD, etc.), inspected what we expect in a COVID world, increased responsibilities for fleet managers around verifying protocols are in place and being adhered to.
"While supply chains were certainly stretched (I saw this in grocery and convenience), there was never a complete breakdown," adds Deverso. "We have certainly felt supply chains get flexed throughout the pandemic. We had customers close their doors overnight due to uncertainty, and then we had customers whose demand doubled. One thing we were able to do very quickly was leverage driver capacity. We were able to repurpose drivers from certain locations with less work and move them to customers with surges. We learned a lot about driver sharing and how to do it effectively and efficiently using data and technology.
"Many of these added sanitation guidelines that have been put in place will remain. We have learned a lot over the past several months. Sustaining our efforts around good hygiene and routine sanitization will enable us to continue to prioritize and protect the safety of our people, our customers and the communities that we serve regardless of the environment we are operating in."
Many significant changes came from COVID-19, forcing management to better future proof their operations.
"In addition to various changes, which have been widely reported, COVID has exposed providers [that] lacked quality leadership, processes and healthy driver pools," Valante says. "Moving forward, companies will look to form partnerships with those providers that demonstrated resilience and agility during the most challenging business environment of our times."
Evolution in management
But, it isn't just COVID-19 and the past year that changed cold chain fleet management.
"I see fleets turning over their equipment with more frequency," Bozec says. "Some of that due to changing requirements, others because the technology and comfort factors have evolved. Of course, what that means is a fleet has to have ideally a great mechanics that are contemporary with this technology and have a strong relationship with the OEMs they chose to work with. I am fortunate to say at Schneider we have both. We never want a truck to be down, but when it is getting it back up and running quickly and safely is paramount."
Medeiros also sees a shift from procuring the lowest cost asset to achieving the lowest operating cost.
"This shift in mindset comes from fleet owners now understanding lowest cost, which includes not just fuel economy, but also investments in safety to reduce collision and liability costs, as well as investments in technology to ensure cold chain compliance and product integrity," says Madeiros. "With technology comes data and the ability to make fact-based decisions.
"Cold chain monitoring technology used to be an added luxury; now it is the expectation. The ability to provide our customers with end-to-end real-time visibility to their product is becoming commonplace in the industry."
The technologies that fleet managers invest in today drastically compare to technology investment of the past, even more recently. The evolution of values also impacts evolution in technology adoption and vice versa.
"The latest technology trends for operating fleets are centered around reporting, optimization and shipment visibility," says Valante. "Pyle clients in the food industry require real-time visibility and customized KPIs, which we provide via proprietary software or via third-party integration if required. We are seeing increased collaboration with our food and grocery partners, which results in deployment of dispatch, routing and GPS platforms to accomplish their goals and growth strategies. Many times, these involve technologies like 'geo-fencing,' real-time shipment and trailer tracking and temperature monitoring. Tools to aid in controlling cost are increasingly deployed, including dynamic routing and automated backhaul scheduling to reduce empty miles."
Schneider also invests in engine, power train, emerging alternative fuel sources such as electricity and hydrogen and technology inside the cab to make the driving experience better for the driver and heighten rest quality during breaks.
Medeiros says that common recurring themes in leveraging technology focus on enhancing the customer experience, cost control and reduction and drive strategic improvements. He emphasizes the need for centralized routing, explaining that much of the work that would occur in the field can now be done within one centralized platform. This is in addition to real-time visibility for routes, smart estimated time of arrival and temperature monitoring in addition to asset tracking, utilization and monitoring and the need for a comprehensive suite of operating metrics.
"Technology has allowed us to schedule, track and analyze in real-time with our fleet partners, which makes us more efficient across all categories," says Deverso.
Unfortunately, the growing number of technology platforms causes added headaches for fleet managers who have to deal with each partner's differing technology. But, where pain points arise, so do solutions, and this problem could look different in the future as organizations start to come together for a clear set of technology standards and as many platforms evolve to cohesively interact with other platforms.
COVID-19 and changing trends throughout the cold chain continue to shape fleet management and how its done. Today's best practices may very likely look extremely different to next year's best practices. It is an evolving concept, but putting employees and human beings first will always be an important step.