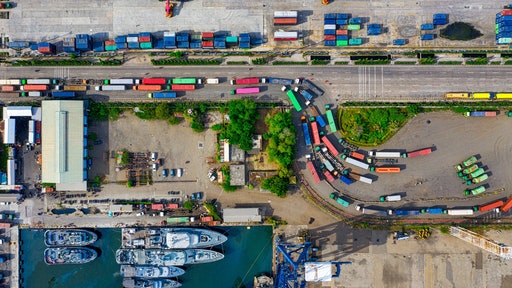 Getty Images
As a result of the Coronavirus disease (COVID-19), many countries dependent on trade, including Mexico, are projected to be the most negatively impacted by the corresponding slowdown in the supply chain. Due to this, cross-border shippers should consider adjusting their supply chain strategy accordingly and taking time to understand the different cross-border shipping options available to them.
Through-trailer shipping is the process of moving shipments through border crossings in the original trailer. Whether importing or exporting, through-trailers shipments are handled on one side of the border with a different carrier from that country who has an interchange agreement with a carrier from the other country, handling the second half of the shipment. Due to the shipment staying in the same trailer throughout the journey, shippers often assume their shipments are safer because the trailer's seal goes unbroken. This is incorrect. Both United States and Mexico customs officials often break seals for inspection during border crossing regardless of if the product is being transloaded or not. When heading into Mexico, the seal almost always broken by the customs broker to confirm product information.
Transloading is not only just as secure as through-trailer, but oftentimes more efficient.
When a shipper considers how to best prepare to continue operations through any state of the economy, they should understand not only the different options, but also that there is a time and a place for both.
Understanding the options
It is important to understand what the options are and how they differ. Transloading is the process of transferring a shipment from one trailer to another at a border crossing. To break it down—a Mexico carrier picks up the freight and transports it to a secure yard at the border; a border drayage carrier then takes the trailer across the border to a transloading facility; and the facility transfers the product to a U.S. carrier that makes the final delivery.
To elaborate on through-trailer shipping, picture a Mexico carrier with a trailer interchange agreement with a U.S. carrier picks up the freight and takes it to a secure yard, where a border drayage driver takes the trailer across the border to the yard of the U.S. carrier that then makes the final delivery. Because the shipments stay in the same trailer throughout the journey, shippers often assume their shipments are safer because the trailer's seal goes unbroken. This is incorrect because government regulations at the majority of border crossings require seals to be broken and trailers to be inspected no matter what. Transloading is not only just as secure as through-trailer but also is oftentimes more efficient.
The benefits of transloading
Transloading is generally just as safe as through-trailer when it comes to keeping cross-border supply chains moving. The benefits of transloading can best be broken down into the following three categories:
Reduced shipping costs.

Transloading service is often the more affordable option with reduced shipping costs. Access to a larger capacity pool on either side of the border means more carriers, and potentially more efficient ones, to choose from. With transloading, shippers can identify carriers whose networks best sync up with theirs, driving more cost-effective rates. At a time when all departments are being asked to cut costs where they can, a more affordable shipping method benefits all parties involved.
Greater carrier capacity.

Transloading also offers shippers a greater carrier capacity because it allows them to access the full capacity of two independent carrier bases. Any Mexico carrier can pair with any U.S. carrier on any shipment, increasing the amount of carrier options available, and granting them additional flexibility. Through-trailer service limits shippers to only use carriers with an interchange agreement in place with a counterpart carrier on the other side of the border, narrowing the capacity pool. With less demand not filling up full truckloads, leveraging a larger carrier capacity to identify which carriers' trucks best match your truckloads helps keep products moving to meet consumer demand.
Avoid border delays.

Due to the wider variety of carriers at a shipper's disposal, it is easier to source carriers on either side of the border that best match the ideal time frame for pick-up and delivery. Through-trailer shipments must rely on the limited capacity of the two carriers from the previously mentioned interchange agreement, leading to delays at borders and in overall shipment timelines. Delays are becoming more prominent due to an imbalance of northbound vs. southbound freight.
What types of freight work best for transloading?
While any specialized, experienced transloading facility located near a major border crossing can handle nearly any type of freight, some types work better than others. Freight loaded on pallets or slip sheets tend to fare best with transloading, especially raw materials, consumer packaged goods and food and beverage. Transloading is also common when shipping to warehouses with strict palletization and labeling requirements. There are times when freight is better off with through-trailer service such as when they require specialized loading, are flatbed shipments, or contain over-dimensional products.
The Q2 2020 Coyote Curve freight market forecast identified that the economy is currently experiencing the steepest decline in history. However, the steeper the decline, the more rapid the recovery. Truckload demand will slowly continue to rise with non-essential industries re-activating. Given the amount of supplies that already exited the market, spot rates will continue to rise throughout the end of the year and into early 2021 as typical truckload market cycle forces take over. This drastic fluctuation of demand stresses the importance for all shippers to be prepared to work through any state of the economy, especially cross-border shippers relying on multiple countries' success for their own.
Because every shipper's international supply chain carries unique challenges and requirements, what is best for one shipper is not always the best option for another. While it may still be another quarter until the supply chain sees inflationary spot market conditions, shippers should know what their cross-border shipping choices are. This enables them to stay in line with demand and keep operations running based on what is most important at any given time, whether that be lower prices, quicker shipping times or increased carrier capacity.