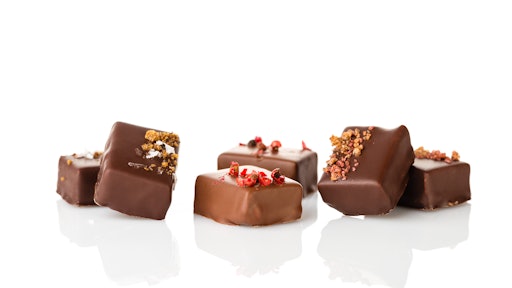 When you think high-end perishables, a few products come to mind: chocolate, seafood and organic offerings. And with a high price tag comes special handling in many instances. Quality means everything. Any blemish or taste deterioration can affect sales and ultimately brand reputation. It's essential to ensure a logistics strategy that accommodates all the requirements from shipment to store.
This is not always an easy task in today's transportation market where pricing, volume and space can impact margins. Customers have their own expectations of the product at the retail level but are unaware of the challenges in making those products available for sale.
Evolving Trends in High-End
Challenges have only expanded as greater demand and shorter delivery requirements for high-end perishables emerge. What's driving this?
E-commerce. Like many other product categories, e-commerce is having its impact on high-end perishables as well. Temperature-controlled items such as chocolates, produce and meat are now shipped directly to homes with cold gel packs to maintain proper temperatures.
Seasonal items ordered via e-commerce are more common and special handling is often required, especially for luxury food products. Bob Lilja, chief operating officer for Weber Logistics, says, "Within a six- or eight-week period throughout the fall, our business encounters a significant seasonal buildup—and it's nearly always high-end because of the associated logistics costs," says Lilja. "Clients may plan for a 10,000-50,000 square-foot space to suddenly have the ability to process thousands of e-commerce shipments per day with special handling and insulation. However, because the cold chain is near capacity in the current strong economy, whether it's trucking or warehousing, it poses a challenge."
Organic. How much has the organic food industry grown? According to the Organic Trade Association's 2018 Organic Industry Survey, "Organic sales in the U.S. totaled a new record of $49.4 billion in 2017, up 6.4 percent from the previous year and reflecting new sales of nearly $3.5 billion." Lilja says today's increased consumer demand for organic foods is equally driving up the demand for organic logistics, which carries a price premium and has special requirements for storage and distribution. Weber is certified as an organic food warehouse for several brands. "There are specific requirements in place for the storage of organic foods to ensure no possible contamination from non-organic products," he says. "Even equipment that handles non-organic products at Weber is not used for organics due to potential cross-contamination."
Airlines. While an unlikely source of growth in high-end perishable food products, airlines rely on this category as a competitive advantage. Lilja says to be part of the commissary supply chain for airlines, you're required to have multi-temperature storage and distribution. Deliveries are made to each airport for specific airline clients, requiring a full understanding of airport security to quickly deliver to the point of consumption (the airline door). "Weber provides lobster shipments, for example, directly into airlines. This can't be done through a normal fresh seafood supply chain because of the nature of airline security," says Lilja. "It's unlikely to find XYZ fresh seafood provider with the ability (or desire) to navigate TSA regulations and service airlines."
Fresh, healthy foods. Over the last few years, there's been more emphasis on what we eat and the ingredients used—avoid trans fat, buy organic and eat fresh. Lilja says restaurants and other catering businesses are rapidly moving away from thawing, cooking and serving frozen ingredients, and instead placing a greater focus on fresh food. "As a result, food businesses (and their logistics partners) need to replenish inventory far more frequently and make sure that freshness is maintained throughout the delivery cycle," says Lilja. "You also have very educated and hyper-aware consumers who pay closer attention to food supply chains due to food-contamination scandals.
Batch size. The trend in high-end, specialty logistics is a direct reflection of consumer purchasing habits of moving toward "fresher" or natural products with a shorter shelf life and are packaged in smaller batches, says Erik Holck, director, business development for Port Jersey Logistics, Inc. Often, such products have more unique temperature requirements. "Consumers themselves are migrating away from purchasing product from large manufacturers, much like we've seen in the beer industry with the rise of craft breweries, which has led to smaller batch sizes," says Holck. "The more unique temperature requirements come from more strict quality standards. And now many products that were once unique to the market are now being routed through mainstream distribution."
What effect does this have on maintaining quality, such as product appearance and taste? Holck says for logistics providers, a large part of guaranteeing products like chocolate maintain their taste and appearance is the vetting process for other customers to whom the company provides logistics services. Port Jersey Logistics, Inc. is very restrictive on the types of products it handles to assure that it's not bringing in items that emit a strong odor, which confectionary products can easily absorb, or store product that could be a potential contaminant. "It comes down to having a thorough understanding of our customers' quality standards to make sure we're operating within their standards, and at Port Jersey Logistics, we understand the impacts that variation of appearance and taste can have on our customers' business."
Multi-temp distribution cycle. For high-end perishables, temperature control is paramount throughout the distribution cycle. Confectionaries require unique temp controls (between 55 and 65 degrees Fahrenheit) that are warmer than frozen foods but cooler than an ambient environment. Lilja says strict ranges must be adhered to because higher than range you risk melting, but lower than range could cause "blooming," changing the color and taste of the product. How do we prevent this? Through the use of bulkheads, Weber sometimes ships four different temp ranges in a single trailer—frozen, chilled, air-conditioned and ambient. "In the warehouse, temperatures are logged every six minutes, with sensors distributed across the warehouse at varying heights due to temperature variations," says Lilja. "If those temperatures are outside specifications, immediate notice is sent to the on-site operations management. Temps are logged into a system that can send a customer report on temperature readings, providing complete transparency."
Confectionary Complexity
In the confectionary industry, many of the trends above mimic those of regular goods. Holck says orders are increasingly complex with SKU proliferation, shorter order cycles and retailers expecting just-in-time inventory delivered on specific days. This is resulting in increased orders on a regular basis, with more items on an order, containing fewer cases. This creates a couple challenges—greater shipping costs per case as well as complexity that comes with temperature-controlled shipping to deliver on specified dates.
"Many shippers in the transportation industry rely on what's known as pool distribution programs based on smaller order sizes to move product in the most economical means. However, with delivery dates becoming more critical due to less inventory being held by the retailer and the chargebacks associated with missing delivery dates, changes are likely, including moving away from a pool distribution model to a more direct delivery model which Port Jersey Logistics offers to meet the strict delivery dates."
Lilja is seeing similar trends and says confectioners are facing shipping challenges due to major big-box retailers demanding on-time delivery shipments. Confectioners shipping into major big-box retailers are scrambling to support the distribution costs per truckload throughout the country.
"Operations like ours consolidate to effectively deliver truckloads of four or five different confectionary and other food products into big-box and grocery DCs to meet required delivery dates," says Lilja. "In the past, because confectionary requires a 60-degree Fahrenheit environment—which the traditional refrigerated transportation network in the U.S. lacks capacity—product was consolidated but delivered with an open delivery window to support lower costs. That method is no longer viable with today's on-time delivery requirements and associated fines."
When shipping confectionary products, the lead-time requirements from retailers remain the same as other food goods. However, Holck explains that because cargo must reside in the 55-60-degree Fahrenheit range, product may have to be delivered to different locations than other items within the load.
"If products are moving in full loads, there is less of a concern than if you're shipping LTL/LCL cargo. However, refrigerated trailer and container availability is becoming more limited," says Holck. "On the LTL/LCL side, this creates a challenge because, many times, the product is delivering to a different distribution center than the dry product. Thus, there's less ability to marry freight that's moving through those specific locations and less chance to move the freight on a routine basis."
He adds that on the domestic transportation side, their carrier base that serves the temperature-controlled LTL market is extremely limited, making the transit time, service reliability and price point challenging.
Traceability Evolves
With such delivery challenges, the issue of traceability is a greater concern for many high-end specialty products, particularly those with smaller batches or lots, Holck says. "When dealing with smaller or mixed batches, true traceability requires that product is segregated upon receipt of goods to ensure that each batch is tracked separately. However, this comes with an additional handling cost that most companies aren't willing to bear," he says.
Holck adds that on the transportation side, with smaller orders there comes a different price point. "Shipping a full truckload of product results in the lowest transportation cost per case, shipping a full pallet of product leads to significantly higher transportation costs per case and shipping a single case has the highest cost per case," says Holck. "Often, the transportation cost for that single case is worth more than the goods themselves."
At Port Jersey Logistics, Inc., employees are trained on their role and responsibilities to ensure Food Safety Modernization Act (FSMA) compliance, even for product not governed by FSMA. Holck says transparency requirements are nothing new to the company. Customers expect full transparency, self-reporting and real-time information to monitor their products. "On the transportation side, long ago customers requested constant temperature monitoring and GPS location updates for their goods," he says. "Now we're seeing that transition to the warehouse side as well with temperature monitoring. With the evolution of blockchain and its adoption within the logistics industry, it's only a matter of time before transparency-related items become a requirement for all providers to ensure food safety guidelines are met."
Lilja says to maintain FSMA compliance while sustaining velocity and efficiency, providers of high-end perishables should be outsourcing as many functions as possible to the lowest number of dependable, compliant shippers. "If you're choosing a different provider for every function, not only are you adding FSMA complexities by requiring compliance tracking of all load vendors, you're also generating more cost and slowing the shipping process.
"The higher demands of specialty logistics and fulfillment expectations is resulting in a trend toward regional distribution," Lilja adds. "Whether it's regional distribution by positioning inventory in new locations or transitioning from an LTL distribution model to a pool distribution mode, all are things that can provide high levels of service with good economics in a streamlined supply chain."