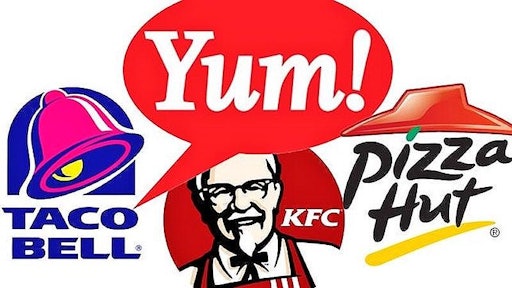 Yum Brands had low same-store sales growth during the first quarter due to a chicken shortage in the U.K. that had two-thirds of its KFC restaurants close down.
However, Yum outpaced analyst estimates on revenue and profit, but sales from Pizza Hut and Taco Bell were not enough to help same-store sales growth.
Sales at established restaurants rose 1 percent across the three brands, falling short of analyst expectations of 1.9 percent, NBC reports.
Same-store sales at KFC were up 2 percent, weaker than what was predicted at 2.6 percent. The company is expecting to take an additional hit from the incident in the second quarter due to decrease marketing while the stores were closed. President and chief financial officer at Yum David Gibbs is predicting that the second quarter will be the worst of the year.
The company's revenue fell 3 percent to $1.37 billion, compared with $1.42 billion gained last year. However, Yum expects that same-store sales will grow up to 3 percent this year.
Investors have been calling for Yum to indulge in Pizza Hut. The company invested $130 million into new equipment, technology and marketing to steal market share from its competitors. Pizza Hut same-store sales were only up 1 percent.
Taco Bell continued to beat expectations by growing 1 percent, compared to the 0.8 percent that was expected for the quarter.
To read the full original article, please click here.