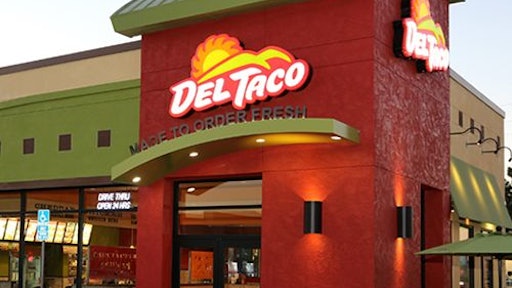 Del Taco is pitching themselves as the place to go when looking for meals at non-traditional hours.
With the rise of the gig economy, consumers are looking for meals at non-conventional hours of the day.
According to CNBC, 25 percent of the chains sales are from orders placed between 8 p.m. and 6 a.m. Each year the restaurant has found that percentage growing.
Del Taco is starting to add new items to its late-night menu to cater to the late night crowd, including Queso Loaded Nachos, Queso Loaded Fries and a Churro Dipper Shake.
The restaurant has been challenged with growing same-store sales since customers have more options on where to eat out and how to get it. As many restaurants are trying to cater to the "party" crowd, Del Taco is taking the opposite approach and is attempting to appeal to those who are working odd hours. The meals are slightly healthier, but have a higher price tag.
Del Taco has posted 18-straight quarters of system-wide same-store sales growth, CNBC reports. Shares were trading 4 percent higher over the weekend, but were down 16 percent over the past year.
Acorrding to data from inMarket inSights, a little more than 5 percent of all Del Taco visits occur between 12 a.m. and 4 a.m. However, the Mexican restaurant chain isn't the only restaurant that experiences a large percentage of diners in the wee hours of the morning. Thirteen percent of Waffel House's customers eat at the restaurant between 12 a.m. and 4 a.m.
Del Taco's competition is linked with other fast food chains, particularly ones with drive-thrus that are open late into the morning, CNBC reports. Four percent of McDonald's customers come in during the late-night period, while 7 percent of Taco Bell visits happen in the same time period.