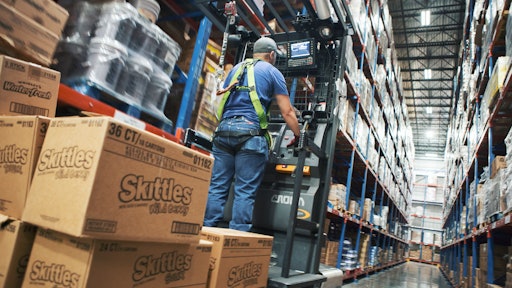 How we buy and receive our food has changed drastically over the last few years. Not to mention the types of foods we crave are healthier, fresher and more conveniently accessible. Meal kits like those distributed by Blue Apron and Hello Fresh, as well as hundreds of food delivery startups, have created a new landscape for the foodservice industry. And while changing consumer tastes and preferences come with their own set of challenges, this new environment is an even bigger opportunity for foodservice distributors.
Mike Allen, CEO of the International Foodservice Distributors Association (IFDA), agrees, noting today's consumers are a driving force for foodservice logistics providers.
"Consumer habits drive how our member's customers operate, and so as consumer behavior changes, they adapt," he explains. "From our perspective, we just need to continue doing what we do best: providing restaurants and foodservice outlets with the products and solutions they need to succeed. Our members are always looking to the future to ensure they are providing the products consumers want."
Grab and Go
One of the biggest trends to emerge over the last year is the demand for convenient options. The ability to "grab-and-go," Allen says, has become almost more important than the product itself.
"Just look at convenience stores; increased foodservice has been a major contributor to recent c-store revenue growth. In many cases, the grab-and-go meals like hotdogs and wings represent one of the largest contributors of revenue," he explains.
Allen also cites recent research by the NPD Group, which found that despite a decline in the U.S. restaurant industry, foodservice delivery posted sizable gains in both visits and sales over the last five years.
"The 20 percent increase in delivery sales and 10 percent gain in delivery foodservice visits were supported in large part by the growth of digital ordering, which now represents over half of all delivery visits," he adds.
In a new report, Mintel, a leading market intelligence agency, announced four key trends set to impact the U.S. foodservice market over the coming year. Among those trends, Mintel predicts that automated order and delivery processes will grow in 2018 to meet the need for convenience as consumers become more comfortable with and reliant on restaurant technology.
"Time-strapped diners value convenience and affordability more than ever, and operators will respond by leveraging technology advances, all in the name of food—fast," the report emphasizes.
And while the dining out landscape is in a state of continual evolution, Amanda Topper, associate director, foodservice research at Mintel, says it remains clear that Americans want innovative and convenient dining options that are nutritious, but also enjoyable to eat and photograph.
"In the year ahead, expect to see operators across segments shift to meet diners' various needs as speed, innovation and category competition become more pressing in 2018 than ever before," she adds.
More Variety—Faster
Changing consumer preferences are especially opportunistic for logistics providers like Dot Foods, a family-owned redistributor that specializes in consolidating deliveries that would otherwise be less-than-truckload deliveries for manufacturers to distributors.
Supermarkets, restaurants and convenience stores are stocking more variety of product than ever before, meaning they are receiving shipments with numerous different items more often. Much of that product also is fresh or a specialty item that must be transported at different and precise temperatures.
Consumers want more choice, which by itself causes a larger offering of product. They also want more visibility, as consumers grow increasingly concerned about food safety and where their food comes from.
According to Cullen Andrews, vice president of sales and marketing for Dot Foods, these trends lend themselves well to a supply chain that's more just-in-time.
"For companies like ours, whose core business model is being able to offer a large offering of products, very frequently, with no minimums, it is an opportunity to provide access for distributors and their customers to more products; otherwise, it would be very difficult for them to be able to react to all those different product trends," he explains.
Dot Foods, Andrews says, pays a lot of attention to what products are on trend that may affect what suppliers and how many suppliers they do business with. For example, just in the last couple of years, he notes, the redistributor has launched more than 100 different manufacturers that are known as natural specialty manufacturers.
"Our distributor customers are demanding those types of items that are hard to source, as well as operators and retailers who are competing with companies who've done a good job from the get-go of offering products that are more on trend.
"It's changed product assortment quite a bit; therefore, people need just-in-time inventory a lot more than they would have before. That certainly affects how we do business, as well," he adds.
Investment in Success
Today, evolving business practices often revolve around technology. Foodservice distributors are no different as they continue to embrace technology to meet changing demands.
"The foodservice distribution industry understands the need to embrace technology. Many of our members are pioneers in adapting the latest innovations across the entire business model," says Allen.
For example, he explains the establishment of new cold chain processes are enabling the widespread distribution of fresh foods by limiting the amount of transport time, decreasing overhead and offering sophisticated refrigerated transport and storage options.
As new segments and channels continue to emerge and blur, Andrews adds that Dot Foods is investing in resources that allow them to capitalize on emerging initiatives, as opposed to being tied to one specific channel or one specific segment.
"If that specific channel or segment is doing really well, then sure, your business may do well with it, but if it goes the other way, obviously the opposite affect occurs. If you can diversify your business, I think that's really important," he says.
That can be a challenge though. As you mix what once was considered traditional foodservice sales with fast casual, mid-scale, casual, quick-serve and now delivery, Andrews says "it fractures your resources, and you have to make sure you're able to add value in ways that are different then you would've in the past."
In response, Dot Foods has focused even more on e-commerce, with its Dot Expressway e-commerce platform, which enables its distributor customers to capitalize on the growing segment.
"That demand of seeing something and then wanting it very quickly actually helps our business in a lot of ways," Andrews says. "It also means that we have to make sure we continue to invest in our infrastructure. We're asset-based, so it's our warehouses, our trucks, our drivers, so we have to make sure that we continue to be best-in-class in that area so that it's a competitive advantage in terms of frequency and speed to market."
Other technologies Allen sees the industry continuing to invest in include:
Evolving picking technologies will continue to drive error rates down and better serve the customer.
Better routing capabilities and load planning technologies.
Virtual reality has great potential to help in training employees on safety tasks before being placed in harmful situations (i.e. forklift training, driving, order selecting).
Data (both big and small) and IoT will be used to increase efficiency and data integrity.
Renewable technologies will be implemented to reduce waste and increase the bottom line.
And though technology is vital for success, Allen stresses that "the personal relationship our members have with their customers will continue to be a differentiator for our industry."
Challenges Too
Opportunity is never without challenges. As in all trucking-backed industries the driver shortage will continue to be a problem for foodservice distributors in coming years.
Allen also expects more consolidation across the industry and increased disruption for operators as competition increases.
"Operators will continue to embrace flexible business models with low up-front costs such as pop-ups and food halls," he explains.
Also, Allen says the emphasis on healthy, local food will continue to increase with consumers wanting more transparency on where their food comes from and how it is prepared.
Andrews agrees, noting food safety will continue to be a key focus as fresh products are quickly growing in the product portfolio.
"[Food safety] has always been important for everyone in the supply chain, but that bar has been raised dramatically," he says. "We assume the bar will continually be raised because when you have products that are fresh and becoming the quicker growing products in the portfolio, people also, of course, expect them to be food safe.
"You have to make sure that you're investing in technology that allows you to make sure that you can deliver products, not just on time, but also with integrity," he adds.
Follow Amy Wunderlin on Twitter.