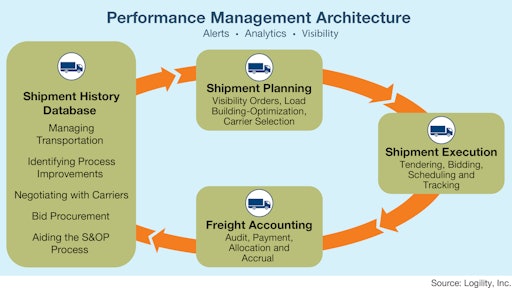 Managing the transportation of goods in the food and beverage supply chain has always been a moving target, no pun intended. What's changed in a big way recently is there is more pressure to control transport costs as carrier costs have exploded due to a chronic driver shortage while government regulations keep adding new costs and headaches. Food Logistics 2013 reader survey revealed that rising fuel and transportation costs to be the industry's fourth biggest concern, following improving customer service, food safety and security, and reducing supply chain costs.
Fortunately, new technology, such as the Internet cloud and evolving software and hardware, gives supply chain managers more tools to better manage transport costs. Industry surveys have indicated that f&b logistics decision makers view transportation management systems (TMS) as delivering the among the best returns on investment. No doubt, investment in TMS will prove worthwhile given the rising cost of transportation. For this to happen, decision makers must understand the capabilities of rapidly evolving TMS software.
While carrier costs are rising, shippers are encountering a greater need for flexibility in their TMS systems as the f&b market becomes increasingly fragmented. Retailers are adding SKUs to meet a more diverse customer base. In addition, the growing omnichannel calls for less predictable orders and more single-item purchases. These factors increase the complexity of transportation management.
TMS automates planning and decision making (defining the most efficient routes), transportation execution (carrier rate acceptance and dispatching), transportation followup (tracing shipments, collecting documents and sending alerts for delays) and reviewing and measuring performance. By measuring and monitoring arrival and departure times, idling time and miles per gallon, fleet managers can make proactive and informed decisions.
The advent of Software-as-a-Service (SaaS) delivery and the Internet cloud have created a surge of TMS providers in recent years. TMS providers claim TMS has become more feasible for smaller f&b manufacturers and wholesalers that have trailed their larger competitors in using TMS.
TMS providers say newer systems are especially helpful for mid-size f&b manufacturers and wholesalers that don't have their own fleets. Companies that outsource transportation need automated systems that track openings on carrier routes as they become available, analyze the economics of shipments, review the carrier ratings, schedule the shipment and keep track of it.
"It's difficult to make educated decisions using Excel spreadsheets," says John Riske, vice president of business development at Next Generation Logistics Inc. (NGL), a Chicago-based TMS SaaS solutions provider.
Route modeling has become a highly specialized field. Modeling is based on lanes, modal options, rates, service levels, carrier and fleet capacity, as well as a multitude of other decision variables and rules that must work in concert to create optimal decisions.
Companies continue to seek the efficiency of combining outbound and inbound deliveries.
"Grocery chains are starting to do a better job of tying their outbound and inbound together," notes Mike Mulqueen, senior director of product management for Atlanta, Ga.-based Manhattan Associates, which provides a TMS offering. "We believe there is an opportunity for wholesalers – especially those with fleets – to do the same. This would enable them to bring more inbound freight under management."
Riske at NGL agrees that many f&b players are looking to combine outbound and inbound shipments, but he doesn't think it will make fast strides. "You need systems in place to provide visibility for better planning. In some cases, you don't necessarily want to or can manage all of your inbound freight. There is risk on the inbound side; shippers assume ownership of the load and more often than not, companies are not asking for the right information before converting to a customer pick up. They need to negotiate the correct pickup allowances and a lot of times they don't do this and leave money on the table. Companies don't have the systems and tools in place to manage that."
Riske further notes that while technology is evolving, TMS modeling can only accomplish what the carrier-provided data allows the TMS to work with. Carriers are equipping their fleets with onboard telematics that log a lot data such as vehicle maintenance diagnostics, temperature monitoring, satellite-generated location tracking and more, Riske notes, but not all carriers are doing this.
TMW Systems, the Mayfield Heights, Ohio-based TMS provider, integrates with various onboard technologies, telematics, and messaging systems to bring real-time load visibility and business intelligence to end clients, says Andy Hedrick, marketing alliance director for Appian at TMW. Specific business reporting, form processing, and field workflow requirements are outlined individually with each client in delivering the appropriate solution.
Telematics-enabled vehicle data played into Papa John's Food Service (PJ Food Service) to deploy Japan-based Isotrak's TMS last year. The solution allows managers to see and measure their fleet operations using satellite tracking feeds and vehicle telematics data. PJ Food Service improved its rate of on-time deliveries by more than 25 percent and its rate of on-time departures by more than 30 percent over the course of 2013, according to Isotrak.
PJ Food Service also wanted a system that would allow them to meet U.S. Department of Transportation hours of service (HOS) regulations which limit how long drivers can work. Dashboards and exception-based alerting enable users to control and view the data pertinent to their specific fleet, using a standard web browser, on a laptop, desktop or mobile device.
System interface crucial
The ability to integrate with a company's existing network has become important to transportation system managers. A versatile interface platform manages trucks, trailers, agents, and drivers from the same interface and can automatically upload all documents associated with a load onto a server or a network.
The Isotrak solution noted above integrates with hardware and software partners within the customer's supply chain. Isotrak's platform integration capabilities were key to PJ Food Service selecting Isotrak because PJ Food Service did not want a host of stand-alone systems. They sought a solution that would allow for integration into their existing systems so that from the time the order was placed to the time the truck returned empty, they would have full visibility and metrics delivered on one platform. They previously had only two points of visibility - when a truck left, and when it arrived back at the distribution center.
Last year, GENCO, the Pittsburgh, Pa.-based 3PL provider, selected NTE LLC, to augment their TMS solutions and provide collaboration related to carrier communication and data mapping. Prior to the NTE deployment, GENCO was dissatisfied with efforts associated with carrier connectivity, and limitations in their ability to leverage data provided by carriers when certain fields weren't completed. These challenges led GENCO to search for a better solution to address their needs for carrier connectivity, and cleansing, matching and augmenting of data to assist the operations team by providing real-time information.
GENCO now has one platform for all their carriers to interact with. Since deploying NTE LLC's system, GENCO has been able to eliminate the temporary staff and focus other staff resources on more value-added work to support their customer's supply chains.
ODW Logistics, Inc., a 3PL based in Hamilton, Ohio, serving a number of f&b product manufacturers, recently selected Shelton, Conn.-based 3Gtms, Inc., a new software player, for what it sees as a highly versatile TMS interface platform as well as a powerful TMS optimization engine.
"When we saw the single platform architecture and how it simplifies the entire planning and execution process, while improving the overall quality of load building and system maintenance, it was immediately clear that 3Gtms has developed something completely new for the market," says Bill Grannis, ODW's director of information technology.
Engine optimization important
Dave Giblin, vice president of ODW Logistics, says the optimization engine is important because it allows routes to be changed daily in response to order changes and shifting carrier availability. A customer can put in a same-day order and the system can transfer a pallet from one scheduled route to another. Finding the right solution can save thousands of dollars. "Optimization is a mandatory piece of the discussion. It puts more freight on each truck out there. The flexibility of 3Gtms allows us to do that on the fly without causing accounting confusion or unfairly allocating costs within our account base being optimized," Giblin says.
Mitch Weseley, president of 3Gtms, says it's important that an algorithm consider all "constraints" such as delivery windows, driver types, equipment types, etc. when choosing a TMS solution. An algorithm that builds loads that cannot be run has no value.
Weseley further notes that temperature-controlled transport is more important in food than other verticals. Several observers have noted that OTR carriers are not investing in temperature-controlled equipment.
Omnichannel affects modeling
Manhattan Associates' Mulqueen echoes many TMS colleagues in citing omnichannel fulfillment as a new factor in transportation modeling for f&b players.
The growth of omnichannel is making smaller and more frequent orders more prevalent in f&b distribution, agrees Bill Pritz, vice president of the transportation solutions group at Logility Inc., the Atlanta, Ga.-based chain supply software provider.
TMS providers continue to offer new features.
Transcore, an Atlanta, Ga.-based TMS provider, has introduced a freight payment service for customers whereby the carrier does not have to generate invoices for the shipper. "By speeding payment process, you make yourself more of a shipper choice to carriers," says Ken Sherman, vice president of the IntelliTrans business unit of TransCore.
Transportation doesn't exist in a vacuum
Ajesh Kapoor, senior director at GT Nexus, the Oakland, Calif.-based supply chain provider, says the quest for visibility has always been a challenge in TMS because transportation is only one aspect of the supply chain. To provide "end to end" supply chain visibility, it is necessary for users to integrate the transportation piece with other pieces, such as purchasing, inventory and other points in the supply chain.
Kapoor further notes that while software technology advances, it is important for an organization to integrate as many external functions and internal functions as possible to reap the benefits of what many envision as "b2b connectivity." He says a cloud-based network makes this type of integration and collaboration possible.
One of the more promising developments TMS observers are noting is a growth in pooled distribution, whereby different (oftentimes competing) shippers send shipments on a common carrier. "People are recognizing the value of it," says Bill Pritz of Logility, Inc. "I see a lot of people doing it for the first time recently."
A stronger sense of cooperation could portend even more benefits in the future. Several observers note that social media has created a new forum for sharing operational information. The f&b industry has shown more willingness to share operational information, but competitive issues are still keeping people from making their data accessible.
CAMS Improves Driver Productivity With Activity-Based Compensation
CAMS Software Corp., the Vancouver, Canada-based provider of transportation management solutions, has helped large grocery fleets improve their routing, dispatch and driver payroll operations. Their flagship suite, called Prospero, was designed from the ground up specifically to suit the needs of large grocery fleets.
"Grocery fleets have all sorts unique and surprisingly complex business needs around all areas of transportation" says Brian Taylor, company president. Routing for perishable product with different temperature and tight delivery window constraints is challenging. Large union fleets often have rigid driver bid and seniority rules that can throw a wrench into the best laid plans for driver assignments or resource optimization. "Progressive grocery operations also have continuous improvement goals surrounding the optimization of their backhaul and salvage obligations" adds Taylor.
Activity-based compensation for example, is an area where tremendous driver efficiency gains can be realized over hourly pay but it can often be very difficult to implement, especially in union environments. CAMS Software helps clients overcome this roadblock by systematically analysing years of historical delivery record data, often mined from electronic on-board recorder databases.
"When establishing drive time and labor standards, it's critical that they are understandable, defensible and manageable" Taylor says. "You need to be cognizant of how traffic conditions change in different directions at different times of day and on different days of the week." This level of granularity is often necessary in order to establish drive time standards that reflect the real world. While this may be easily understood and defensible, it can be a daunting task to initially establish, let alone maintain that level of detail going forward.
For More Information, Contact:
3Gtms, 203-567-4610, 3gtms.com
CAMS Software Corp., 866-699-2267, camspro.com
GENCO, 800-677-3110, genco.com
GT Nexus, 510-808-2222, gtnexus.com
Isotrak, 404-995-6655, isotrak.com
Logility, 800-762-5207, logility.com
Manhattan Associates, 877-596-9208, manh.com
Next Generation Logistics, Inc., 888-607-9372, nextgeneration.com
ODW Logistics, Inc., 262-548-1220, odwlogistics.com
Transcore, 800-923-4824, transcore.com
TMW Systems, 216-831-6606, tmwsystems.com