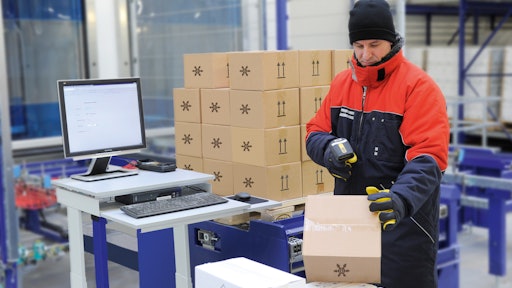 Can the warehouse play a bigger role in driving growth and profitability in the food and beverage (f&b) industry? Can investing in the warehouse actually improve a company's ability to serve customers more efficiently? For such investments to happen, a revolution may be needed in how f&b companies view the warehouse. And a revolution of sorts is taking shape, thanks to evolving automation technology. Companies are finding that automated storage and retrieval, automatic guided vehicles, goods-to-person picking systems, voice-recognition-based picking and software-managed inventory systems all help improve operating efficiency.
With operating costs rising (especially labor) and omni-channel distribution creating new demands, supply chain decision makers realize they need to improve distribution capabilities and efficiencies.
By making an operation more efficient, automation can allow a warehouse to support faster growth, increase productivity, reduce labor, maximize space, improve sustainability and meet stricter government product tracking rules.
While there are no statistics on the current level of automation in f&b warehouses, system providers agree most f&b warehouses primarily rely on manual processes. One reason is that companies involved in the production of food and beverages have long favored production improvements over investing in warehousing. Another reason is that companies focused on f&b distribution have long viewed the warehouse as a cost more than a profitability tool. In addition, the cost of automation has been hard for companies to justify, given that payback period has historically been five years or more.
This article examines market trends that impact warehouse inventory management and some of the new technologies designed to help f&b decision makers address current and future needs. Not every warehouse has use for every type of automation. Some companies don't need or can't yet afford a fully-automated warehouse. Others will thrive as a result of automating every possible element.
"The trick to warehousing is eliminating human touches," says Tony Vercillo, Ph.D., who operates IFMC, Inc., a Yorba Linda, Calif.-based supply chain consultancy. "Every time a human touches a pallet or a case, an expense occurs. Technology should be used to reduce the number of touches and steps within the warehouse process."
"Automation has provided an easier method of getting our products to our customers," says Karen Mathews, senior program manager of warehouse automation at The Coca-Cola Co.'s Grand Rapid, Mich. warehouse. "In an automated world, building a pallet is less demanding physically for the employees since they place products on a belt that is at the same height with every pick, eliminating the bending and reaching that a manual build requires. The automated system also uses an automated stretchwrapper that better secures the load to each pallet compared to an employee manually wrapping a pallet, ensuring our product is delivered securely to our customers."
Identifying the most sensible solution isn't the only challenge facing decision makers, Vercillo adds. For companies to deploy new technologies successfully, they need to have a technology implementation plan. Vercillo says half of warehouse technology implementations fail, usually due to poor planning.
Companies should consider what equipment they are already using to run their warehouses. "The front end and back end systems must talk to each other," Vercillo says.
E-Commerce Raises Interest
The growth of e-commerce has raised interest in the ability to fulfill smaller orders and deliver in shorter time periods. And while e-commerce has grabbed a lot of attention recently, it is not the only reason the supply chain has recognized the need to handle more smaller orders faster. Retailers are moving to smaller size stores, reversing the "mega store" trend of the previous two decades, fueling more smaller orders.
"'Dark stores' are popping up," observes Dave Simpson, executive sales manager at SSI Schaefer, the Germany-based logistics provider, referring to the conversion of certain stores to serve as sortation centers to buffer and sequence orders for delivery to retail destinations.
"You almost have to treat it (the 'dark' store) like an e-commerce environment," says Brian Sherman, vice president of sales and engineering at Arlington Heights, Ill.-based Witron Integrated Logistics Corp. While supply chain managers have to consider the return on investment of the automated systems, Sherman says full-scale automation for case picking can make sense for a company handling 10,000 to 20,000 SKUs.
Contributing to the demand for more smaller orders has been SKU proliferation, a trend that has grabbed the f&b sector as much as any consumer goods industry.
"Ebbs and flows have always been an issue, but the lows and highs are getting more extreme," says Dan Sanker, president of CaseStack, the Santa Monica, Calif.-based logistic solutions provider. "Hiring people just for seasons is not efficient, and it usually doesn't work well for associates. Automation presents solutions. We are all getting better at applying warehouse control systems, warehouse management system modules, and automated storage and retrieval systems. In addition, there is a consistent flow of new technology around voice-managed and light-directed order fulfillment; there are package sorters and pallet conveyors, and there are even new trailer loading tools."
The need to manage a larger selection of products for more order sizes requires distribution centers (DCs) to manage outbound pallet loads differently. DCs are creating more mixed pallets that allow replenishment stock to be delivered directly to the appropriate store. In a manual DC operation, it is difficult to custom build pallets to unique store specifications. But with robotic palletizers deployed in an automated case picking system, the process is easily managed by warehouse management software.
Through the use of various automation technologies, the sequencing and palletization of products for mixed SKU pallets can be done to satisfy client needs, notes Richard Lanpheare, director of business development at Retrotech Inc., the Rochester, N.Y.-based system engineering and integration firm. The sequencing process is not only accurate; it's considerably faster than manually creating pallets and minimizes product damage due to human related incidents.
Smaller orders also require sortation of smaller packages, says Mark Steinkamp, director of solutions development at Intelligrated, the Mason, Ohio-based material handling solutions provider. A cross-belt sorter can sort cases, totes and polybags without the touch of a human hand, preserving product integrity and increasing throughput. A cross-belt sorter is a conveyor sorting system that uses a series of carriers mounted on a conveyor to sort materials. Each carrier has a small belt conveyor mounted on top of it that runs perpendicular to the main conveyor. When it arrives at a sort point, the conveyor on the carrier will spin, moving the materials to the side of the main conveyor (usually onto another conveyor, down a chute, or into a container).
"The labor benefit is huge," Steinkamp says.
"When customers want a specific stock keeping unit dropped on their floor, or are interested in executing a particular promotion, those are logistically complex requests," says Brandi Shortt, vice president of strategic execution and field operations at The Coca-Cola Co. "Thanks to warehouse automation, innovation becomes more cost-effective."
"Across the system, customers want more variety," Shortt continues. "The trend toward more choices means we need to create mixed-product pallets. In turn, we need larger pick floors, which can cause congestion. An automated system alleviates the complexity that would otherwise result from such customization. Another advantage of warehouse automation is that we are able to build more stable pallets. For example, in our warehouse in Grand Rapids, Mich., pickers select the cases and place them on the belt; the belt brings them to the robots; and the robots build the pallets – all inside the warehouse."
Automated technologies can also produce savings in inventory storage costs and can improve warehouse space by utilizing vertical and horizontal space more efficiently to offer greater storage density.
Goods To Person Systems Arrive
Automated goods-to-person picking systems represent a leading area of warehouse investment.
These solutions store cartons, totes and trays into high-density storage modules, such as AS/RSs, shuttles, carousels and robotic systems. As orders are filled, SKUs are automatically delivered to a workstation. An automated picking system, such as pick-to-light, voice- or screen-based technology, then directs the operator at the workstation to pick a specific quantity and place it into a specific order carton or tote.
Software-driven picking systems include horizontal carousels, vertical carousels and vertical lift modules, says Christina Dube, marketing communications manager at Kardex Remstar, a Westbrook, Me.-based automated storage and retrieval solutions provider. These systems can cut fulfillment time, labor and warehouse space while speeding throughput, Dube says.
Horizontal carousels consist of bins and shelves mounted on a horizontal track which rotates to deliver items to a fixed, ground-level location. The picker retrieves the item and consolidates batches of items to fill orders. Vertical carousels have a series of shelves or carriers that rotate along a track in the vertical axis and bring items to the worker at the ground level. Vertical lift modules operate like an elevator with a shaft in the middle and two columns of shelving or trays in the front and back. A mechanism in the center automatically locates and retrieves the stored trays from both columns and brings them to the picker at a pick window.
Europe Leads The U.S.
As technology evolves, investment in warehouse automation continues to grow. Europe, where warehousing costs are higher and land is less available, leads the U.S. in this area. The Wall Street Journal recently reported, for example, that a two-centuries' old German brewer, Badische, Staatsbrauerei Rothhaus AG, recently bought four robots after discovering that one robot can sort through 30,000 bottles per hour, which speeds delivery, especially during peak holiday periods. The IRB7600 robot from Zurich, Switzerland-based ABB Ltd. allows the brewer to fill customer orders faster and has become a competitive advantage.
In the U.S., investment has been less aggressive, but is on the upswing.
Southern Wine & Spirits of America, the Miami, Fla.-based, nationwide distributor of wine and spirits, recently opened a 334,000-square-foot warehouse in Union City, Calif., housing the company's first four-high rack pick module. Four AS/RSs refill pallets automatically; each can process 80 pallets per hour. The AS/RS, developed in partnership with W&H Systems, stores 24,750 pallets and can store up to 10 pallets deep.
"We tore down the existing Atlantic Street structure to invest in the development of this state-of-the-art facility that will not only drive value for our trading partners, but also drive internal operational efficiencies that will allow Southern to remain competitive in this ever-changing and highly competitive wholesale environment," says Wayne Chaplin, the company president and CEO.
Chris Castaldi, director of business development at W&H Systems, observes that automation has evolved slower on the distribution side of the f&b industry compared to the production side since distribution tasks are less uniform.
"It's hard for them (f&b distributors) to pin down an automation system that would be flexible enough to change with whims of how customers want their product to be stored and retrieved," says Jeff Hedges, president of the materials handling division at Opex Corp., the Moorestown, N.J.-based picking solutions provider.
iHerb.com, a Moreno Valley, Calif.-based nutritional supplement e-commerce retailer, has been able to quickly ship a high volume of small orders domestically and internationally, thanks in large measure to a "goods to person" inventory and delivery system from Opex Corp. iHerb.com, which carries more than 35,000 SKUs from more than 1,000 suppliers, has utilized Opex Corp.'s Perfect Pick system in its Hebron, Ky. distribution center and is including the system in its new distribution center in Moreno Valley, Calif.
Troy Van Wormer, vice president of operations at iHerb.com, says the robotic picking and replenishment has significantly reduced the labor required in the picking side of the operation. The system allows an order to be filled within 15 to30 of being released to the warehouse compared to the three hours that was needed by the previous batch picking system, Van Wormer says.
"The speed of the system is impressive," says Van Wormer, who notes the warehouse was recently able to find an order five minutes after the customer canceled it. He says the Perfect Pick system has an impressive financial payback and is easy for employees to learn.
Pepsi Bottling Ventures (PVB), the Garner, N.C.-based bottler, increased storage capacity by over 60 percent in its 54,000-square-foot building by installing Power Automation System's PowerStor cart and lift-based warehouse automation technology.
Floor stacking the 2,300-pound pallets in the warehouse accommodated up to 4,800 pallets. One of the detriments of floor stacking included pallet tumbles, which damaged product and created sticky spillage. Additionally, PBV tracked pallet locations manually which resulted in an occasional inability to find particular pallets.
The cart and lift-based system consists of seven modules, which are accessible by eight vertical lift devices, 27 cart sets, and 14 turntables.
PBV's system was designed to allow fork truck drivers to input and deduct pallets into the system via a double-layer induction/deduction conveyor. Large screen monitors direct operator/drivers as to which cargo is scheduled to go into and come out of which module in the system. Today, 7,800 pallets can be quickly and easily stored and retrieved automatically to serve the company's distribution network.
SSI Schaefer's Simpson says companies are using different technologies within a warehouse to manage inventory. In some cases, companies use manual picking for fastest moving SKUs and a "goods to person" system for slower moving SKUs. The "goods to person" system can include automatic mini load systems with single-, double- or multiple-deep storage; or an automatic conveyor, carousel or shuttle.
Shuttle system innovation continues to offer more options. Sean O'Farrell, market development director at Dematic Corp., the provider of automation solutions, says the second generation of his company's Multishuttle is lighter, faster and more flexible.
Intelligrated's next generation of robotic mixed-load order fulfillment solutions include adjustable, end-of-arm tooling capable of handling up to four cases simultaneously and an integrated, stack-and-wrap system. An Alvey robotic mixed-load order fulfillment solution palletizes and depalletizes partial and mixed-load pallets. The robotic depalletizer has vision technology to identify products and positions to accommodate different SKUs and load patterns. An integrated, stack-and-wrap system ensures load stability and has integrated controls for robotics and stretch wrapping on the same platform.
Shuttle technology will play a bigger role as f&b DCs handle more small orders in shorter time windows, driven by the e-commerce trend, says Robert Engelmayer, business area manager for Knapp Logistics Automation Inc. His company's order storage and retrieval shuttle technology (OSR Shuttle) allows efficient picking of small orders. Another challenge is to develop economic solutions to combine large order and small order picking within the same warehouse. Different e-commerce models have to be considered, such as "click and collect," drive through and home delivery.
Amazon Raises Interest
At the start of December, Amazon, the e-commerce giant, announced significant progress in its fulfillment centers. With the use of Kiva shuttle robots and robotic arms, Amazon said it was able to speed delivery times while reducing the cost of goods shipped. The company claimed the average amount of time it takes to grab an item from a shelf and stuff it in a box is now about 15 minutes per order, down from an hour and a half. Amazon says it now has more than 15,000 Kiva robots operating across its fulfillment centers in the U.S.
While many supply chain observers are closely watching Amazon because of its strength in the growing e-commerce world, it remains to be seen how successful Amazon will be long-term. While the company has grown fast, its less-than-impressive financial performance has led some to question its long-term outlook, especially in the f&b sector, which has been slow to embrace e-commerce.
"Everyone (in the supply chain) is acutely aware of what Amazon is doing," says Alex Stark, director of marketing at Kane Is Able, the Scranton, Pa.-based 3PL, referring specifically to Amazon's network of fulfillment centers, sortation centers and Kiva shuttle robots. "Their strategy and execution will place enormous pressure on the industry to keep innovating."
Swisslog, the Switzerland-based automation solutions provider, has introduced a robotic shuttle in Europe and the Far East called CarryPick. The key benefits of this system are labor savings, improved safety potential for lower workers compensation costs, says Randy Jennings, director of food and beverage sales.
Another CarryPick benefit is that it can be deployed in an existing facility as well as a greenfield site. "You can put it into existing facilities," Jennings says. One consideration, he notes, is that the CarryPick does not make great use of cubic space, which is an objective for some warehouse decision makers. "It eats up a lot of real estate," he says.
Like the company's Autostore solution, the CarryPick makes sense for e-commerce operations where there are a smaller number of line items per order and a high volume of orders. "We've had good success getting more penetration in North America," Jennings says. He says eight projects have begun in the last three months, including food and beverage facilities.
Temperature Controlled Benefits
The case for automation is especially strong in temperature-controlled warehouses where operating costs are higher.
Swisslog's Jennings says cold storage facilities are more interested in automation, especially in light of the current truck driver shortage. "You're going to see more dependence on rail transportation expanding for food," Jennings says. "We're seeing more and more opportunity for people to do automation in those facilities. We're getting a lot more inquiries from people in that area."
In Las Vegas, Nev., Ritt Corp. is in the process of building a multi-temperature, automated storage and retrieval facility containing 150,000 pallet positions and a climatized cross dock of 150 truck bays connected with five enclosed sidings, according to the company. The company notes its technologies save shippers 63 percent of transportation and storage compared to road shipment and non-automated facilities.
Ritt Corp's modified atmospheric, reduced oxygen inhibits fire from ignition. The reduced oxygen, in conjunction with temperature, relative humidity, ozone generation and miscellaneous gasses controls and abates deterioration caused by age. This extends the shelf life of fresh food.
Because multi-deep, dense storage systems allow a warehouse to store more inventory in less space, these systems are cost efficient because they minimize heat loss, says John Clark, marketing manager at Viastore Systems, the Grand Rapids, Mich.-based storage solutions provider.
Retrotech's pick tray system (PTS), a shuttle-based system for cases/trays originally released in 2007, has been fully engineered for both ambient environments and harsh environments of the freezer warehouse. The newly-designed capability of the freezer-grade PTS provides a logistics automation solution to meet the growing demand for order fulfillment at the case and less-than case quantities from the frozen goods DC. The design brings the benefits of the robotic storage retrieval systems (productivity, flexibility and redundancy) for small-volume picking to the cold/frozen DC, the company notes.
Ventev Wireless Infrastructure, a unit of TESSCO Technologies Inc. has introduced an access point enclosure that can ensure Wi-Fi/WLAN connectivity in freezer rooms, where sensitive indoor wireless access points must be protected from cold, condensation, and frost. Thick walls and heavy insulation make wiring for AC power expensive and time-consuming. A single Power over Ethernet cable powers both the access point and the heater. Since no AC is needed, installation is easier and less expensive.
The WeightRight scale from Procat Distribution Technologies, based in West Berlin, N.J., produces bar code labels and uses the GS1data standards. The system integrates a scale with a tabletop, touch-screen computer and label printer. It can be used as part of the picking or receiving process.
The operator places the item to be labeled on the scale. The weight displays on the screen and the operator prints a GS1 label for the item. It can also capture a lot number, customer number or date and embed the information on the printed item bar code label.
Solution Providers: 3PLs Are On Board
Material handling providers say all shareholders in the supply chain, including 3PLs, are investing in warehouse automation. Most solution providers give 3PLs high marks for staying abreast of the technology even if they don't deploy it in their own warehouses. 3PLs realize they need to manage warehouses equipped with automation. "It's a considerable component of the requests that we're engaged in," says Cory Hypes, executive vice president at Power Automation Systems, the Lathrop, Calif.-based storage system provider.
"They (3PLs) are very much engaged market participants," says Eric Lamphier, senior director of product management at Manhattan Associates, the Atlanta, Ga.-based supply chain solutions provider.
Many f&b DCs, meanwhile, continue to reap benefits of voice recognition software and pick-to-light systems.
Atlantic Dominion Distributors, the Virginia Beach, Va.-based retail grocery distributor, gained labor savings using Softeon WMS at its DC in Hope Mills, N.C. The WMS manages picking, put-to-store, put away, line loading, cycle counting, receiving and inventory control. After finding the system paid for itself in labor savings in one year at the main DC in Virginia Beach five years ago, the company installed the system in its second DC, says David Carter, operations manager. In addition to reducing about 13 full-time positions in the first DC, Carter says order accuracy and traceability have improved and inventory can be fully counted in six hours instead of two days.
"This is a time when the future is most unknown," surmises Witron's Sherman.
Automated picking and order fulfillment benefits at a glance:
Improved worker productivity
Improved picking accuracy
Better space utilization
Better working conditions
Faster order delivery
Improved customer service
Motion Analysis Kit Offers Insight On Stacker Crane Performance
PSI Technics' Motion Analysis Kit/Service identifies hidden performance issues that cause mechanical failures and low throughput in stacker cranes. "The kit is designed as a tool that can analyze the behavior of any crane system used in AS/RS in real time," says Tom Anderson, general manager for North America.
The kit records a crane's actual motion path to determine how the system moves and positions with and without load. The analysis highlights motion related conditions and weak spots, such as mast oscillations, undershooting or overshooting at the target position, unnecessary creeping speed and non-linear system behavior that can affect mechanical components like gear boxes, motors and drives, and offers insights into system positioning performance.
The motion analyzing software employed with the kit is the same software that is resident on PSI Technics' ARATEC intelligent positioning solution. "TheARATEC uses a self-learning algorithm that adapts to a user's stacker crane," Anderson says. "The system calculates motion profiles, placing particular emphasis on maximum speed and acceleration without filters or damping, and positions stacker cranes fast yet gently to minimize system wear and tear. And the ARATEC compensates for issues that affect crane positioning over time, such as friction, load changes or wheel and rail wear. The ARATEC takes all the different conditions that affect how a crane positions into account," says Anderson. "We are actually optimizing the movement of the crane."
During system operation, the ARATEC uses real-time feedback from optical distance meters to monitor the stacker crane's movements. It optimizes the motion path in real time and completes storage and retrieval tasks within the shortest possible time. The Motion Analysis Kit/Service can be used to identify positioning disturbances and weaknesses of traditional PLC- and drive-based positioning approaches.
For more information:
ABB Ltd., 41-84-48-458-45, new/abb.com
Alvey, 32 (0) 55-33-57-57, alvey.eu
CaseStack, 866-828-7120,ww2.casestack.com
Dematic Corp., dematic.com, 877-725-7500
IFMC Inc., 310-498-7991, tonyvercillo.com
Integrated Logistics Corp., 330-264-0522, integrated-logistics.com
Intelligrated, 866-936-7300, intelligrated.com
Kane Is Able, 888-356-5236, kaneisable.com
Kardex Remstar, 800-639-5805, kardexremstar.com
Knapp Logistics Automation Inc. 678-388-2880, knapp.com
Manhattan Associates, 877-596-9208, manh.com
Opex Corp., 800-673-9288, opex.com
Power Automation Systems, 209-249-1616, powerautomationsystems.com
Procat Distribution Technologies, 856-767-8500, www.procatdt.com
PSI Technics, 925-287-0904, psi-technics.com
Retrotech Inc., 585-924-6333, retrotech.com
SSI Schaefer, 800-876-6000, ssi-schaefer.us
Swisslog, 41-62-837-9537, swisslog.com
Ventev Wireless Infrastructure, 800-851-4965, terra-wave.com
W&H Systems, 201-635-3493, whsystems.com
Viastore Systems, 616-977-3950,viastore.com