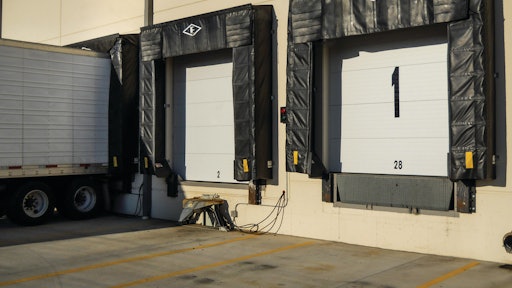 In today's economy where costs are at or near all-time highs and profits are fighting to rebound, warehouse managers are forced to look at the bottom line on just about everything in order to find areas for new efficiencies and cost savings. In the days of bloated budgets, new capital expenditures were routine, but now companies are looking in every corner of the warehouse to find somewhere to shave costs without incurring big upfront costs in return.
Innovations in doors, racks, seals and shelters and other long forgotten items in the warehouse often offer greater value these days than ever before, with more and more companies choosing to update these and other areas of the warehouses for an improved bottom line at the end of the year.
Here's a quick run-down on some of the easy to implement and affordable "low-tech" items that warehous managers are eyeing these days--items that offer an immediate impact on operations and faster returns on investment than robotics, automation and other more expensive high-tech products.
Impactable doors catching on
In food and beverage settings it's important to maintain a "seal" on the facility to prevent contamination and spoilage, so whenever an overhead door is damaged it can compromise the facility in many ways. That is why more warehouses are focusing on the doors on the warehouse for cost savings, upgrading to impactable doors that eliminate damage and doors that utilize advances in speed to keep cold storage environments sealed and resealed quickly.
"In facilities where the temperature is zero or below, on the other side of the wall there can be a difference of 30 degrees or more," said Kurt Angermeier of Rytec High Peformance Doors. "The door's quick open/close operation helps contain and control temperatures and lowers refrigeration costs, so doors like our Turbo Seal Insulated door, one of the fastest cold storage doors ever built, is drawing a lot of interest for us."
Door manufacturers are not only seeing more interest in impactable doors, but impactable tracks too. Since track damage is one of the leading causes of broken seals or gaps in doors, impactable tracks made from solid, ultra high-molecular weight plastic deflect forklifts and other material handling vehicles without damage or energy loss like traditional metal roller doors.
"Your dock door should be the last thing that comes between you and a productive, safe facility," said Josh Brown, national sales manager at TKO Dock Doors. "More companies are finding out that investing in the right dock door is one of the easiest and best ways to keep facilities and products safe."
Lastly, you can't run all of the high speed doors without a digital system programmed with customized software. Angermeier also pointed out that systems designed to increase door functionality seem to go hand in hand with any warehouse door renovation these days. "These systems can be programmed to operate only during working hours, or inoperable on nights and weekends or whenever the facility is idle," he said.
Seals and shelters
Advances in materials have allowed for inflatable seals and shelters along the dock to produce more energy efficiency, with longer life and less wear and tear than ones of the past. Today's versions are more impactable and offer full-access around the entire vehicle, as well as systems designed to adjust and accommodate any size truck in the loading dock.
Both Kelly and Frommelt have come out with updated versions of the inflatable dock shelters for climate-controlled loading docks that don't get standard traffic. Kelly's new KI-450 and Frommelt's ComboShelter are designed to stay sealed throughout the entire docking process, regardless of the size of the truck or how many forklifts go in and out of it.
Frommelt also offers an Under-leveler Seal that completes the fourth side of the environmental control seal by sealing the dock leveler pit.
High volume, low speed fans
More warehouse managers are taking advantage of high volume, low speed (HVLS) fans to ease the burden of the building's heating and air conditioning systems and reduce energy costs for the facility. HVLS fans can cover areas up to 22,000 square feet and a 24-foot diameter model offers costs as little as a few cents per hour.
HVLS fans can be used in larger buildings with high ceilings, or floor mounted for unique spaces and facilities with overhead obstructions or limited access. Rite Hite offers a double-bladed HVLS fan called the Rouge that is billed as the "standard" in low-cost, energy-efficient climate control.
Companies like Big Ass Fans are making innovations in how HVLS fans and systems operate as well, launching an iPad app called BAFWorks, which allows users to control an unlimited number of fans from a single location in real time with the swipe of a finger.
Racks and keg storage
One of the more popular products being installed these days is the new TubeRack racking system from Hannibal Industries. The TubeRack system uses a dual-moment frame that allows flexibility both front-to-back and side-to-side, which gives it greater ability to withstand impacts and seismic events more safely.
Its horizontal-bolt-together modular design can handle more capacity with less steel in many instances, while reducing weight and stress on the slab. The modular design also allows for better future flexibility and lower freight costs over the life of the TubeRack.
Hannibal is also seeing competitors entering the market on keg and keg rack storage systems, similar to their Keg-Flo product that increases warehouse capacity by increasing the number of Sixth Keg SKUs stored in areas. The Keg-Flo will hold up to seven times more Sixth Barrel SKUs than current storage systems can handle, reducing travel times and lowering costs.
Insulated walls, wash-down and industrial curtains
With production picking up across the food chain many companies are finding that they need to expand or create space in an existing warehouse, but without the large financial support needed to take on big construction and renovation projects, most of them are being forced to look somewhere else for solutions. That is where companies like Randall Manufacturing and Zoneworks are finding their niche, providing insulated walls, wash-down curtains and other industrial curtains for any size, situation or application.
"Construction costs and facility flexibility are two of the major topics facility managers and owners inquire about during facility planning," said Todd Jessup of Randall Manufacturing. "Insulated walls can be installed at a fraction of the time and cost of conventional partitioning methods, and their versatility allows the customer to reconfigure or relocate their wall with little effort or cost incurred."
As the FDA and USDA ramp up inspections with increased scrutiny on food safety, products like wash-down curtains allow small- and medium-sized facilities the ability to expand without the huge capital costs of redesigning the building.
"Wash-down curtains are very popular in the food and beverage industry because the containment of overspray during the cleaning process has become more important to companies in order to reduce the actual drying time and resume production much faster," said Kyle Justice, product manager at Zoneworks. "In some cases if it's applied correctly, adjacent production areas can maintain production while others are cleaned, so a company can continue to generate products and avoid shutdowns."
Insulated walls and curtains are also easier to fit around existing machinery; are very effective for use in areas between temporary and permanent construction phases; and can be installed in the sliding variety to allow for a physical barrier when needed, but moved out of the way when it's not.
"Our InsulWall is one of a few products available right now that allow a facility to meet the challenges of maintaining a consistent storage temperature, which is critical to the future success of an evolving, more modern supply chain," said Jessup.