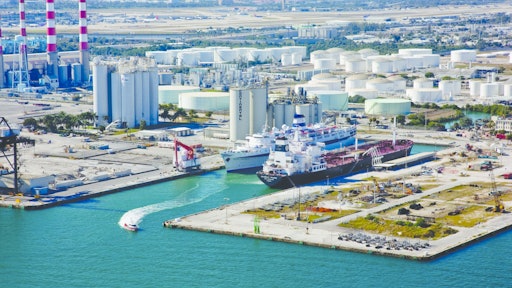 As U.S. imports and exports of food products continue its impressive growth, ports throughout the nation are gearing up for steady growth in the years ahead.
In 2011 alone, total reefer exports were up 16 percent to 15.5 million metric tons, while total reefer imports rose 17 percent.
This is good news for ports, many of whom saw overall trade volumes stagnate over the past few years due to the global economic downturn.
Florida positioned for a bigger piece of the pie
The Port of Miami is a major gateway for perishable goods, mostly imports from South America. Once the Panama Canal expansion is completed in 2014, even more cargo opportunities will open up, however.
In preparation, the Port is in the midst of a $150 million Deep Dredge project, which will increase the port's depth to 50 feet—enough to handle the larger vessels that will be transiting the Canal, once its locks are widened.
"The only other East Coast ports with a 50-foot depth are Baltimore and Norfolk," says Jim Hertwig, CEO of Florida East Coast Railway. "We expect to see Miami capture a lot of volume once the Panama Canal expansion is completed."
Florida East Coast Railway is a 351-mile freight rail that runs from the Port of Miami to Jacksonville, where it connects with two Class I's—CSX and Norfolk Southern.
The efficiencies that will be realized with larger vessels could be the "tipping point" to bring even more cargo through South Florida ports, says Mark Yoshimura, vice president logistics-transportation, at Florida East Coast Railway.
"It's estimated that the larger vessels will impact container slot fees by 30 to 40 percent downward, which means it will become much more economical to serve the state of Florida and other parts of the Southeast U.S. from the Port of Miami," Yoshimura explains.
Hertwig adds, "Freight is coming here (to Florida) anyways because it's a major population center. And, it's also going north to the Southeast U.S. We can have cargo delivered in two days to Atlanta and Charlotte, and in three days to Nashville and Memphis."
On-dock rail projects are part of the larger plan to handle more freight, and Florida East Coast Railway is partnering with both the Port of Miami and Port Everglades to build on-dock rail facilities to accommodate this trend.
"Funding came from a TIGER II grant," says Hertwig. The federal Transportation Investment Generating Economic Recovery Discretionary program (TIGER II), part of the U.S. government's economic stimulus program, was awarded to the Port of Miami in late 2010 for the Rail Reconnection Project.
Hertwig says the four-phase project started with a groundbreaking last July, which kicked off the first phase of the project—reconstruction of the rail link from Florida East Coast Railway to the Port. That portion of the project is just about complete, with the next phase, the rehabilitation of the bridge that connects Florida East Coast Railway with the Port, ready to start this spring.
Phase two should wrap up in September, continues Hertwig. The final two phases—construction of an on-dock rail facility, and modifications to a rail yard to accommodate more intermodal traffic, will round out the project.
Meanwhile, new Intermodal Container Transfer Facilities (ICTFs) are being planned for both the Port of Miami and Port Everglades.
The Port Everglades ICTF received approval in late January from the Broward County Commission.
"It's a $72 million project. The state of Florida is putting in $18 million, Broward County is contributing $19 million, and we're putting in $35 million," says Hertwig. Completion of the project is set to coincide with the Panama Canal expansion project's completion.
According to Yoshimura, "On-dock rail is very important to us. We'll be able to take the containers right from the Port of Miami to the rail, bypassing the highways—and the congestion."
Furthermore, it's not just increased freight volumes from the Panama Canal expansion that ports and railroads are eyeing, says Yoshimura. When it comes to perishable goods imports from South America to the U.S., changes in sourcing and logistics strategies are also resulting in more freight volumes for Florida East Coast Railway, says Yoshimura.
"A lot more food retailers are starting to buy direct from farmers in South America instead of going through importers and brokers," he says. "Traditionally, third parties in the U.S. or Latin America would book the freight from Latin America and use over-the-road trucking and local distribution to get the goods from the Port of Miami and Port Everglades up north. Increasingly, we're seeing retailers take control of the supply chain, running direct container shipments from Latin America all the way north. Part of that strategy is to reduce costs and carbon emissions, as well as lead times, and rail plays a big part in that strategy."
Another crucial development includes the South Florida Logistics Center, a 400-acre logistics complex that will be located adjacent to the Miami International Airport at the Hialeah Rail Yard Site.
Florida commercial real estate company Flagler is leading the project, and Florida East Coast Railway is partnering with them, says Yoshimura.
"We believe the project is going to drive consolidation in the market, from the mom and pop operations to the fragmented commodity dealers and brokers who offer various services, and put everything, including Customs, fumigation, distribution and fulfillment all under one roof."
Developments in other key gateways
Bob Moran, CEO of Sataria Group, a 3PL and distribution firm, also sees a lot of potential for cold chain projects in Florida and elsewhere.
Discussions have already taken place with the Port of Oakland (California) and Port Manatee (on Florida's Gulf Coast), to build refrigerated facilities on port property, he says, which would target floral imports, in particular. Another project in the works includes a plan to build a perishable distribution center at Chicago's O'Hare airport.
The O'Hare project would provide a Midwest gateway for air imports of floral products from the Netherlands and Latin America, says Moran.
And, like the executives of Florida East Coast Railway, Moran is also an advocate of on-dock rail.
"If you're going to put a facility on the port, you had better make it rail served, and you'd better make sure it has easy access to air freight," he emphasizes.
Moran is a proponent of using rail for freight, and acknowledges the great strides the industry has made in recent years to improve service.
"In large part, that's because railroads started to work closer with ports. The combination of the two creates a lot of synergy."
The role of railroads in the cold chain is only going to become more significant as better technology coupled with driver shortages in the trucking sector push more freight to railroads, adds Moran.
"Better rail cars and tracking technology, improvements in refrigeration technology, and more efficient reefer units are making it possible for shippers to move perishables on rail with confidence," he says.
A Snapshot of U.S. Food Imports and Exports
• Northeast Asia is the largest market for U.S. food exports, including vegetables, meat, poultry, frozen fish, and oranges.
• Vegetables and meat are the two fastest-growing commodity exports over the past 10 years.
• Japan is the largest market for U.S. vegetable exports.
• Hong Kong has surpassed Russia as the largest market for U.S. poultry exports.
• China is the fastest-growing market for U.S. meat exports.
• Angola is the fastest-growing market overall for U.S. food exports.
• Central America is the largest source of U.S. refrigerated food products, including bananas and vegetables.
• The volume of U.S. reefer imports has increased by 3.6 percent CAGR over the past 10 years (2001-2011).
• The leading ocean carriers in the U.S. export reefer trade include: Maersk, APL, Hanjin, Evergreen, and OOCL.
• The leading ocean carriers in the U.S. import reefer trade include: Dole Ocean Cargo, Great White Fleet, Maersk, APL, and Mediterranean Shipping Company (MSC).