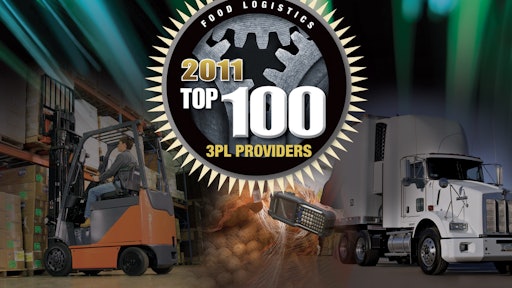 For the sixth year in a row, Food Logistics has identified the leading third-party logistics and cold storage providers to the food industry. These service providers are helping food companies optimize their warehousing and transportation operations and offer a broad scope of services and capabilities that enable companies to reduce costs, increase flexibility and improve service levels.
Find out what types of services they're offering to help you better manage your supply chain. This year, we added 15 companies to the list, for a total of 100 service providers. Our editorial team selected these companies based on the information supplied on their submission forms, as well as through research, talking with industry analysts and reader input.
All 3PLs provided a food customer reference list, which has been kept confidential.
Congratulations to those companies named to this year's list!
To nominate your company for next year's FL's Top 3PL listing, go to our website at www.foodlogistics.com.
We will start accepting submissions in early 2012.
Companies in this article