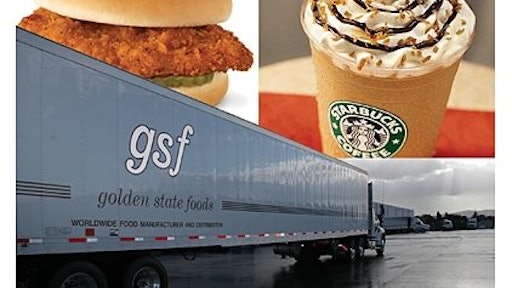 Golden State Foods
Golden State Foods (GSF) opened the doors to its new 158,000 square-foot distribution center in McCook, Ill. The new building now serves more than 460 McDonald's customers in the Chicago and Northwest Indiana market and will be the first center within GSF and the McDonald's distribution community to be LEED Gold Certified.
"We are so proud to unveil our latest distribution center in Chicago," says Mark Wetterau, chief executive officer of Golden State Foods. "The new building is a milestone in our larger goals toward environmental sustainability and excellent customer service and will serve as a benchmark for future and existing facilities within the GSF distribution community."
The new, state-of-the-art distribution center replaces its former location in Lemont, Ill., and provides additional storage space within the facility. The center strives to reduce diesel consumption with electric standby power for outbound trailers and is using rainwater for irrigation purposes. In addition, the facility utilizes hydrogen power, clear panel windows, LED lighting and a highly efficient Cascade refrigeration system.
The new center is ISO 14001-certified, and has a robust set of standards that focuses on GSF's environmental management systems, sustainability and recycling programs, conservation, compliance and waste diversion. It also began operating an automated truck wash equipped with an auto-recovery system to minimize water consumption. With the goal of reducing dependence on electricity, the new hydrogen generation plant was completed last month. This system implements hydrogen fuel cells as an alternative energy source for forklift and pallet jack equipment operation, replacing the use of traditional batteries and chargers.
Plus, the large on-site kitchen will serve to engage GSF's customers, including McDonald's, in the development of new products and ideas proposed by associates.