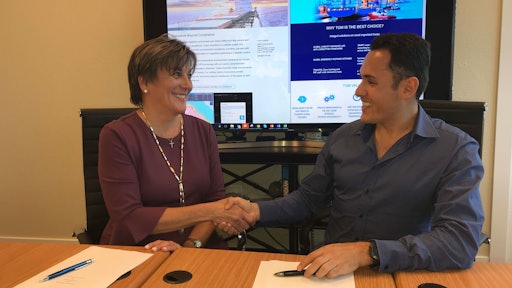 Total Marine Solutions (TMS) and TGM Fleet & Consulting Services (TGM) have signed a Memorandum of Understanding designed to strengthen and promote the development of port specific information incorporated into TMS' Ocean Guardian product.
Developed by TMS, in collaboration with Brenock, Ocean Guardian is a digital tool that provides shipboard operators with immediate access to environmental regulations around the world. The software system removes the guesswork from environmental compliance, providing operators with immediate and accurate information on regulations pertaining to a specific location.
TGM, which offers global maritime waste management and carbon footprint reduction programs in 56 countries and more that 100 ports, will work in collaboration with TMS to implement mutually beneficial programs, projects and activities designed to promote the recognition of vetted port reception facilities around the world.
"This collaboration comes at a time when a greater emphasis is being placed on marine environment protection and preservation," says Alexandra Anagnostis-Irons, President of Total Marine Solutions. "Ocean Guardian provides the full environmental picture for an area by incorporating port information including availability of reception facilities, MARPOL certificate requirements, waste stream handling details and basic port contact information."
Under Ocean Guardian's Manage Port Module, clients will be able to immediately see which ports have reception facilities vetted by TGM. In addition, TGM clients will be able to use the Ocean Guardian web-based portal to store port specific documents.
"This collaboration is unprecedented and timely as the global maritime industry is demanding 360 degrees of environmental compliance," says TGM Co-founder Alejandro Trillo Menchelli. "There is a clear need in the maritime industry for adequate Port Reception Facilities with full visibility of the whole sustainable process. We are looking into incorporating blockchain in the data management area to have full transparency with all the stakeholders involved in the process."