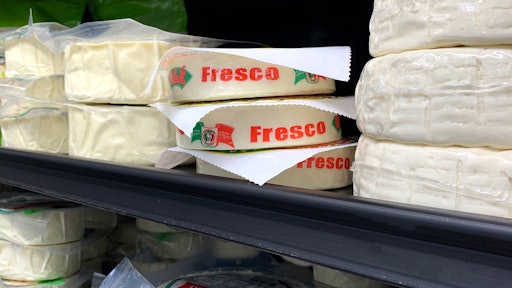 Sealed Air Corp.
When Olé Foods first consulted with their former film supplier about printing on the thermoformed package, the supplier declined. When they reached out to Sealed Air, the company's graphics and packaging experts sprang into action to make it happen.
Printing on plastic that will be thermoformed must occur prior to forming, so the graphic design must account for the distortion caused by molding process. The path to getting it right can be tedious, time-consuming and expensive, but the tight collaboration between Sealed Air and the Moreno family, the owners of Olé Foods, allowed project trials to flow smoothly, and resulted in proper sizing and placement of the artwork on the profile of the queso fresco packaging.
Challenge
Mexican food accounts for just over 60% of the ethnic food market and is highly competitive. Queso fresco, one of the most popular Mexican items, presents a unique challenge for brands that want to differentiate themselves.
Queso fresco is typically sold in round, puck-shaped packages with brand information printed on the top and bottom only. They are stacked on top of each other in the retail dairy case, limiting shoppers to a side view and resulting in a "sea of white" unbranded packages. Olé Mexican Foods was determined to make their product stand out and concluded that printing on the profile of the thermoformed package was the answer.
Solution
Olé Foods consulted with their existing packaging supplier that failed to come up with a viable solution for formed profile printing. When they reached out to Sealed Air, its print technology and packaging experts sprang into action, developing a solution that would balance cost and performance, as well as provide clear, readable graphics on a thermoformed profile.
Results
Olé Foods' queso fresco was the first Hispanic cheese product in the dairy case to let consumers see the brand without having to pick it up. On top of a visually pleasing package with graphics that are easy to read at a distance, Olé's product has immediate brand recognition that no other cheese brand has.
Olé has applied the new packaging to two different brands and a total of eight SKUs, resulting in a 16% (1.5 MM) increase in sales over an 8-month period. And, seeing the tremendous value of the queso fresco solution, Olé is consulting with Sealed Air to solve more challenges and deliver industry-changing innovations.
"We couldn't be more pleased with the visibility and recognition the new packaging has given us in the marketplace," said Blake Johnson, Vice President at Olé Foods. Our product now has the differentiation that none of our competitors has. If you take a photo of the Hispanic cheese section, you'll see a sea of white, with our product being the only one that stands out."