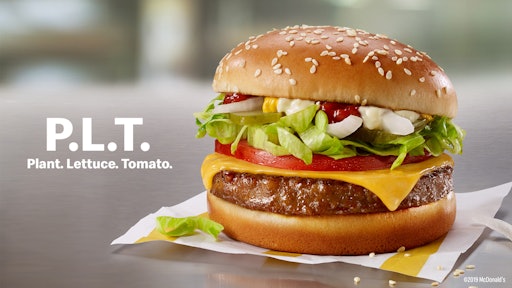 McDonald's is joining the alternative meats trend by unveiling a new plant-based burger called the P.L.T. (plant, lettuce, tomato.)
The chain will conduct a 12-week test of the burger in 28 restaurants in Southwestern Ontario starting Sept. 30. The P.L.T. is made with Beyond Meat plant-based patty that has been crafted exclusively for McDonald's.
"McDonald's has a proud legacy of fun, delicious and craveable food—and now, we're extending that to a test of a juicy, plant-based burger," says Ann Wahlgren, McDonald's VP of Global Menu Strategy. "We've been working on our recipe and now we're ready to hear feedback from our customers."
The P.L.T. will feature a plant-based patty with no artificial colors, artificial flavors or artificial preservatives and will be priced at $6.49 CAD plus tax. 
"During this test, we're excited to hear what customers love about the P.L.T. to help our global markets better understand what's best for their customers," says Wahlgren. "This test allows us to learn more about real-world implications of serving the P.L.T., including customer demand and impact on restaurant operations." 
Since the announcement, Beyond Meat's stocks were up 12% at just under $155. However, the announcement did little to move McDonald's shares.