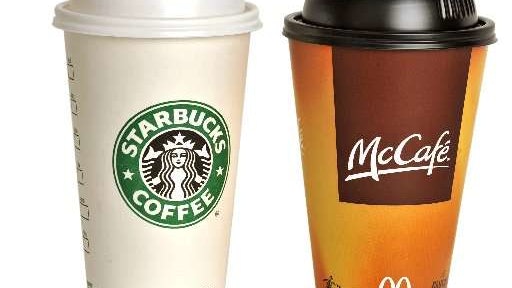 As restaurants across the country are making headlines for banning plastic straws, big name companies are starting to follow suit with their own sustainability initiatives. 
Usually seen as competitors, Starbucks and McDonald's are uniting to create a fully recyclable compostable cup, Fast Company reports. Within the next three years, the multi-billion-dollar global giants are aiming to include not just a cup, but a lid and straw to go along with it as well. 
According to Fast Company, the two companies combined distribute 4 percent of the world's 600 billion cups annually. While each company's cups are technically recyclable, they rarely are. McDonald's and Starbucks are planning on leveraging their combined scale to change the way single-use cups are disposed of in order to improve not only their ecological footprint, but the fast-food industry as well. 
The NextGen Cup Challenge invites entrepreneurs to develop materials and designs that can replace cups and will provide grants to good ideas. Fast Company reports that Starbucks launched the initiative earlier this year and McDonald's just now joined. 
Most chain restaurants are making cups out of the same fibers and plastics already, however, packaging may provide an advantage. According to Fast Company, McDonald's insists that potential financial savings won't be that significant because the materials aren't being optimized for cost, but for impact instead. 
McDonald's chief supply chain officer for the United States, Marion Gross, tells Fast Company, "We're looking at this as a pre-competitive opportunity. Before we would even compete in the normal way we traditionally would compete, this is kind of a step further back in the chain saying, 'how can we work together to solve a problem that's an issue for society, for the environment?'"
The companies have been talking about partnering together on various sustainability initiatives for several years now. The opportunity finally came when Starbucks launched NextGen Cup Challenge. 
The challenges officially launches in September and awardees will enter a six-month accelerator program and receive up to $1 million in funding, Fast Company reports. OpenIdeo will run the competition and the accelerator companies will work closely within McDonald's and Starbucks teams to develop cup technologies that are able to handle real-world use and scale. 
To read the full original article, please click here. 
Companies in this article