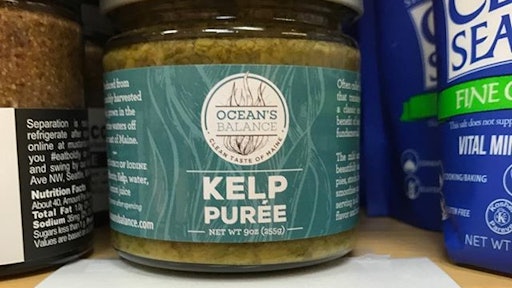 A white buoy marks the coordinates of a corner of a new four-acre plot of ocean that Tollef Olsen will soon seed with sugar kelp, as part of his rapidly expanding farming operations that supply Ocean's Balance, an edible seaweed company he co-founded with Mitchell Lench and Lisa Scali.
Ocean's Balance, which started selling a kelp puree in January 2017, was recently picked up by four new distributors, and the number of stores carrying the product has increased 40 percent in six months. And that expansion is happening alongside other seaweed producers and sellers in the state. The U.S. Department of Agriculture (USDA) has awarded numerous grants to Maine seaweed producers like VitaminSea and Maine Fresh Sea Farms over the past several years.
In October, the U.S. Department of Energy gave the University of New England (UNE) a $1.3 million grant to support its seaweed farming research. Maine's Island Institute is also training an increasing number of entrepreneurs in seaweed aquaculture every year.
The growth has been partially driven by consumer demand. While seaweed has long been farmed and eaten as a dietary staple in Asia, it might finally be catching on in the United States, particularly among health-conscious consumers, with seaweed being mentioned as a top health-food trends this year by Today.com, MarketWatch and Whole Foods.
To read the full original article, please click here.